The Ionage campaign has been coming on leaps and bounds over the last couple of weeks so I thought I'd share a few pics and a sneak preview of what you can expect from the campaign both in the next version of the Alpha and the release version of Ionage. I'll be bringing out a series of blog posts over the next couple of weeks, each one explaining a different aspect of the campaign. In this one I'll talk about the Starmap.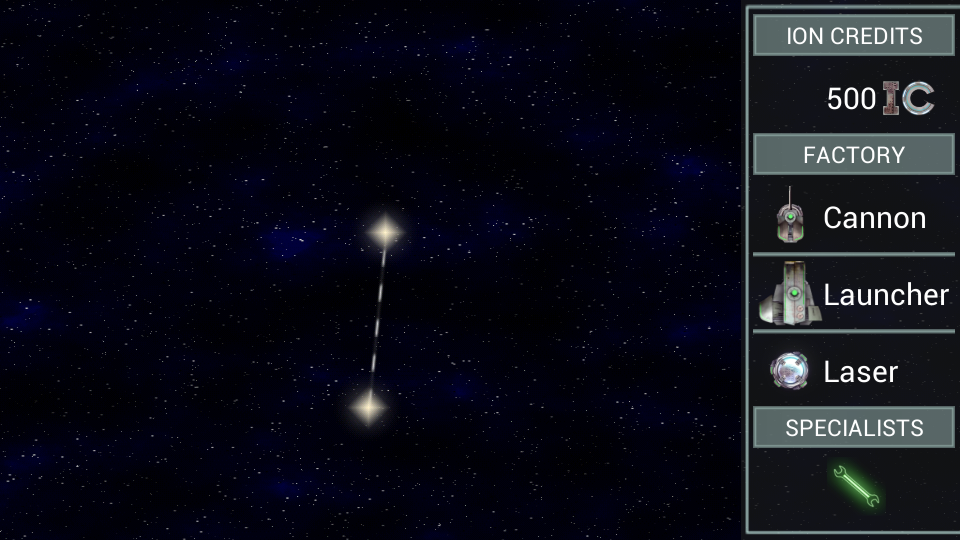 The starmap is the hub of Ionage. From here you can set-up your platform's weapons and which specialists you'll be bringing into the next battle with you. It's also where you explore the galaxy from, jumping from system to system by tapping on the stars. When you enter a system you'll be greeted with a dialog describing its contents.
There a various system types:
Level Systems - These are the most common type of system, you will have to face an enemy in battle or achieve some other type of objective. In return you earn Ion Creds which you need to unlock new technology.
Unlockable Module / Specialist / Platform Upgrade - These systems allow you to unlock new technology to help you fight in battle.
Warpgate - These systems allow you to travel vast distances in the galaxy. You can find new areas to explore and even skip past level systems to gain access to late-game tech early!
I'm contemplating some other rare system types but these are the main ones that will make up your journey through the Ionage campaign.
Stay tuned to SlideDB over the coming days for more detailed descriptions of the different system types and lots more!
PS You can play the current Alpha of Ionage right now by heading over to the Ionage Website!