Hello and welcome back to another update of Forgotten Hope 2. Today we have two brand new weapons of war for the Axis armies. Enjoy!
Up first we have FH2's second flare gun; the Leuchtpistole 34!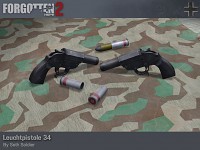 The Leuchtpistole 34 was a German flare gun introduced into service in 1928 by the Walther company. It featured a relatively simple design with a 27mm, smooth bore barrel, a break-action breech, and it soon became the standard signal device of the German armed forces. However, German engineers soon realized the potential the Leuchtpistole had for other uses. A rifled, 23mm insert barrel was used to fire a variety of flare and explosive ammunition, and the weapon became known as the Kampfpistole or "combat pistol". This variant was capable of firing, amongst other things, a hand-grenade that was attached to a long wooden stick. While the Stielhandgranate was too heavy, the Eierhandgranate proved much more practical for this purpose. The Leuchtpistole 34 was made by Seth Soldier.
Our next item is a general-purpose truck for a somewhat, forgotten faction in FH2; the Italian Fiat 626 truck!
The Fiat 626 was an Italian general-purpose truck used by primarily Italy and Germany after the armistice of 1943. Even France received 700 of the originally ordered 1,650 until Italy declared war in 1940. The truck had a reputation for being reliable with an excellent power-to-weigh ratio. The 626 was used on all fronts by the Italian army and some were even sent to the USSR, where they faced the harsh climates of the Russian winter. The truck was introduced in 1939, and from then to 1948, around 10,000 trucks were produced. The Fiat 626 was made by Kraetzer.
Up next we have a couple of announcements. The first of which is that FH2 now has a new, official Teamspeak 3 server that is open to the public. You can find the information below.
Server IP: 80.190.246.166
Port: 4128
Up next, we would like to announce that Forgotten Hope 2, the 2010 Mod of the Year - Player's Choice winner, is currently looking for motivated individuals to join our active developer team. We are mostly interested in 3D and 2D artists, coders, and level designers, but we will evaluate each application individually. Anyone is welcome to apply. You can check here for more information.
That's all for this week, but be sure to come back next time for another update. Until then, feel free to visit our IRC channel and our public forums.