Hi there!
I've decided to post a link to the "Bunker" Webplayer demo level, just to let you try it as it should be in the game.
For now it will stay as it is now. I'll make some cosmetic changes in the future, but i think it is cool.
I need to get back to work in the game core. The main goal now, is to translate the old JS# scripts into C#. Refining some scripts including the AI in the process.
Regarding the weapons, i will add another cool one to the armory. The flamethrower.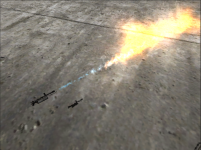 This is an importan weapon, because the game will be pretty difficult some times. If a bullet hits the head the character/enemy is dead, or down until the end of the actual mission. The players have some advantages, but, they will be outnumbered by the enemy, so one weapon that kill several enemies in one shot could compensate things a bit. Traps and environment elements will help a lot too, like explosive barrels, and cars.
Cars are cover options, but if you hit the fuel tank they will explode. The doors will fall down after some hits, allowing bullets or the fire penetrate and reach the other side, burning the covered guys.
One thing i want to be as smooth as possible, is the movement system and the UI, so those things may change a bit in future updates.
So this is all for now.
Hope you like it, and feel free to comment anything you want.
Cheers!