Just as it was starting to look like Kyttaro Games' Bundle In A Box was going to challenge Diablo III in its number of delays, it has finally been launched - and it is looking pretty good.

Their first offering is an Adventure-themed bundle. Included are 5 games (7 if you beat the average, currently floating around $5.50), including the debut of Jonas Kyratzes' latest adventure, The Sea Will Claim Everything, for a minimum of $2.99.
This minimum price will decrease by $0.05 every 500 sales (down to a minimum $0.99), as the bundle continues over the next two weeks.
5% of the takings are going to The Hellenic Centre for Mental Health and Treatment of Child and Family (aka To Perivolaki - the Little Garden), a Greek charity founded to "diagnose and treat children and adolescents with autism or psychosis, and support their families".
In addition, Bundle In A Box are also creating an Indie Dev Grant, adding $2,000 to it for every 15,000 bundles sold. One indie developer, voted for by the bundle's customers in its second week, will receive the grant at the end of the bundle. Developers interested in the grant should contact Kyttaro Games with details of their projects.
Anyways, on to the games!

The Sea Will Claim Everything (Windows, DRM-free)
The Sea Will Claim Everything is a narrative exploration game set in the Lands of Dream. Like the other games set in that world (The Strange and Somewhat Sinister Tale of the House at Desert Bridge, The Book of Living Magic and The Fabulous Screech), it is a game both silly and bittersweet, and one that refuses to believe that serious is the opposite of funny.
It is in love with literature and poetry and words for their own sake, uninterested in conforming to expectations about genre or design, dedicated only to being itself – to being a portal, that is, to another world.
It features a unique, colourful style of hand-drawn graphics (by Verena Kyratzes) and a beautiful score (by Chris Christodoulou) and since all of this sounds so pretentious, we beg you to imagine its writer/designer (Jonas Kyratzes) being catapulted into a pool of globular gloop. Thank you.
(Yes, this following screenshot is huge - but the text is worth reading if you want to get a feel for this game)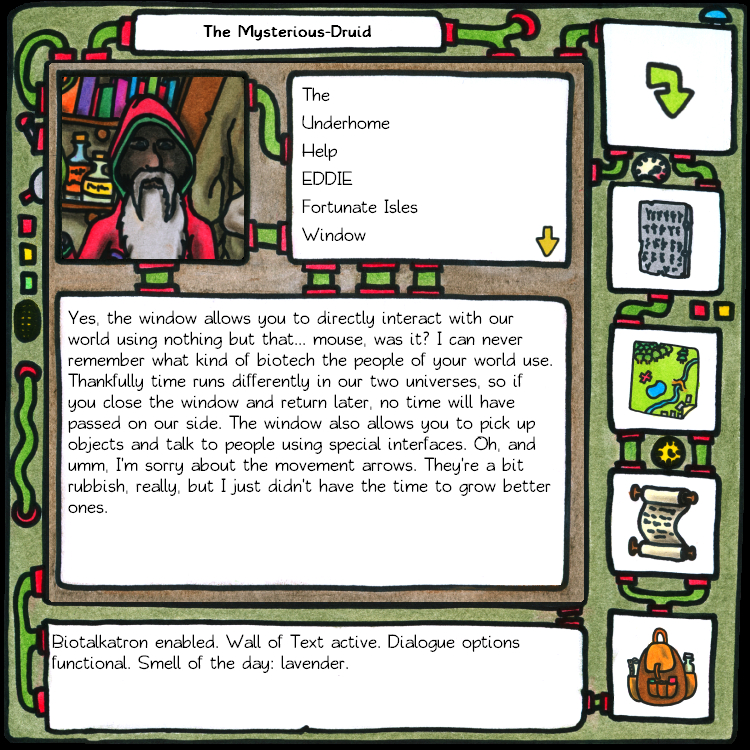 Gemini Rue (Windows, Steam/Desura/DRM-free)
Gemini Rue, the award winning adventure game by Joshua Nuernberger and Wadjet Eye Games, is easily one of the best and most important point-and-click games of the last 10 years. It's a noir, science fiction offering taking place on a world where life is cheap, identities are bought and sold, and a quest for redemption can change the fate of a whole
galaxy.
You'll play as both Azriel Odin, ex-assassin, and as a man called Delta-Six who wakes up in an off-planet hospital with no memory, while unraveling a stunningly illustrated and brilliant plot we will definitely not spoil for you.

Ben There, Dan That & Time Gentlemen, Please! (Windows, Steam/Desura/DRM-free)
Written by and somewhat-narcissistically starring heroes Dan Marshall and Ben Ward, Ben There, Dan That is bursting with bold cartoon graphics, laugh-out-loud dialogue, colourful characters, some frames of animation and nearly 100 different sound effects! There's no need for hand-eye coordination or split-second reflexes here; it's a fun game that anyone can play as long as they don't mind a few naughty words here and some surreal bits of humour.
As Bundle In A Box is giving you the special edition of the game, you'll also be getting some cool and rather demented extras: a special eBook candidly telling the whole story of the game's creation for the first time, a non-interactive video storybook presentation lifted from Dan and Bens' diary entries, explaining the backstory as to exactly how Dan wound up dead in a jungle tied to a length of twine in the first place, all the 'cut' music that didn't make it into the final game, posters to print out and hang over your living room window, an audio recording of Ben stomping around his flat cheering his own name, and some Dan and Ben ringtones.
Time Gentlemen, Please! is the Award-Winning sequel to 2008's Award Winning comedy adventure Ben There, Dan That and one of the very few adventures to ever feature Nazi dinosaurs. Then again it also features time-travel, coathangers and at least one alternate universe.
With tongue firmly in cheek, sit back, relax, and put your mind to work solving puzzles and reading some very funny dialogue. It's like a book, only animated!

1893: A World's Fair Mystery (Windows, DRM-free)
A theft on the fairgrounds! Precious diamonds stolen from the Kimberly Diamond Mining Exhibit! An urgent telegram from your old partner arrives, requesting your help to solve the mystery. How can you refuse? And besides, you've been dying to see the wonder of the age everyone has been talking about, this Columbian Exposition.
But this is no simple theft. And as theft turns to kidnapping, and kidnapping to murder, you find yourself at the center of a plot the extent of which you can only begin to imagine...
1893: A World's Fair Mystery is an award-winning interactive adventure into Chicago history. It uses a text interface and over 500 archival photos to bring the fair to life and proves that text adventures can still impress. Expect hundreds of locations, dozens of interactive characters to encounter, non-linear gameplay, an in-game hint system and over thirty hours of gameplay. The game includes 3 PDF guidebooks.

The Shivah (Windows, DRM-free, beat the average)
(note: oddly, there is no Desura key for The Shivah)
Russell Stone is a Jewish Rabbi at a poor synagogue in New York City. He is a devout man with a problem. Membership is way down and he lacks the funds to keep his synagogue open. Things are looking very bleak, and he has grown progressively more cynical and bitter with the passage of time. Just as he is on the verge of packing it all in, he receives some interesting news. A former member of his congregation has died and left the Rabbi a significant amount of money. A blessing? Or the start of something far more sinister?
The classic adventure by Dave Gilbert, featuring rabbinical conversation methods, a unique method of fighting, an original score, and three different endings!

Metal Dead (Windows, Desura/DRM-free, beat the average)
Metal Dead is a comedic, heavy metal influenced, apocalyptic point-and-click adventure game packed with everyone's favorite undead creatures, zombies!
This twisted tale centers on two metal-heads in the midst of the zombie apocalypse. After crashing their car in front of a medical research facility, they become trapped and are forced to use their wits to puzzle their way to freedom, while dealing with a cast of characters who range from mildly deranged to completely insane.
The game happily features over 40 locations, 13 achievements, a hint-system and 17 unique (quirky too) characters.

Soundtracks for The Shivah and Gemini Rue will be unlocked when 10,000 bundles have been sold, as well as a "Making of Metal Dead" booklet.
Head on over to the Bundle In A Box site to get the Adventure Bundle, which is available until the 5th of June.