Greetings everyone. I'm here today to show you what I've been making past few days.
For some reason internet connection became worse for a week now, I can't upload many images.

I've modeled, more like mapped, few dozen props that I will be using in the mod. It is of course based off of brushwork found in the old 2001 maps and some are directly taken from it. I could've used already existing hl2 or hl2 leak props but because this mod is aiming to create aesthetics of 2001, I gone on my way to create them. This would be achieved easier with just normal brushes but since source bakes lightings in them, it will look odd in certain places.
No other mod as I could remember uses these low-poly props to detail their maps, usually they use more higher, up-to-hl2-standard models. I reckon this will make my mod more distinct from other mods visually further.
There is a possibility I will make these models public assets free to use (with credits).
---
Props that are now present:

-Barrel01a (Standard barrels with 4 skins for their sides)
-Barrel01b (Above but with top part open)

-Can01a (Medium version of barrel01a)
-Can01b (Medium version of barrel01b)
-Can02a (Smaller version of barrel01a)
-Can02b (Smaller version of barrel01b)

-Cardboardbox01a (Standard square breakable box)
-Cardboardbox01b (Cardboardbox01a but open)
-Cardboardbox01c (Half-size breakable box)
-Cardboardbox01d (Cardboardbox01c but open)
-Cardboardbox01e (Small-size breakable box)
-Cardboardbox01f (Cardboardbox01e but open)
-Cardboardbox02a (Standard square breakable box)
-Cardboardbox02b (Cardboardbox02a but open)
-Cardboardbox02c (Half-size breakable box)
-Cardboardbox03a (Tiny breakable box never seen in leak. 3 skins for sides)

-Computer01a (Commonly seen computers in the leak.)
-Computer01b (Keyboard associated with above.)
-Computer01c (Variation of Computer01a seen in nov_bor_001 polished)

-Crate01a (Standard crate with 2 skins for frosted and a version with different texture)
-Crate01b (Half-size version of above)

-Filecabinet01a (Standard filing drawer seen in vert_)
-Filecabinet01b (Filecabinet01a with pulled drawers)
-Filecabinet01c (Single drawer)
-Ladder01a (Brush ladder seen in nov_bor_001, skin for yellow version)
-Ladder01a (Ladder01a without wall attachments)

-Shelf01a (Shelf from vert_ textured to not look ugly)
-Shelf01b (Smaller shelf from vert_ textured to not look ugly)
-Shelf02a (Metal shelf custom made)
-Vendingmachine01a (Boring vending machine)

Preview in Hammer++: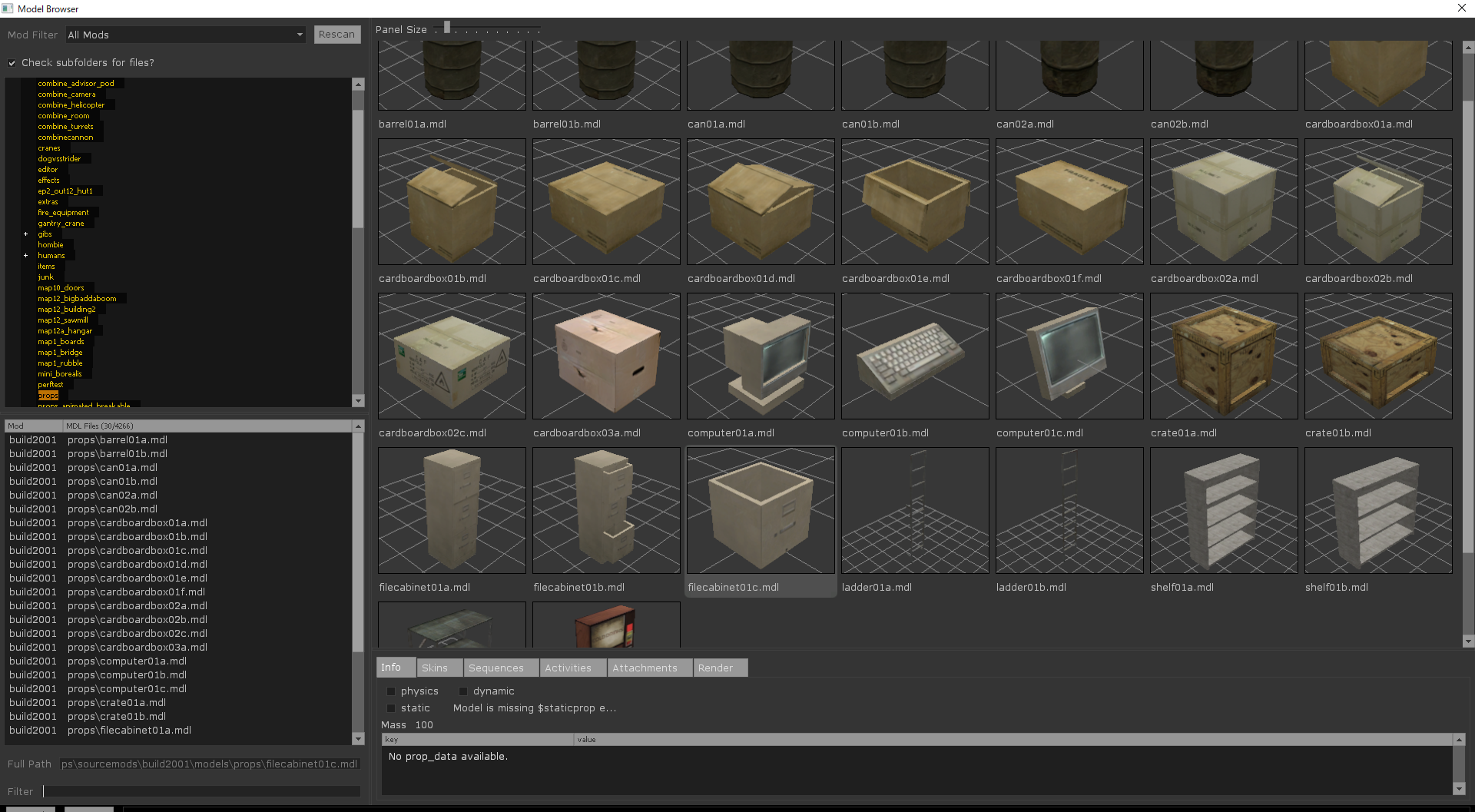 ---
Future ideas for props:
-Rubble
-Lights, Sconces, Florescents, Streetlights
-Chairs
-Tables
---
Thanks for reading til the end, this is a rather shorter update but it took efforts making. about 18 hours to be exact. Yes it took too long I'll go and take a rest now. Thank you so much for reading.
-MisterK