Build version 0.08 is now live at: Daring Adventure - Version 0.08.
You can still access the Indiecade version at: Daring Adventure - Indiecade Version
New in Version 0.08
Version 0.08 of Daring Adventures is packed with lots of content that ties up loose ends.
1. Exports
We have been working hard to make export transitions seamless when we are ready for release. We made a huge step in creating PC and Mac downloads with this latest build. The biggest issues we encountered were how each deck was recognized by the game. The lists representing each card were working fine in flash, but constantly failed in any other medium. By transitioning the decks into each scene, we were finally able to bypass the problem. This should also fix any similar problem we would have encountered down the road when preparing for mobile. Below are the download mirror links:
PC:

Mac:

2. Combat
The combat system got a slight revamp in 0.08. Before, right when you started playing, you would just keep reloading forever. The game is based on a party system with leveling, loot and progression. We talked about how to create a combat system that would reflect the heroes entering and exploring a location. What we came up with is having 3 fights per location. In-between each fight, your heroes do not regenerate hit points and you do not recover your used cards. So you may enter a location and fight 3 hordes of rats. Or you may get unlucky and fight 3 ogres, 2 bears and one of the Chaos Beasts - sorry to say that you will probably not survive that encounter. Right now, only Chaos Beasts have been implemented. Since you will be fighting 3 in a row during the demo phase, we lowered their hit points a tad. After winning or losing, you will be brought back to the Navigation Screen. At which point, hit points and cards fill back up.
3. Navigation Screen
What we lovingly call "Purple Screen" was actually meant to be the main navigation screen. In the previous versions, there wasn't much navigating going on there. The latest build brings new purpose to the purple screen. It is now the first screen that you enter in to. You will see your current deck and heroes. On the right are five buttons for selecting a different deck and selecting heroes. At the bottom, you can click continue to move on to the map screen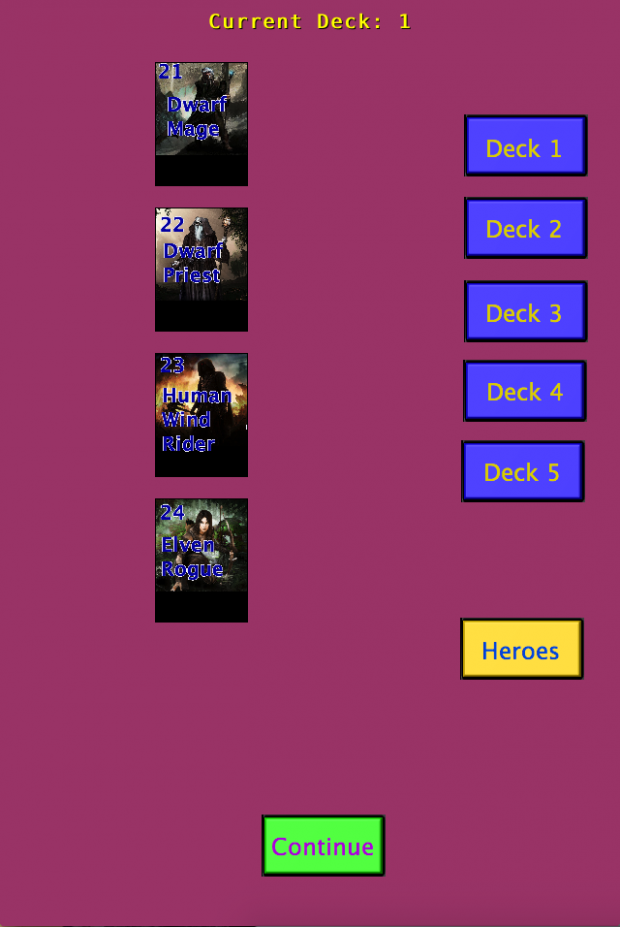 4. Deck Selection Revisited
We announced that we wanted 5 decks available to you. However, we were just so happy to have made a deck selection function that we pushed out 0.07 without any work on the five decks. The latest build includes the ability to select and use five different decks. Just like with a paper trading card game, you can only use a card once. If you put 10 air attack cards into a deck, you will not have any air attack cards available for the rest of your decks. You can always edit the deck and remove the air cards if you want to spread them out.
5. Default settings
In order to make the demo version more accessible, we decided to add in default cards. You now start the game with the four main heroes already selected. You also begin with deck 1 selected - containing two of each elemental attack card. Right when you open up the game, you can click continue and jump right in. Of course, if you want to play around with changing decks, you have the option to do so. Deck 1 can be emptied out by clicking the cards at the top and resorted, or you can enter any of the other decks and add in your cards of choice. You are given 10 of each card to play around with.
Thanks for reading, enjoy the game!