Bugbear working on new derby\racing game, working title " Next Car Game ". Bugbear release second teaser video last Friday:
Bugbear ( from Flatout 1 and 2 fame ) going to self-publish their next new game. Bugbear been taking in input since February and now has announce a pre-order for the " Next Car Game ". If you do the pre-order, you will get to test out alpha version when it ready and a pre-alpha when there 10,000 pre-orders.
If your a Flatout fan, you are going to want to checkout what Bugbear up to this time around:
It's called Next Car Game.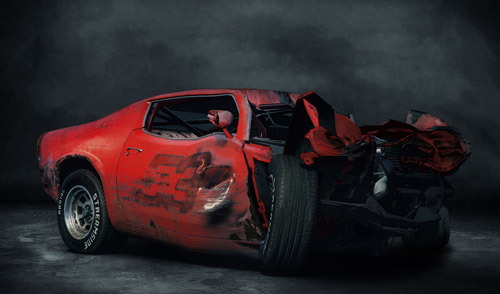 Unique Racing Experience.
First and foremost, we're building a FUN racing game with PERSONALITY. It's all about the stuff that really matters: varied tracks, cool cars, and the defining once-in-the-lifetime moments that can be achieved only with true-to-life physics simulation.
If you're familiar with the original FlatOut experience, you already know what we're aiming at: exhilarating racing action with sophisticated physics and damage modeling, only this time we're upping the ante on almost every front. This is the game we envisioned way back in the early 2000s, only re-imagined for today's technology and gaming standards.
Oh, and we've got full-blown, straight-up demolition derbies, too, to go with your full contact racing.
Awesome Cars.
The cars are old, cheap, banged up, patched together, rusty… just awesome! In short, our cars ooze with STYLE! You won't find anything like them in other racing games.
We've got variety: everyone loves the old American heavy-hitters from the muscle car era, but we're not neglecting the fun little European and Asian cars from the long-gone decades either. The best part is that you'll be taking them apart and building them back up again in your garage. Need more horsepower on a budget? No problem, scour the classifieds for a bargain supercharger – just remember that a cheap bargain find might not withstand too much punishment!
The career is as much about your garage and your project cars as it is about racing.
Exciting Engine.
Our in-house ROMU engine is a beast. A hell-bent beast that's precision-engineered for high-speed, breakneck racing. You could not create this experience with just any engine. The ROMU engine is all about heavy metal going way too fast and crashing into stuff.
At Bugbear we're all about putting you in the driver's seat. That's why our engine is simulating everything, to give you great feedback on what your car is doing. You'll feel the little bumps on the track, the weight of your car when you go over them – and most certainly you'll feel it when you're being dealt some damage, only that getting HURT has never before felt so good!
We can't wait to show you what we can do with today's hardware. Now we have fully dynamic visual car damage (no predefined damage models!), and the environments are more destructible than ever before.
Essentially, we can now put a ton of flying metal and dirt in the air at any given time, and we certainly will!
It's a motorsport with attitude.
**************************************************************
And those of you that are interested in modding, here some good news from Bugbear:

Joonas wrote: We are well aware of the modding popularity of our earlier games and fully intend to replicate that with NCG. How it's going to work, exactly, is still being discussed.