Current Feature List:
The following features will be applied from the launcher and are currently 100% functional:
-Launch MOHAA & Expansions from any directory of your choosing
-Automatic High Settings & 1080P Screen Resolution by Default
-Custom Screen Resolution Support & Windowed Mode
-Gamespy Master Server replaced by Community Master Server (XNULL)
-Widescreen Compass Fix, Skip Video Intro, Vertical Sync, and FPS Counter
-xNull Server Browser Installer & Launcher
-Install-able US/UK CD Patches from Right Side of Launcher (Click the Arrow!)
-10 Rotating Backgrounds made from Allied Assault Artwork
Launcher Changes:
We took several requests from our testers and finally got a few features working. There are now 10 Rotating Backgrounds which are all sourced from Medal of Honor Artwork. Windowed Mode was an addition we never had planned, but it seemed logical, so you can play the game while being able to see other things on Desktop. Applied Settings are now saved on close of application, this was missing for a very long time, and that is now working. This was something we thought would take a long time, but actually came together quickly.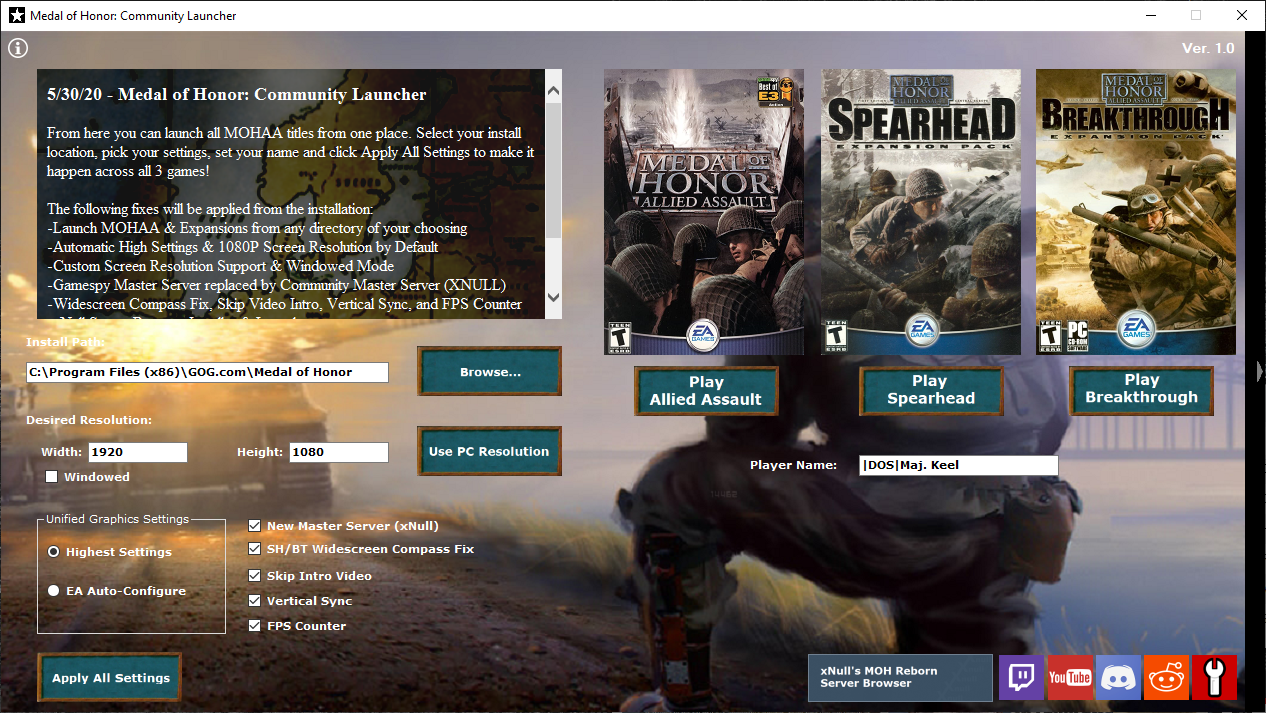 Credits Screen:
A credits screen has been added, clickable from the upper left corner. This gives Thanks to everyone who is helping out!

Features in Progress:
-Automatic Update for Community Launcher
We are hoping to complete the automatic update feature before the launch of the tool on the 30th. It has not been decided if we should push the launch out, or just launch this tool in beta if that feature is non functional.