All right it is day two, the day of the Destroyers. Today you will get your first look at a brand new bug unit. Some of you may have been expecting the SST mascot "warrior" bug. Well suck it up; there is a new mascot for the bugs, the bug destroyer.
But before I show you the bugs, as you might have noticed the site looks a little different. Well I have heard your cries for the site to be fixed and all. The site is still under construction, but there is a new background, many links and other stuff have been added and fixed. To all of you who may not understand the links. The blue icons mean that there is a working link, black links that you can't click on mean that there is no working page yet, simple? I think so. Comments are good to hear though and they led to the updating of the site which you see today. I hope you keep them up, because we will listen and it will help us in the end.
We have just one more little note of business. The trailer, which was released yesterday, had some communication problems. Let me make this very clear: This trailer was meant to show off the new logo and is a "teaser" trailer. That means that we don't mean to shower you with images, animations and stuff in one video, oh no. We mean to tease you and give a little more info about the mod. I hope we are at a understanding now; now, on to the destroyers.
Battlefield Midway Class Destroyer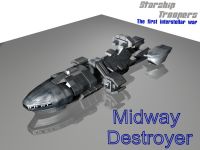 When the Federation entered the war, they found the widely used Star class ships to be poorly armored and not able to defend themselves while carrying soldiers from one battle zone to the next. After the fleets' disaster at Klendathu, the fleet realized that a better version of the Star class had to be built if the Federation was going to win.
Enter the BFM, a redesigned version of the Star class. The BFM destroyers are not able to transport whole regiments of troops, as the Starships were. But what they lacked, they made up in firepower and survivability. The BFM is able to carry two squadrons of fighter craft for escort, or for air support to ground troops. With its weapons and an improved armored hull, the BFM is a good escort to fill in the destroyer roll.
Bug Destroyer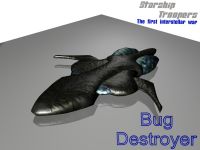 Even before the war started, colonies or convoys of ships were attacked by what the survivors called "Glowing Hornets". Though the bug destroyer is in no way shaped like one, it is fast like one. Able to maneuver like a fighter, bug tough enough to fight capital ships, the destroyer is something to be feared. It fires some kind of bio-laser that can melt through armor with ease. Its only weakness is its weak armored shell that means one well placed shot can tear it to pieces.
Not much else is known except for that the Destroyers usually travel in packs of 3 or 4, so if you see one, don't think it's alone. Many Federation ships were lost to bug ships playing dead in space.