BROKEN CORE, WHAT?
This game is born a couple of years ago, the main chara, Syro, was a character not used for another project, i created it and i was so sad about that "elimination" that i decided to make her the main chara of a game full created by me. And we are here! So much work to put pieces togheter, little help from 2 friends (i'll talk about them next post ;)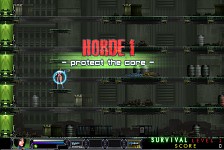 To be true, the game is a fusion about 2 games, Syro was the main chara of another game of mine i stopped some years ago,(Graveship Massacre) I used the same name with this new sexy look, my girlfriend Rosita is the model who give the face (and in some artworks more than the face you know what i mean).
Concluding, i used the story and atmosphere from Graveship Massacre and the character from the other unborn game, so Broken Core is the daughter of 2 dead parents!
THE GAME
The aim of the game is easy: destroying all enemies, unlock doors, survive traps and going on throught levels! There are lots of bonus and special features (you can read about some of them in the feature section). You'll find 1up bonus, score points, special weapons, missiles, speed-up bonus and armors!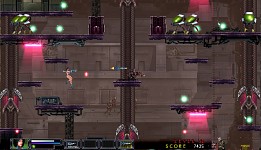 WHY?
I'm creating this game cause i love retrogames, is a passion (i work as comic artist and illustrator-colorist) i worked for many other games, one for all, Golden Axe Myth, a free game tribute to the SEGA master piece Golden Axe, i created the complete graphic, art, animations, illustrations, backgrounds...
I don't know if somebody will like this game, i hope so, cause out there there are so many people who love good old games and could love some new games done in that way.
SUPPORT
Maybe in next days i'll start a campaign on IndieGOGO, i'll talk again about this for sure, to ask a little help and support from us if you'll like! For now, thank you all in advance and have a nice day out of the core!