"Broken Arrow! I say again, Broken Arrow! Lay in everything you've got outside our fuckin' perimeter and do it NOW!"
Broken Arrow was a code-word used in the Vietnam War used to divert all available aerial resources to save an American unit currently being overrun. It was the ultimate example of American airpower, and it saved many American units from being massacred by the Vietcong and North Vietnamese.
Vietnam Combat Operations is a new fanmade RTS game about the Vietnam War. The game features hundreds of units, including nearly 20 types of aircraft.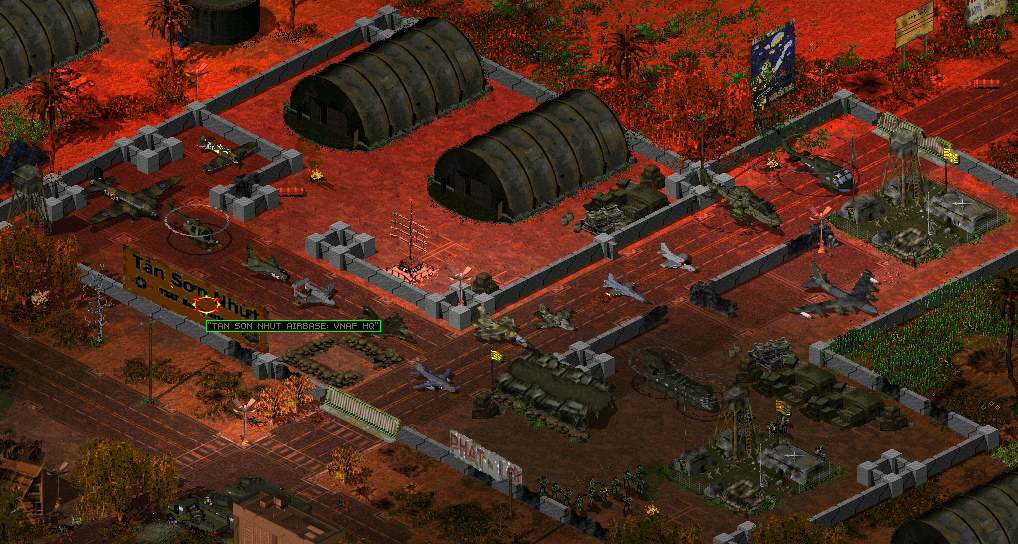 The Tan Son Nhut airbase in Saigon, capital of South Vietnam. US players have access to a veritable aerial armada, which was often the case in the Vietnam War. (VCO)
Each type of plane or helicopter is optimized for a particular task. Cayuse or Loach choppers are excellent scouts, Hueys are workhorses suited for a variety of tasks from simple fire-support to delivering troops, Cobras are dedicated gunships and Chinook heavy-lift choppers can ferry large numbers of infantry or a single vehicle anywhere on the map.
Skyhawks and Dragonflies drop infantry-killing napalm, Skyraiders use their potent 20mm cannons to hunt down vehicles, Broncos mark targets with CS gas, Tigers use shrike rockets to take out armor, Phantoms deliver general purpose bombs quickly, Corsairs and Thuds fly slow but have large payloads, Intruders have extremely powerful anti-building bombs and B52s fly slow and high but can deliver an entire squadrons' worth of bombs.
Historically almost never used as attack craft in South Vietnam, North Vietnamese air assets such as the MIG-17 and MIG-21 have been included in a 'what-if' scenario. These planes vigorously defended the skies over North Vietnam, accounting for about 100 American kills (one North Vietnamese ace shot down at least nine planes).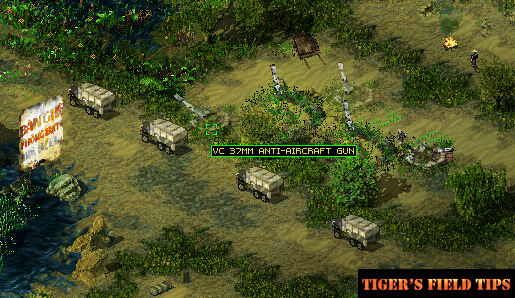 Camouflaged North Vietnamese 37mm and 85mm anti-aircraft guns train their barrels skyward, hoping to catch an unwary helicopter or bomber plane in their iron sights. Over 10,000 allied planes and choppers were destroyed or captured during the Vietnam War. (VCO)


T𝗵𝗲 𝗡𝗮𝗺: 𝗩𝗶𝗲𝘁𝗻𝗮𝗺 𝗖𝗼𝗺𝗯𝗮𝘁 𝗢𝗽𝗲𝗿𝗮𝘁𝗶𝗼𝗻𝘀 without Wider War can be downloaded for FREE via the steps below:
1) Download here: Bit.ly
2) Click on the grey box with three horizontal dots [ . . . ]. 𝗗𝗼𝘄𝗻𝗹𝗼𝗮𝗱 𝘁𝗵𝗲 𝗲𝗻𝘁𝗶𝗿𝗲 𝗳𝗼𝗹𝗱𝗲𝗿 (Vietnam Combat Operations Public Release 2020). The folder with its 96 files can be downloaded with a single click.
3) Once the download finishes, open the folder then find and double-click on 𝗩𝗖𝗢.𝗕𝗔𝗧.
4) Click 𝗗𝗲𝗽𝗹𝗼𝘆 and choose your battle. The official 𝗩𝗖𝗢 𝗥𝗲𝗮𝗱𝗺𝗲 contains everything you'll need to understand and master the game and its myriad maps and units.
For more videos, please check out The 'Nam: Vietnam Combat Operations on Youtube and Facebook!