Balance. For philosophy, it is a concept that we all strive to maintain in our lives. In politics, it is perhaps vital for stability. And for complex strategy games, it is a core principle that is almost impossible to achieve, yet getting close makes the game immeasurably better.
While we are excited to share more information on the central theme of our upcoming Beta 2 update, the Dark Empire, the truth is just as much work has been put into rebalancing the mod thanks to the exceptional efforts of our play testers. Only in the later period of Beta 1 did our testing group develop to the point where regular PVP games were a thing, and they have been even more active this last year! Thanks to their feedback, plus the comments of you, our players, over the years, Beta 2's balance changes alone are already larger than the entire patch notes of any previous update in the mod's history. Describing them all would be a large undertaking, but read on for some of the general themes and major changes.
The Empire
The Imperial factions found themselves in an odd spot balance wise in Beta 1, though many of these issues have been present in the mod since its early days. On the surface, no one would argue either the Galactic Empire or the Warlords were weak factions. In our public poll, both factions topped the list of strongest factions. However, in competitive PVP play, they relied on a fairly narrow pool of very strong rushes and unit compositions, but lacked the flexibility of other factions due to some holes in their unit roster. As such, our main goal was to balance their over performing strategies, while giving them new tools to implement entirely new tactics.
The most overpowered such strategy was the "Early Game ISD-1 Rush." Expensive capitalships in Interregnum are gated behind research so that they cannot be obtained as the free starting capitalship, giving an unfair advantage over vanilla factions. For the Warlords in particular (but not exclusively), it was quite viable to jump to researching and building the Imperial-I Star Destroyer to abuse this capital ship in numerous ways. The Imperial Star Destroyer's powerful base stats, significant early game fighter striking power, and most importantly the ability to capture ships, meant that it was difficult to counter and it could even capture its own support fleet to make up for the resources that went into obtaining it. Spamming corvettes was often the only real option to deal with it early game.
To try and make this rush less effective, while also increasing the variety of strategies available to Imperial commanders early game, we have made several adjustments to when the Empire unlocks their capitalships. In general, the larger 1600 meter Star Destroyers have been pushed a tier further up in the tech tree, while the new Procursator Star Destroyer takes the ISD-I's old slot at Commander rank.
Initial Capitalships: Victory Star Destroyer, Victory-II Star Destroyer, Venator Star Destroyer (now available at the start of the game, no research required).
Commander Rank: Procursator Star Destroyer
Captain Rank: Imperial Star Destroyer
Rear Admiral: Imperial-II Star Destroyer, Tector Star Destroyer, Interdictor Star Destroyer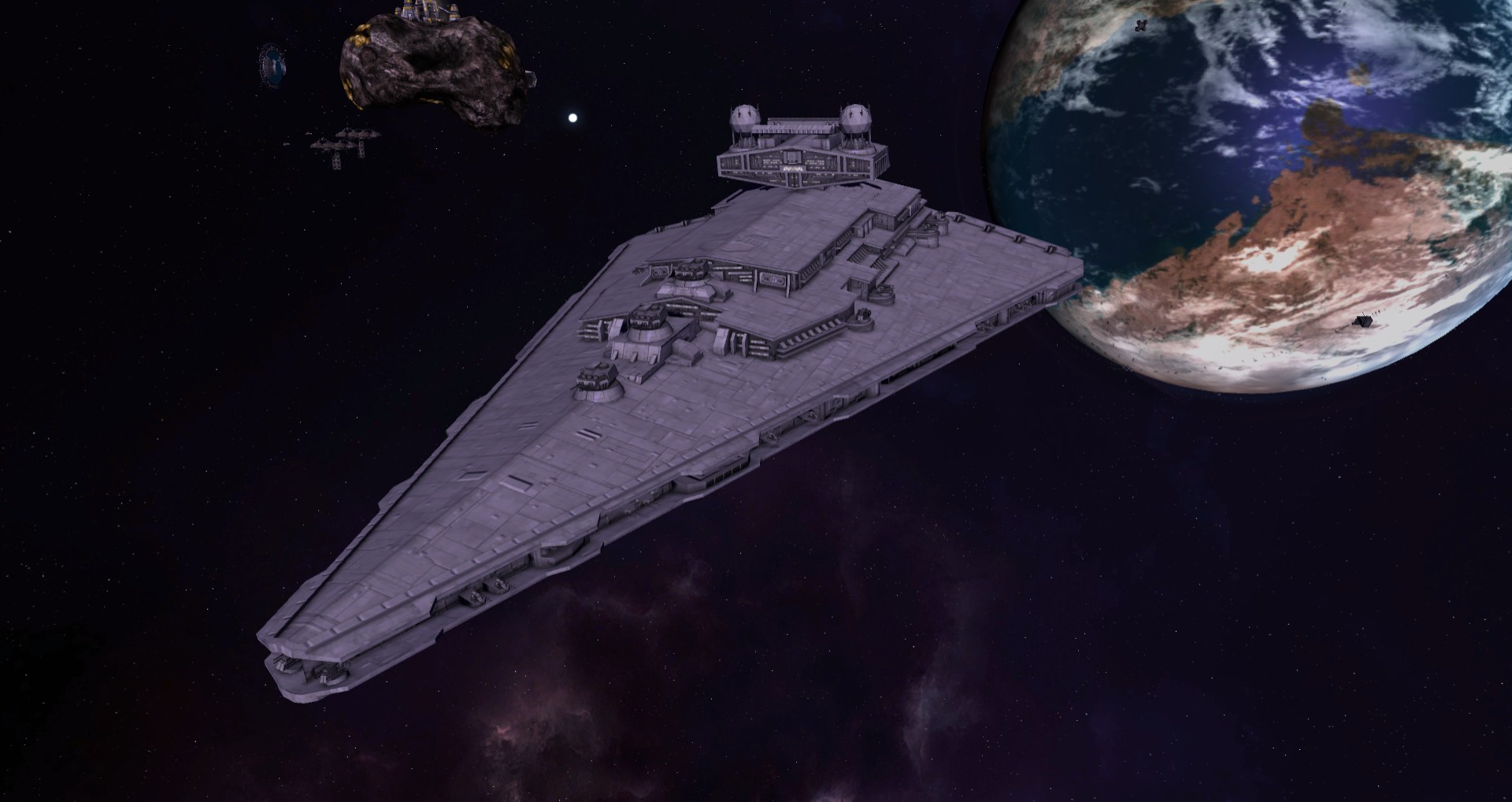 The Empire also lacked some of the support utility available to other factions. The upcoming Procursator Star Destroyer and Arquitens Command Cruiser help fill several holes in the Empire's tactical options. In addition to being able to be specialized into strong single target or area damage, the Procursator can help Imperial fleets move faster in their own territory, allowing a defense fleet to respond to incursions on multiple fronts, and is one of the few speed buffs available to this faction. The Arquitens meanwhile gives the Empire a powerful if not always reliable frigate ability disable, helping to offset their "offensive support cruiser", the Immobilizer, not really helping much to win a battles as much as finish off retreating enemies.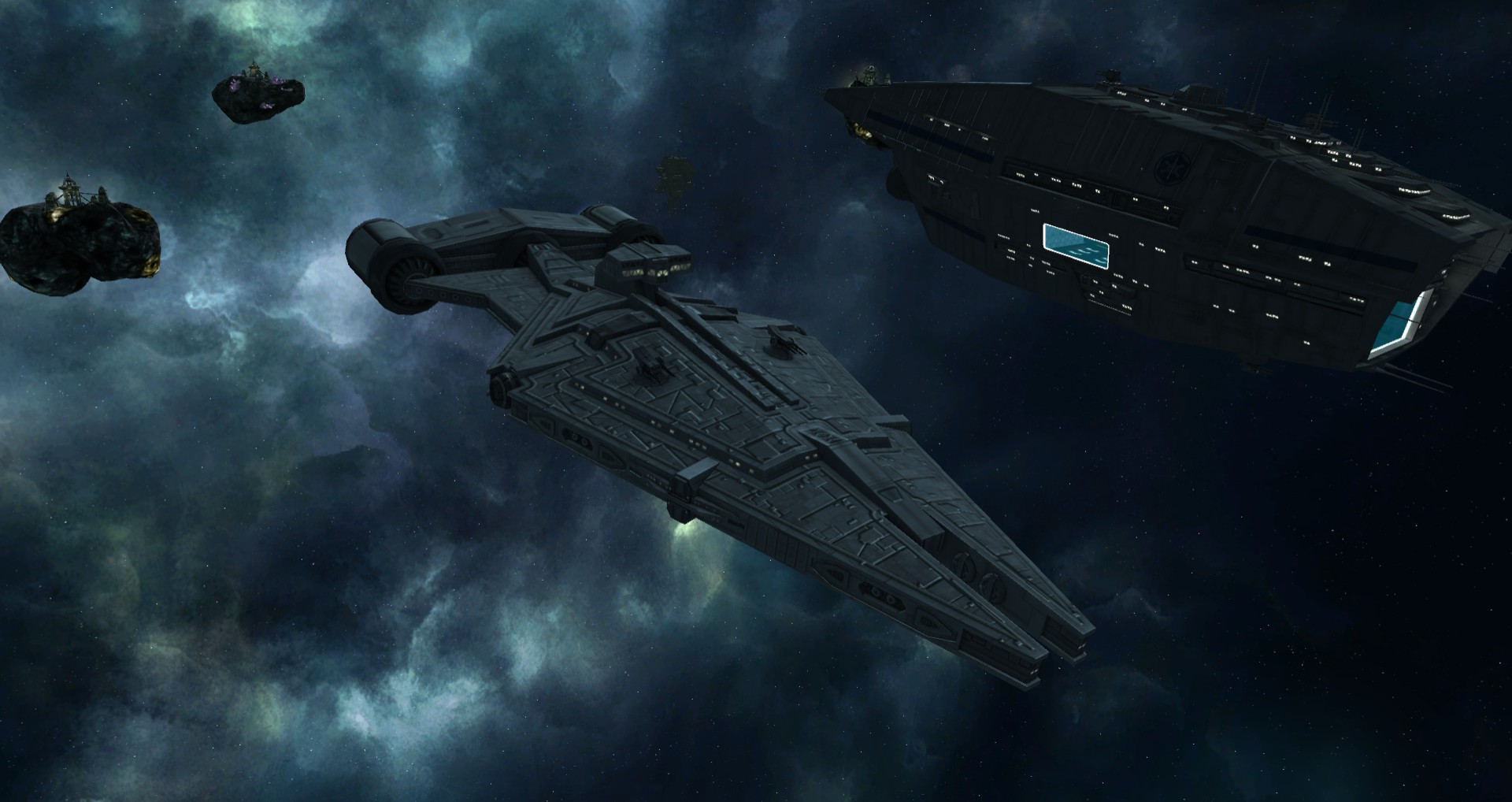 A deliberate weakness of the Empire is its lack of healing support for its frigate forces. As a faction focused heavily on its Star Destroyer capitalships while viewing smaller units as expendable, we wanted to keep this weakness overall, but make it a bit less extreme. As such, the Arquitens also brings a small but fast casting hull heal that can help keep all ships, not just the Star Destroyers, in the fight. Meanwhile, the Procursator gets an actual area of effect Hull Repair ability as its ultimate. However, it has a long cooldown, so it's best used to add a second wind to an Imperial Fleet, rather than constant healing.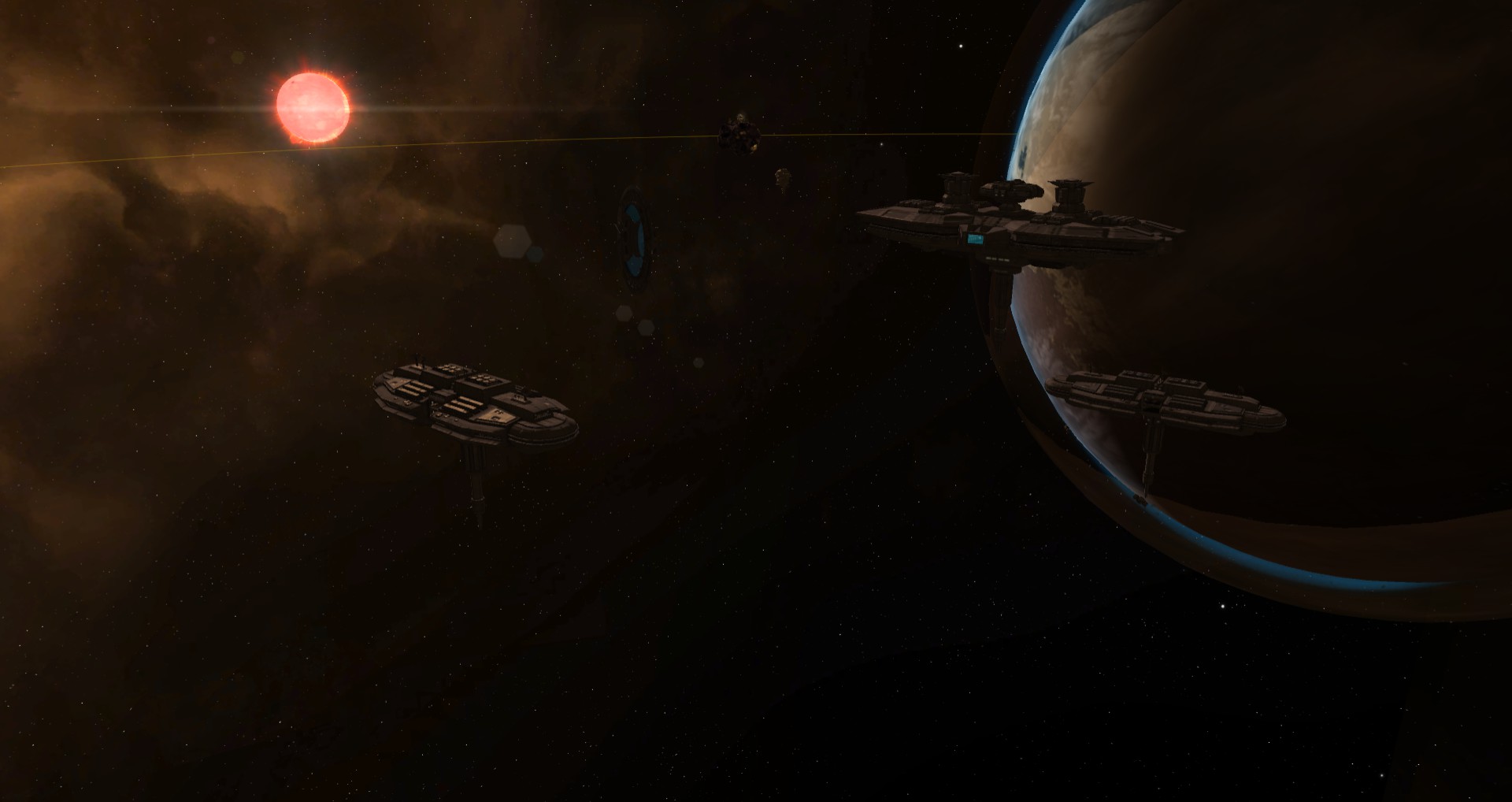 Another major gap in the Imperial roster was its planetary defenses. For years the powerful but expensive Golan-III has defended Imperial planets as a combined turret and hangar defense, but its cost and build time made it hard to use against early game aggression. With Beta 2, Imperial Commanders can now build the much smaller and cheaper Golan-I. It is still a combined hangar/turret, but only half as powerful. Its weapon types are unusual for a defense platform however. It is very effective against lightly armored threats more commonly found in the early game like light frigates, and even corvettes and strikecraft thanks to researchable anti-fighter missiles. This means it can have a niche even in late game defenses, though it will appreciate its bigger Golan-IIIs cousin being nearby to deal with heavily armored units like heavy cruisers and capitalships.
Finally, extensive PVP playtesting revealed that part of the reason the Warlords appeared to be an excessively strong rushing faction was due to their unexpectedly strong economy, which could support aggressive builds other factions could not match early on. To help reign this in, the Warlords no longer have cheaper research labs, their income from the Black Market Technology ability and Capitalships has been reduced, and their Rank technologies have had their costs rebalanced to be more equivalent to other factions with split fleet and capitalship slot research.
New Republic
Last year was very exciting for the mod with the release of our newest faction, the New Republic. While we always do our best to ensure any content we release is balanced, there is ultimately no substitute for the feedback of you, our players. As such, despite our best efforts, the New Republic ended up much weaker than we wanted in the Beta 1 release due to bugs, being too conservative with their strengths to try and avoid making an overpowered faction, and even a few design mistakes. As such, Beta 2 will feature many buffs to the New Republic, and even a few entirely new capabilities.
The defining feature of the New Republic is that it is an anti-rush faction, with steep penalties against aggressive action early game. It wants to occupy neutral planets, rapidly develop them, and build up a powerful late game fleet that will win them the game in one massive push. However, while its penalties made New Republic players generally avoid attacking enemy planets early, it lacked any real way to discourage enemy players from rushing them. While New Republic ships have no penalties in friendly territory, they had no particular strengths either, which often resulted in them being taken out if they did not expand the fastest in PVP games.
To help make other factions think twice about attacking the New Republic early on, they now have access to a powerful new defensive ability at just one military lab, Local Defense Forces. This new research represents the local planetary militias that New Republic member worlds are encouraged to maintain, and will provide you with up to 3 free XQ Hangar Defense Platforms. This may not sound like a lot, but having 6 free fighter squadrons on all of your planets for no cost makes early game scouting and raiding against a New Republic player difficult. Even better, these special XQ platforms use no tactical slots, so you can quickly reinforce them with repair platforms and torpedo turrets to make a formidable defense even before you can get Starbases online.
The New Republic also suffered from needing a lot of research labs to unlock their full potential, along with very large and expensive military units. It was often very difficult to get both the research and warships completed before being overrun by an enemy. To help with this, two mid game techs representing New Republic economic policy have been addded. Standardization is based on the New Republic's focus on reusable components and technology sharing among member worlds, giving a potent boost to both ship building speed and passive hull regeneration. Economic Codevelopment helps tie the economies of New Republic worlds together with mutual investments, granting 4 more logistic slots to all planets. Together, these should help ease the transition to New Republic's late game.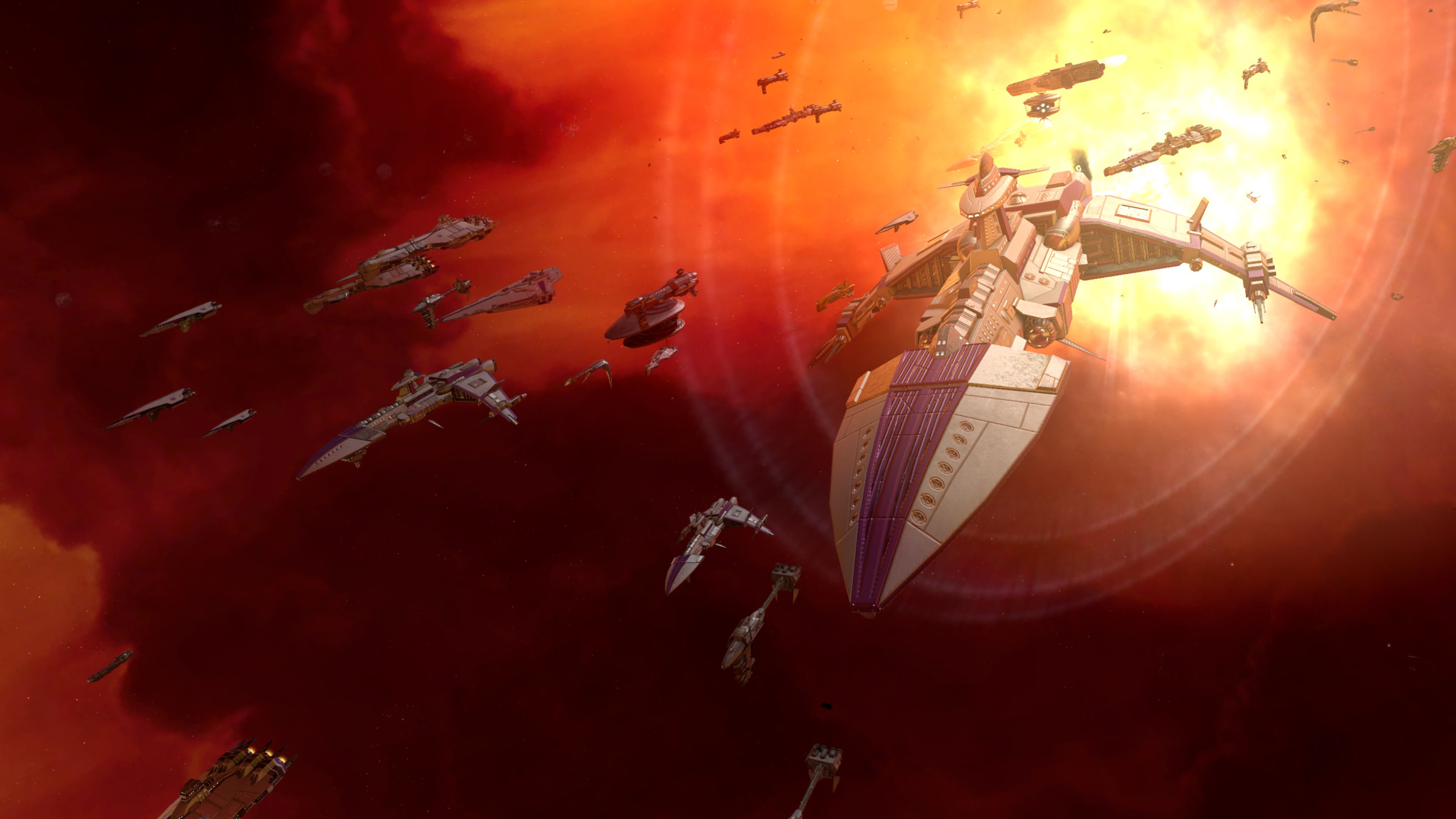 Finally, the New Republic's military units were also not quite as fearsome as we expected them to be, even after their attack penalties had been removed. There was no single cause for this, so almost across the board there have been smaller scale adjustments to New Republic ships. Among the most notable is fixing a bug that caused the Nebula Star Destroyer's Torpedo Volley to do far less damage than intended, a reduction in New Class research costs, and many of the New Class ship abilities have been buffed. In addition, the Proficient and Liberator Cruisers, not being true New Class ships, were removed from the New Class line and given their own research, which might make them more accessible in some situations. The K and E wing technologies were also combined into one research called Next Generation Fighters.
Rebel Alliance
Our boys in red have also gotten a decent number of changes in this update. The most obvious change is that the Providence has been replaced with it's modified counterpart: Rebel One. This is a fascinating ship that helps the rebels in what we felt was one of their weakest, but most thematic, parts of the faction: Raiding. It has the ability to board enemy ships to inflict random debuffs, inspire revolts that prevent enemy planets from building structures and units, and can supercharge the energy weapons of ships that are heavily damaged to go down in a blaze of glory (much like the original Rebel One herself).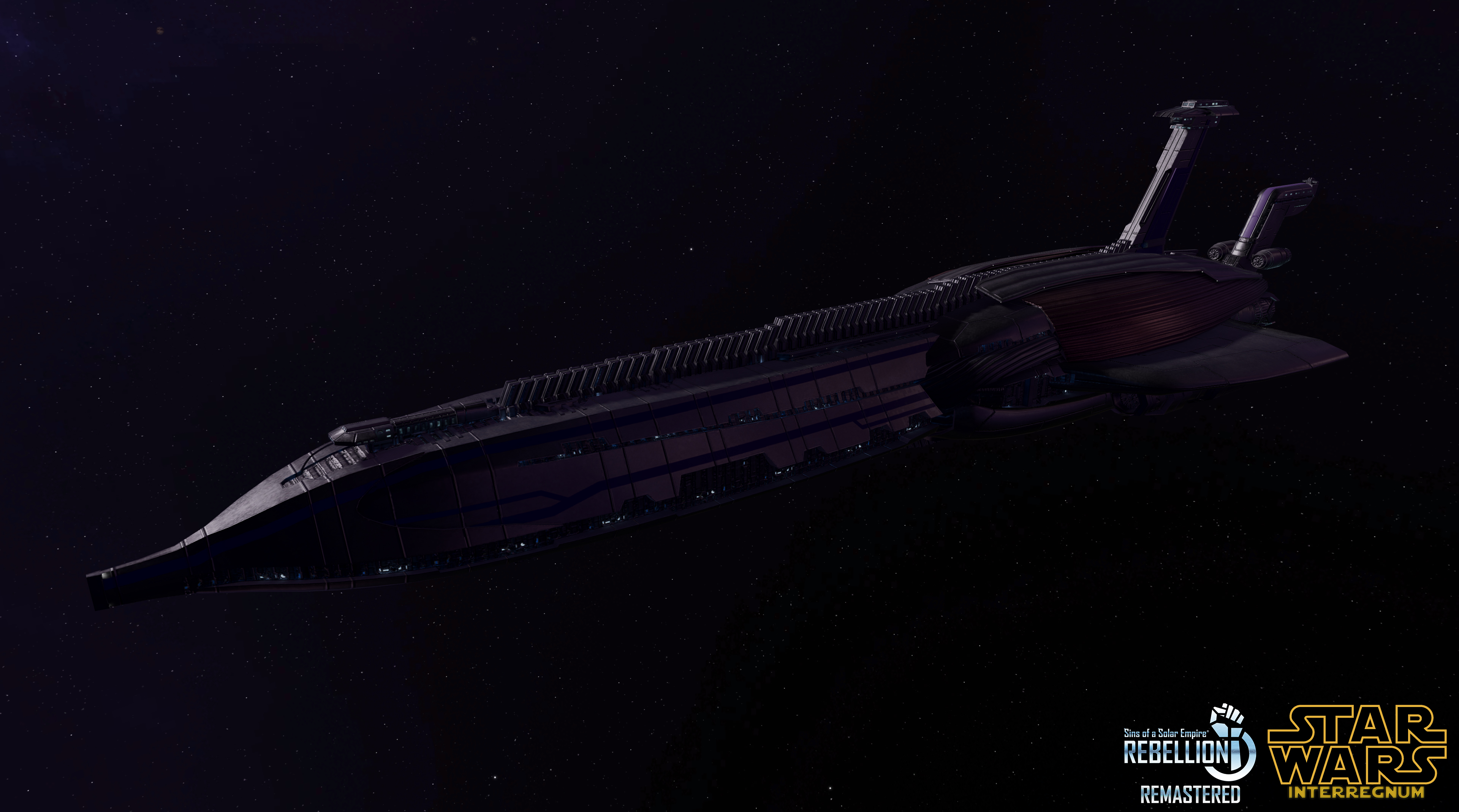 Another major problem for the Rebellion has always been leveling up its capitalships. Unlike other factions, the Rebels can only purchase capitalship training up to the second level. The On The Job training technology was intended to make up for this by giving Rebel capitalships more XP from defeating enemies, encouraging them to raid more often. But in practice this was almost always a bad trade. To make up for this, the Rebels now have a passive +10% XP bonus from the start of the game, and On The Job Training is now available earlier to give a +30% total bonus. This allows them to get this important buff during the expansion phase of the game and have higher level capitalships once they come to blows with other players.
Finally, a number of small but still significant buffs have been given to a number of important Alliance units, including a better Colonization bonus and stronger defense increase from Heart of the Fleet for the MC80 Command Cruiser and a change to the MC30s damage type to be more threatening to all units. The MC80 Liberty, MC80B, and MC90 have also all been made available a level earlier in the tech tree, allowing Alliance players to get these units out more quickly. Finally, after many requests, the Alliance superweapon, the Insurrection Center, is now more deadly, with a large number of bonus starfighter squads joining the frigates it summons. These squads should allow this super weapon to have enough damage to take out key structures at any target planet, especially ones that lack starfighter defenses.


Once again, these changes are only the highlights of the balance changes to come in Beta 2. When the update goes live we will post the entire change log in the download page. In the meantime, feel free to leave your thoughts and ideas in the comments below. What balance changes are you most looking forward to trying out?