After many unsuccessful try, Brickout Zero Gravity have an Icon finally.
Several months ago, I've started designing the icon but I wasn't happy with any of the many versions I created. It's difficult to tell why. As the App icon is the most important visible component, it makes the very first impression so I knew it has to be well done. I'm not saying of course, that my BOZG (Brickout Zero Gravity) icon is a perfect one, but finally I could make something acceptable by my own quality check.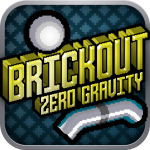 So back at the design process, after a little break (meaning: working on other parts of the game) I went back to the icon "project" again. And again, and always failed. The cause of the failures was probably that I couldn't mix the pixel art with the rounded icon shape, and also the lack of a lovely character that would be easy to just simply place on the icon.
But now, approaching the release date, an icon was finally born (thanks to my Wife, pointing me to the right direction) and I'm happy with it! I know, it's not the best idea to place long names in an icon, but after so many hours of watching and playing the game, it seemed to be the best graphic element to fill the icon with, and it brings you the most of the game's true atmosphere.
more images: Indiedb.com
videos: Indiedb.com