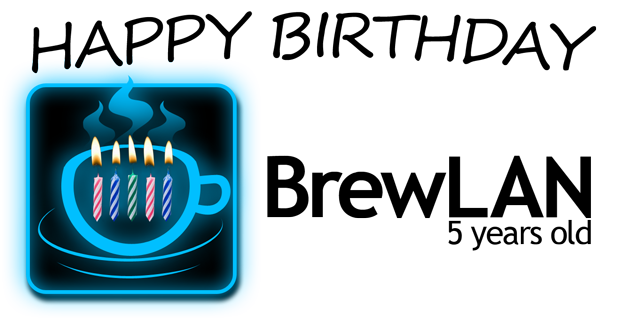 Who would have thought that after 5 long years ago an unassuming mod that started off as a way to make tech 1 only battles balanced, that took its name from a small private LAN party that also happened at around the same time, would still be alive and releasing! (I use the term releasing loosely as in those 5 years there have so far been only 6 public releases.) But yes! Today marks the 5 year anniversary that the first entry in the BrewLAN change log was dated. (I say dated not created, because the second entry starts with the words Created Changelog.)
2009-08-26|0.1a
Added the Pidgeon, UEF Tech 1 Light Gunship to the game.
It even comes with the adorable misspelling of 'Pigeon'. (*Shakes fist at sky* CURSE YOU PIDGEY!!!) At 5 years old the changelog is now 1311 lines long; 193 of which have been added since the last public release version 0.4.4 beta. To commemorate this event, I give you the video that someone linked to me last night that made me check how old the mod was for the sake of replying to said link, without which this Birthday message would have never happened. I give you a fan made trailer for BrewLAN:
Incidentally the 5 year anniversary of the BrewLAN ModDB page, and the first ever public download release of BrewLAN, is coming up on 13th October. I will commemorate the occasion with an all new public release! The long awaited BrewLAN version 0.5 beta.