Nice to see you once again on our moddb page, friends!
Team Changes
To begin with, we've got some breaking news as our team was officially joined by Spectrum Project - Path In The Mist 2. For some time we have been working together on ISOTD3, while PITM2 was cancelled.
The good news is that locations, models, textures, plot ideas and other shades of PITM2 are going to be used in ISOTD3, so the Spectrum Project is no way dead! It's absolutely alive as a part of In Spite Of The Death.
So, these people of Spectrum joined ISOTD3:
Swamp Doctor (Spectrum leader)
FantomICW (just a formality, as I've been working in both of the teams :P )
Immortal (as a team helper)
Skat (as a team helper)
To continue, some other great guys joined the team
Macblack (animator, modeller)
LUBER (sound)
LENA_D (team helper, art works)
Konvoir41 (team helper, art works)
Other team changes:
Hakim was moved from helpers to team members
LeShaLoST was moved to team helpers
Inactive team members were moved from the list
Also worth noting that nikitalebedin has been our helper more time than anyone. We are thankful for his great help and wish his team all the best in their project!
Altogether, this is how our team looks now:
Vintorez94 - level designer, SDK, sound, video
FaLcon - level designer, SDK, modeller
Swamp Doctor - level designer, modeller, quest creator
RazRuSchiTeL - level designer, modeller
Scarabay - modeller
mwesten1 - modeller
FantomICW - senior quests creator, scripting, textures, SDK
HitmanNew - quests creator, SDK
Strelok200 - quests creator, SDK
makdm - scripting
Skyff - plot writer, texts
Malik - designer, website
Luber - sound
Gaz1k - weapons pack
den-stash - animator
Macblack - animator, NPC models
Hakim - NPC models
Helpers:
nikitalebedin - maps compiling, LENA_D and Konvoir41 - art works, LeShaLoST - tester, Immortal - textures, Skat - NPC models.
Huge thanks go to che707 for his technical support!
More team changes are coming soon.
---
And now some media...
Thanks to Hakim and Macblack, we now have a new model CoP's Uncle Yar, who used to be a Freedom sniper. Consider it aa a small spoiler :)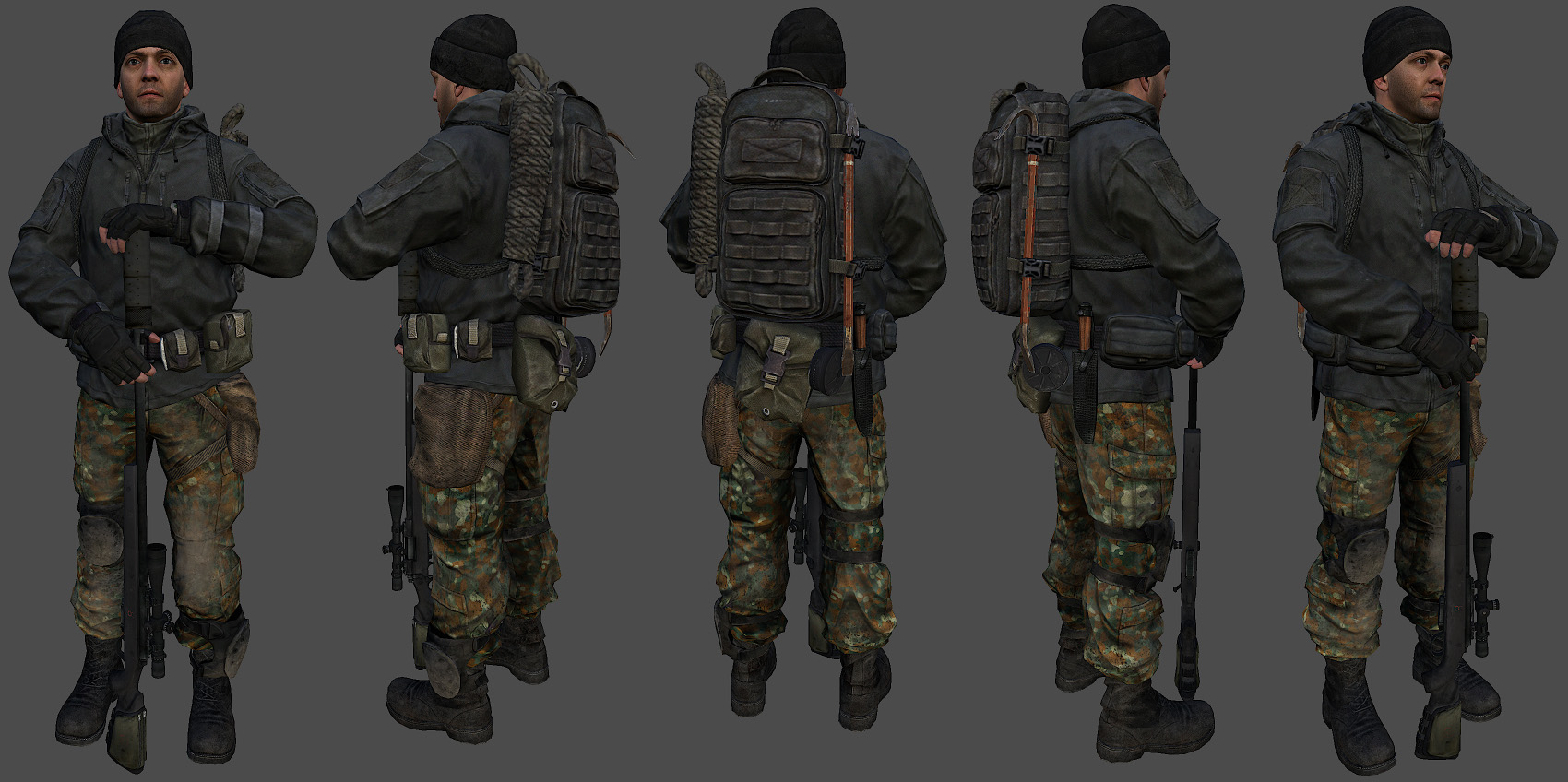 And the last but not the least. A new cutscene by Den Stash, this time showing a silent elimination of the enemy:
Thanks for your attention!
INS Team