First, let me say thanks for all the positive reaction to ADDICT! It's been a tremendously encouraging experience, and I'm excited about where the project will go from here.
The trailer and screenshots which I've posted are great and all, but you're probably wondering just what exactly this game is all about. Sooo. . . lemme' break it down using this FANCY SCREENSHOT!(Excitement!)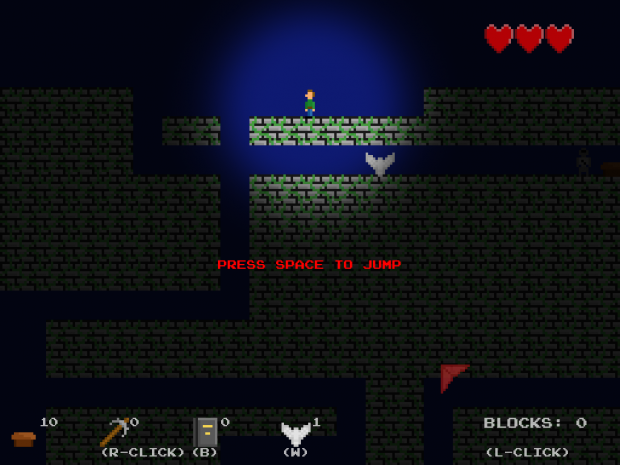 Lookit' That!
ADDICT takes you into nine "nethers" of a human mind, challenging you to survive by gather food (le' yonder loaf of bread, visible in bottom left) and valuable tools: Pickaxes, Holy Books, and Wings. You must then plummet into the depths of the nether, which is a randomly generated labyrinthine map, searching for three things: a letter, a box, and a key. Once you've found all three you can progress to the next nether through a red door found towards the very bottom of the map.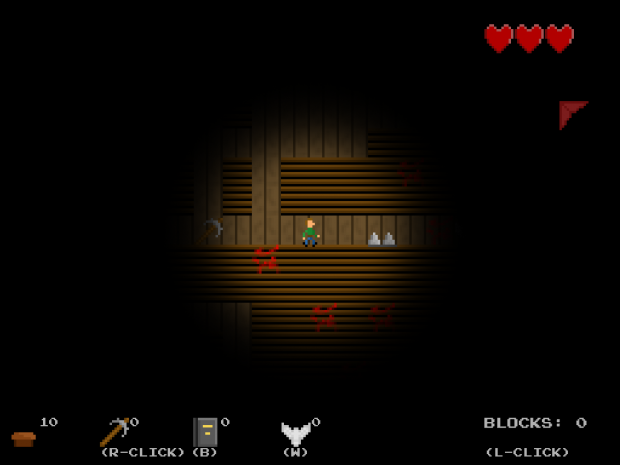 Pictured Here: More Awesomeness
As you can see, you also have a health limit, found in the top right corner of the screen. Falling too far, touching spikes, or being brushed by an evil spirit are all things which can bring you to death, but the greatest fear is encountering The Watcher (dun du dunnn!!!!!), a mysterious entity running around your mind and generally making life crappy. If you want to know more, why not check out the full page on IndieDB or visit www.jenito.com (where you can also like us on FB, follow us on Twitter, and subscribe to our YouTube channel!).
As for release date. . . the game has been submitted to Desura! I have nothing but good things to say about Desura, and they've always treated me wondrously. With that said, the game will most likely launch as planned, March 1st, 2013 (which is this Friday). I'll keep you posted!