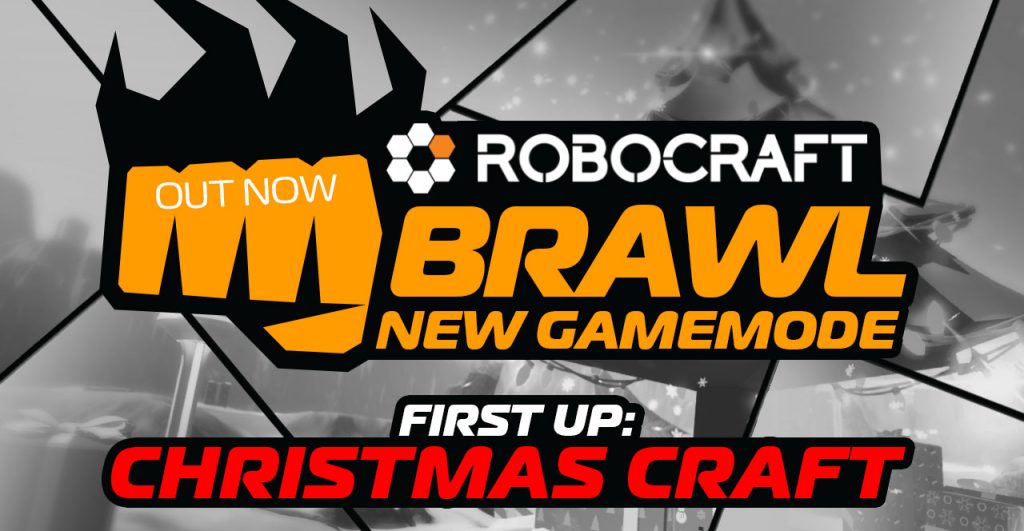 Our latest update BRAWL is now live! BRAWL is a new game mode which brings new and exciting ways to enjoy Robocraft. This new game mode aims to bring regular, fun twists to the game via changes to mechanics, maps, weapons, Robot requirements and restrictions - all of which will require you to build custom Robots in order to be the best. We're also rewarding BRAWL players with extra bonuses for their first BRAWL victory.
To find out more about why we introduced this new BRAWL mode, read Mark's latest Dev Jam.
NEW:
Introduction of new BRAWL Game Mode
Removal of Pit and Elimination as individual Game Modes (merged into BRAWL Game Mode and will be rotated in future Brawls)
New Play screen with tooltips
New BRAWL Game Mode details screen
Hellion Crater Map updated for Christmas
CHRISTMAS BRAWL 2013 RULES:
Map: Hellion Crater (Christmas Version)
Min Robot CPU requirements: 100
Max Robot CPU requirements: 2,000
Cube Restrictions: Nano not permitted
Bonuses Awarded: x3 XP and a bonus crate for first victory
IMPROVEMENTS:
Add timeout to avoid waiting too long for custom avatars to load
BALANCE CHANGES:


BUG FIXES:
Fixed a bug which prevented the avatar of a clan invitee from appearing on the pending Clan invitation screen
Fixed an audio bug which prevented SFX from playing when someone joined your clan
Updated the returned error message when attempting to login to the website with an unconfirmed email address
Fixed a bug which enabled a player to send party invites or view their friends list while in a matchmaking queue. Doing so disabled the ESC key
Fixed a visual bug that prevented the EMP module from appearing on the placement gun when in edit mode
The quality settings text is now updated when a player changes their default language
Fixed an issue with the CRF that displayed the last column of Robots incorrectly at some resolutions
Fixed the ratio of the flags on the language select options to prevent them from appearing squished
Fixed an issue that caused the Robocraft Client to sometimes crash when opening the final crate in a purchased pack
Added a new glass texture to all the bridges in the game
Multiple corrections to Italian language text in-game*

*Thanks to your detailed feedback on the new languages supported in Robocraft, we will be making a number of changes and improvements to the text in-game as soon as we can.
Please refer to our forum post here if you see a mistranslation in-game and you'd like to submit a correction: Robocraftgame.com