PARTY MM DONE, ELO & CLAN LEAGUES SOON
As discussed in Dev Jam #1, we've been making a series of changes to Robocraft that are designed to allow us to improve the matchmaking so that we can match-make Parties effectively and move towards matchmaking by ELO as most other Arena games do.
We introduced the 'CPU to Energy' mechanic in 'Fast and Formidable' and were able to improve the matchmaking by ensuring that teams of randoms no longer have to fight whole teams of players in Parties. Now we want to introduce some more changes that we need to make in preparation for ELO matchmaking which will then follow with competitive Seasonal Clan Leagues.
LESS GAME MODES = MORE GAME OPTIONS
Our final aim for game modes is to have 4 options that will provide maximum flexibility and variety whilst ensuring best possible matchmaking. This next update is one step towards this as The Pit and Elimination will be moved into a new game mode called Brawl!. The final game mode options we're aiming for are as follows:
Unranked Battle Arena – we will improve Battle Arena to make it work with 5 vs. 5 teams (which will improve matchmaking also) and add in some fresh mechanics. Your rank will not be affected in this mode, but you will be match-made by ELO to ensure players of equal skill play against each other.
Ranked Battle Arena – here you will gain and lose rank on a seasonal basis. The Clan League will focus on this game mode. It will be upgraded to fix some of the current issues in Ranked.
BRAWL – This allows us to introduce fun twists on the game at regular intervals with increased rewards for your first victory in this game mode each time it changes.
Custom Games – Allowing you to setup your own servers playing any game mode, with your own game options, inviting who you want to play with.
BRAWL
This week's update will introduce this new game mode called BRAWL. In BRAWL you will get new mechanics, new maps, and crazy ways to play Robocraft that require you to build custom Robots to win on a regular basis.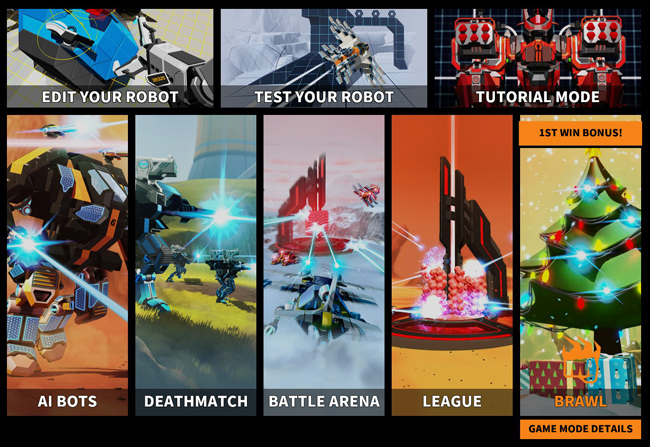 Here's a list of the things you might see in future Brawls:
All game modes appearing in a random rotation with The Pit, Elimination, TDM, BA, and new game mode options too
New maps, possibly even maps made by the community in competitions
Restrictions on which parts are allowed in the mode, to challenge your ability to build Robots that can win under the new rules
Changes to the balance of parts for this mode only: Thrusters with insane power or weapons that have been completely changed
Shake ups to core game mechanics, like no-health-regen, overclocker, towers, scoring, etc.
World physics changes, gravity, atmosphere, friction, ceiling
This provides almost unlimited fun and variety that we can introduce regularly. Starting next year, we'll be happy to take suggestions from the community for ideas for BRAWL and will implement them as long as they can be done within a reasonable amount of effort.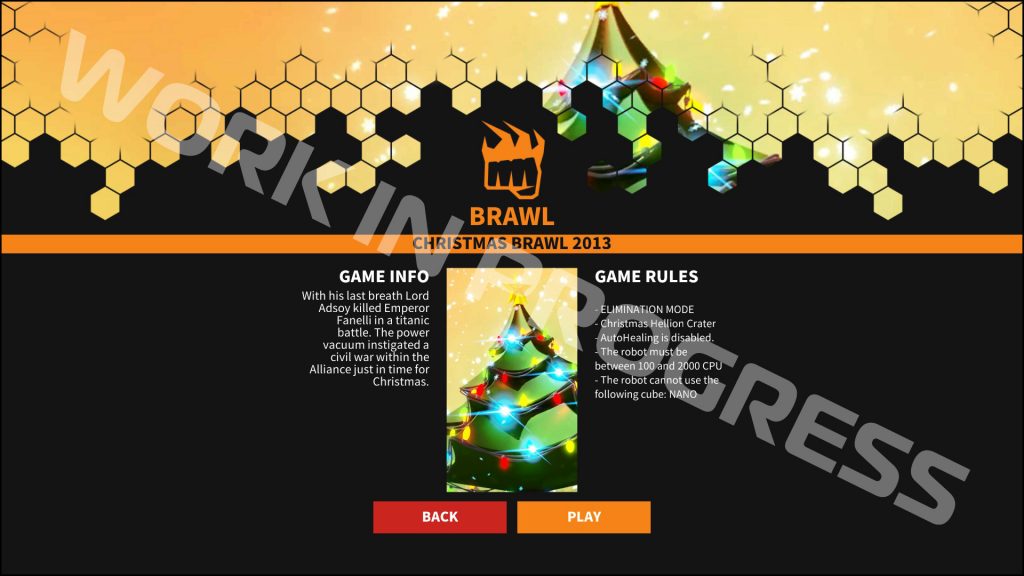 A new BRAWL Details screen will show the details of each new BRAWL when it's live in-game. The details of our first ever BRAWL will be revealed in the patch notes coming this week.
Thanks for reading!