It's been awhile since we've updated our Eden Eclipse moddb profile. We know we missed the MSUC Phase 3 contest deadline and a lot of you were disappointed with the lack of a public release. However, we're currently working hard to make the Phase 4 deadline and we'll try our best to have a public release before that (no promises though!)
In the meantime, please enjoy this EXCLUSIVE screenshot from a never-before-seen level of Eden Eclipse. The shot shows off the Refinery Mine level of the game which we have never publicly shown--until now. I know it looks pretty cool already, but remember, this is a work-in-progress... when you guys get to actually play this thing you'll be amazed; that we can promise.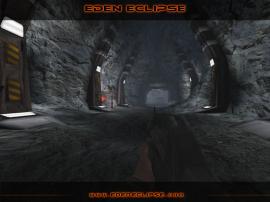 Check out our image gallery for the newest moddb eclusive image and all our other screenshots! And be sure to check out EdenEclipse.com for more updates soon!