Today marks the first of our new weekly update for Boxman Begins. We realize we haven't been as good at communicating as we could be. We're worried people might think the game doesn't exist anymore. It does, and we've been working really hard on it. So from now on we will give you a weekly update no matter what. So you know exactly what's going on. This week I'll update you on the major tasks being worked on in the past couple of months. First though let me show you some cool screenshots from a map we've been working on.
Online Systems
A major project for us over the past couple of months is preparing the game's online management systems. This, combined with a finalized game flow will allow players to open the game, join a session and get right into action as easily as possible. We've been amused at the simple fact of how few players will ever even be aware of the existence of the online systems. We have a Google server setup which keeps a record of all game's being played, people logging in and out, and it ensures everyone can find and join a game as seamlessly as possible. It's pretty awesome if I'm being honest. The day we got the Google server online was quite fulfilling. The game pinged Google, and a few milliseconds later printed a message that said "Hello from Google". It was then I knew the game was finally coming online.
Part of this online system is of course a server browser. We're still working on it, but here's a look. As with the rest of the game, we've gone for a simplistic and minimalist design. Also please excuse the blue background, it's an in-progress of course.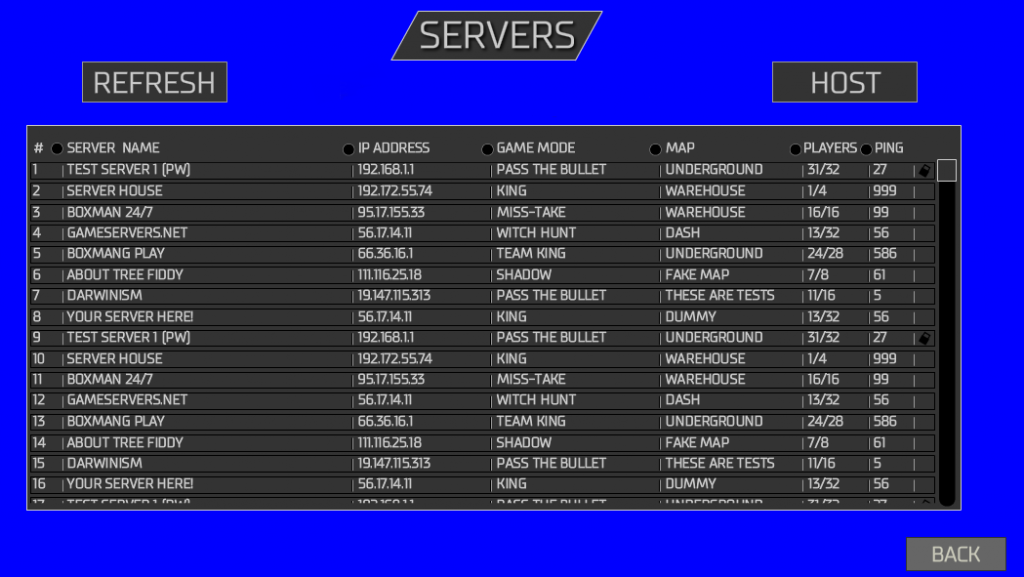 The leveling system
We've also been finishing up our unique leveling system recently. It rewards you with points for completing challenging objectives for each class in the game. We've had a lot of fun coming up with things for you to do. Things like shooting only feet to win a game, and jumping twice in between every kill throughout a game. We haven't had much of a chance to test it, which we intend to do in the near future, we're only just finishing up the system now and it was quite the job getting it implemented. Gameplay wise it might be one of the more complicated systems to program.

Steam Integration
Ever since we got Greenlit last month we've been working on integrating the game with steam. We need to get it linked in with Steam's content delivery system so we can distribute it. In the near future we want to start doing beta tests and steam will be how we get the game to testers. Obviously this all hinges on the online systems being ready for testing, which they just aren't right now.
So that's what's new with Boxman Begins. We shall be back next Wednesday for another update.