Hello Community! I'm very, very new, so sorry I post something inapropiate, in that case, please let me know!
Over the last months, I have been learning and practicing how to create a game, that was an idea from long... long time ago that I could never realize. So over the weekends and after my main work, I started this game called "Boxee" in wich you are a box in a room, and you basically need to solve a puzzle to get to the next.
Physics are really simple, I added a few traps, and timed runs to make the game more fun. Currently it has 17 rooms, 10 very easy and the others a little bit more complicated, but is not at all a long game, one of the main points that I'm planning to improve in the future.
Here an example images: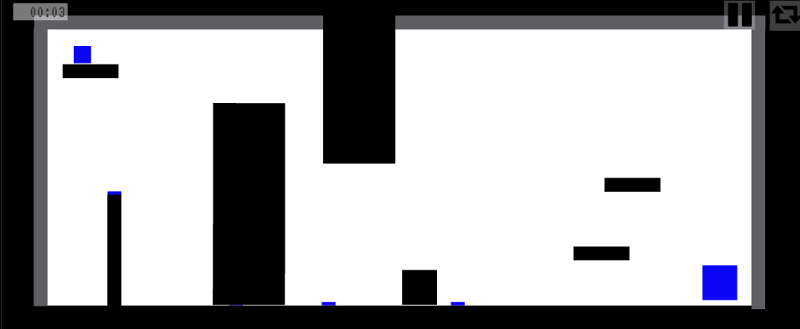 You are the box in the middle of the floor, get the blue key in the top left, and go to the exit on the right (blue) Yes! is very, very basic! But I really liked :) take into account that is my very first game! all by myself.
I put the price as lower as I can. I'm planning to do also a free AD version, or to make the game free and sell the level pack as in app purchase (no ADs), but the engine that I'm using is getting a little bit tricky to implement it, so I'm planing to do it on the future.
v1.0.0 is on Android and Windows Phone, an update will come in the next days adjusting a few level descriptions.
I'm also planning to add more free levels on the future, and updates to the game basics, adding more sounds, level selects, and timed runs, also going to other platforms.
If you like the good looking and polished games, please do not see it! if you want to give it a try, here are the links:
BoxeeGame:

Android: Play.google.com
Windows Phone 8: Windowsphone.com

Reddit: Reddit.com
I feel strange posting this basic game in this site with great games that I could not compare at all! But also feels like the first step into a big future (I hope!!).
I would love to ear your thoughts and recommendations? Is this game doom? should I make it free directly and think on monetization later? Any other place where I can "promote" or show my game? Any info at all will be gladly appreciated!
Thanks in advance.
Javier Caruso