Have you ever wanted to prove that you're far more skilled than your friends? Nothing works quite as well as cold hard statistics, so that's what we're going to be providing! The latest build available on the website now includes a timer system, tracking your progress in each level.
That's cool, but it's not saved anywhere, what's the point?
Long story short: We're working on it. The current account system is very basic (to the point that all players use the same demo account) and we want to finish work on something a little more awesome before we start rolling out individual accounts. For the moment, you'll just have to survive with a rough idea of your times.


The second cool thing about this system, at least in my opinion, is that the design philosophy has not been compromised; there is still no UI present aside from the login screen. Every timer is integrated into the environment, some more than others.
As always, you can check out at the latest build on my website! This build features a brand new level, with added surprises.
Lastly, the more observant readers amongst you may have noticed that I've opted to use the pronoun "we" in this article. This isn't a mistake on my part, but more interesting news to follow on that front soon!
And in closing, I leave you with news that some timers are a little too integrated.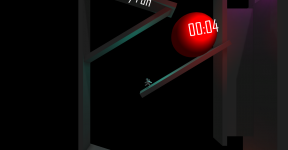 Cheers!
Ruan