Boss battle in Overlord Trouble
Leshiy
Description
Despite his looks he is a younger representative of Leshiy species (that's why he's also the first boss). Because of his desire for glory and fame he allied himself with a monster that is planning to start next human-monster war. He knows about war only through stories, so he lacks experience in this expertise. However, even if he lacks experience he still is the strongest monster in the forest and also a son of the previous leader of the forest, which makes him the legitimate current leader of the forest, which creates a lot of trouble in the neighbouring human settlements.
Boss fights in Overlord Trouble are completely different from common mob fights. Boss has two modes: first is default, second is special. To unlock special mode, player has to meet certain conditions, different for each boss.
As it is with all games of similar genre, it is not enough to just brute force through the boss as each boss has it's own way of fighting the player which means same tactic doesn't apply to two different bosses.
Next difference from common mob fight is the fact that all bosses are fully animated.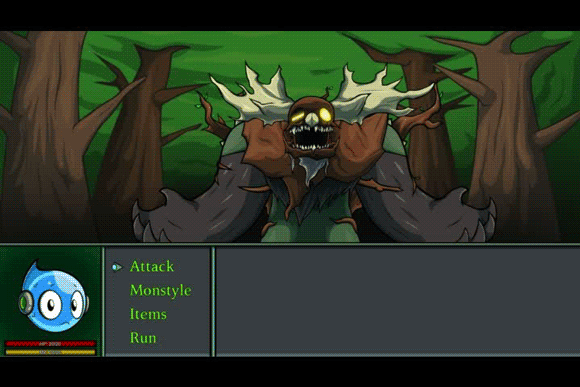 Main goal of this game is to persuade bosses to resign from the war or at least make it so your village is untouched by their war.
Follow the news of Overlord Trouble on:
Official site: overlordtrouble.com
Youtube Channel: Youtube.com