It has been a while since the last update for Booommm. With Booommm's approval on the Apple App Store and it's progress completed, Booommm's release date has finally been set!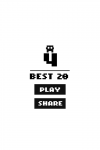 And to find out when Booommm will be released, check out this new trailer for the pure black and white explosive game!
That's right! Booommm will be coming out this August 28th, just two weeks from now! Don't fret as it is also possible to get your hands early on the game!
Just follow me on Twitter as I will be tweeting out pre-release promotion codes some time during these 2 weeks!