New AI
This was the most important thing on our list, and therefore the first to be fixed. The prior cat AI led to plenty of suicides, and this was simply unacceptable! The AI has been improved so that suicide is significantly more rare, which allowed us to set the default number of lives of the enemy cats to 1. This has a fairly large effect on how the game plays, so please checkout the updated version of Bomber Cat, which is still available from the gamejolt page!Here is a short video showing early gameplay from start to finish on a basic map. There is a lot of work left in terms of content and polish needing to be added, but this video shows the general core mechanics.
Future Content
- Multiple game modes: Death Match, Team Death Match, Kill streaks, etc
- Boss fights
- Classic top down view
- Direct IP multiplayer
- A wide variety of maps, including different shapes and sizes
- A wide variety of power-ups, including one time use power-ups, kill streaks, special bombs, etc
New Textures and Maps
We've recently increased the resolution of the texture atlas, in order to allow finer detail to be added.
We've also begun working on a wider variety of map shapes and sizes, instead of sticking with the classic square Bomberman style maps.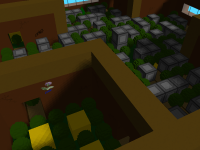 Greenlight Campaign
We have added Bomber Cat to Steam Greenlight and could really use your support! All votes are greatly appreciated, as they truly make a huge difference in the course of our development. Thanks a lot for your support everyone! Currently we are making all of our updates available for free from our gamejolt page, but if you would like to show support for us in the mean time, the thing we need the most is help spreading the word about Bomber Cat. We are a small two man team and we are going to struggle to get any exposure without the help of our fans, so please feel free to make posts, vidoes, blogs, tweets, or any other method you deem fit, to help spread news about the game. We really appreciate anything you guys do, even simply leaving a comment with suggestions or comments would be a great help! Feedback really does shape the development of the game!