Building Better Bodies
Tomorrow, November 16th, we'll be rolling out the next Robocraft update titled Body Builder. This update will bring with it a new and exciting way for inexperienced Robot builders to make a range of Robot bodies that are both functional and beautiful within a matter of seconds. For those with more building experience we're adding the much-requested Undo functionality to edit mode. As well as those two amazing features, we've got some gorgeous new cosmetic parts and Elimination is back in BRAWL mode. We're making some balance changes and squishing bugs too - all of which can be found below.
---
NEW:
Body Builder Tool The Body Builder tool has been designed to give players who are maybe not yet comfortable with building in Robocraft the power to create nice looking Robot chassis quickly with just a few clicks of the mouse.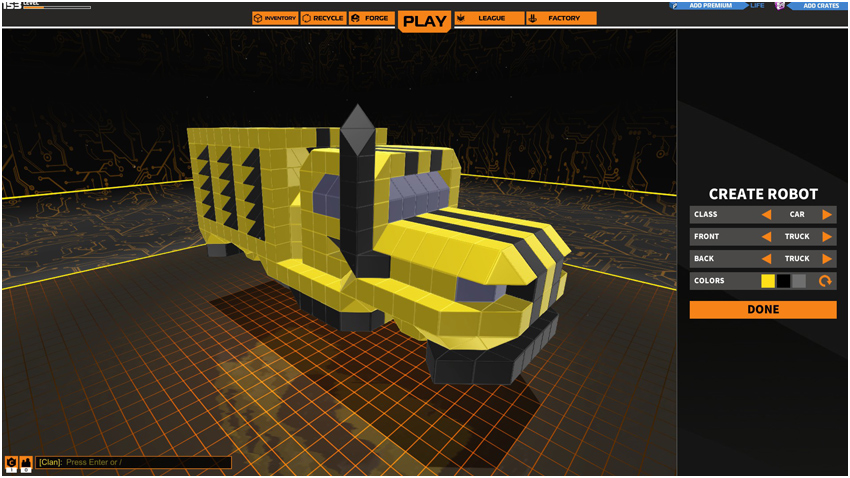 The Body Builder interface is very easy to use:
Select a Robot class (car, mech, tank or hover)
Select a front body (multiple selections available)
Select a back body (multiple selections available)
Select color scheme
Create your robot body
For more information on the Body Builder tool, check out Sergii's recent Dev Jam. Undo in Edit
Pressing the player-assigned* Undo hotkey while in Edit Mode will undo the last action:

Robot part being placed
Robot part being removed
Robot part colour being changed
Robot being moved (up, down, left or right)
Undoing a mirrored action will undo one action at a time. I.e placing 2 cubes in mirror mode will undo one, and then the other

Undo history starts from the moment of entry into Edit Mode
Up to 2000 Undo actions permitted per 'save session'. Save sessions refresh when the user leaves the garage bay
New on-screen hint for Undo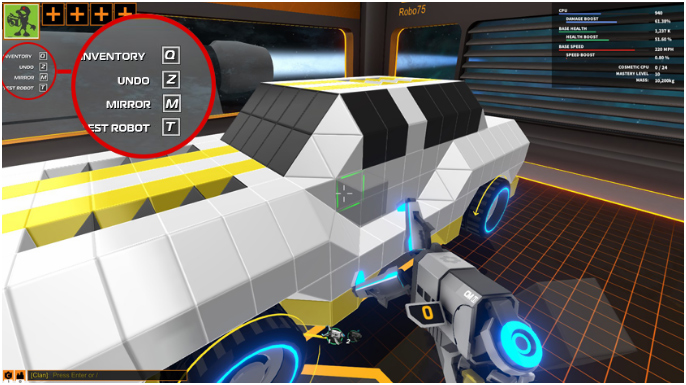 To activate the Undo functionality, existing players will need to assign a hotkey. This can be done through the controls settings which can be accessed by pressing the Esc (escape) key on the main game screen.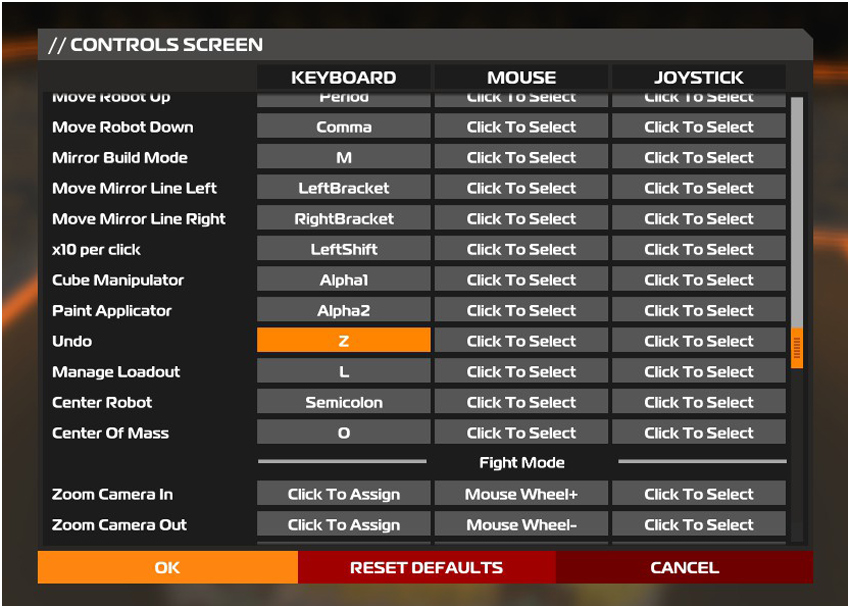 New cosmetic eyes Three new cosmetics based on Human, Cyborg and Feline eyes have been added to Robocraft. These new cosmetics can be used to add real character and charm to your Robots as they'll animate too.
Here are the all-important details on the cosmetic eyes:
Part Name: Cat Eyeball
Part Type: Cosmetic
Rarity: Epic
Forgeable: No
Drop Quantity: Single
CPU: 3
Notes: Left and right variants
Part Name: Vigilant (Human) Eyeball
Part Type: Cosmetic
Rarity: Rare
Forgeable: No
Drop Quantity: Single
CPU: 3
Notes: Left and right variants
Part Name: Cyborg Eyeball
Part Type: Cosmetic
Rarity: Legendary
Forgeable: No
Drop Quantity: Pairs
CPU: 3
Notes: This part can be rotated to make either a left or right eye
Elimination BRAWL Many of you have asked for Elimination to be brought back so we're doing just that, bringing it back as a BRAWL. If you're new to the game mode, there are two ways to win Elimination, either kill all of the enemies or capture the enemy base and there's no respawn either!
OTHER CHANGES:
Changes to Robot carousel to accommodate the new Body Builder tool

Players will now see a "NEW ROBOT" icon at the far right of the carousel on the main game screen. Pressing the "NEW ROBOT" icon will open a new menu.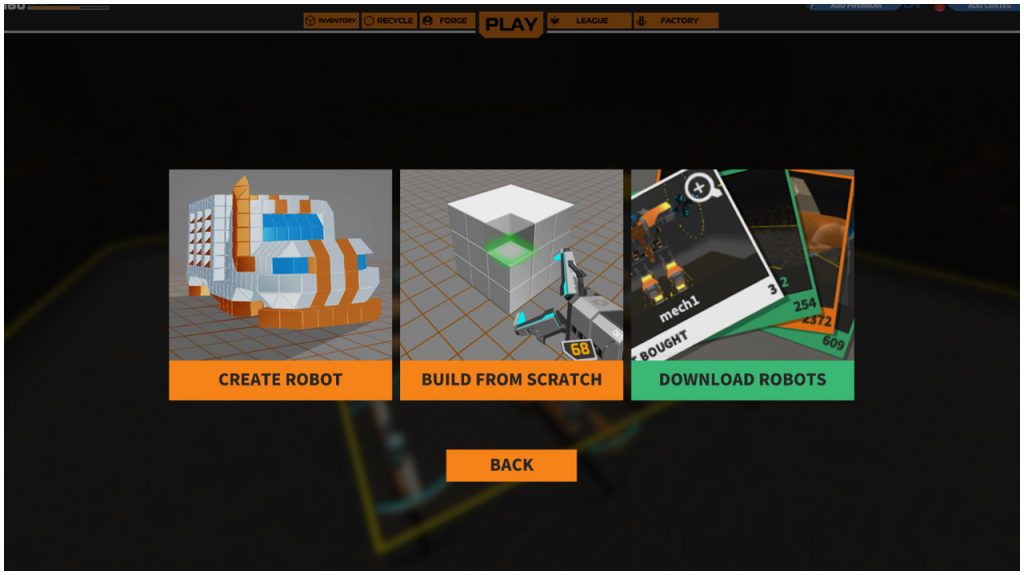 Common building cubes are now free to forge. In order for us to accommodate the Body Builder tool, the following cubes will have a zero forge and recycle cost. These parts will no longer drop in crates and players will receive common Robit rewards instead.

Health Cube
Health Edge
Health Corner
Health Inner
Health Edge Round
Health Corner Round
Healthy Inner Round
Health Edge Slope
Health Corner Slope
Health Inner Slope
Health Cone
Health Pyramid

Changes to new player account inventory items. To enable new players to use the Body Builder tool if they wish, they will receive the following inventory items when they first login to the game:

Top Laser Wasp x10
Plasma Pulser x10
Rail Piercer x10
Steering Wheel Discoverer x10
Tank Track Warthog x10
Mech Leg Centaur x10
Hover Blade Squall x10
All common building blocks x10,000 of each part

Revert changes made for Hallowfest event:

Remove splash screen
Remove Hallowfest Flak Cannon
Remove Halloween Music & SFX
Remove Pumpkin Crates
Reverted Halloween mothership
Reset legendary item drop-rates
Remove pumpkins from maps and replace with rocks
Reset drop-rate for Spider Leg, Scary Mask, Bat Wings/Rudders and Spike cosmetic parts

Default key bindings changed to accommodate the Undo functionality in Edit Mode:

Manage Loadout is now L
League Arena is now N

Robots built in bays that have previously contained a Robot downloaded from the CRF can no longer be uploaded to the CRF
Based on Steam's guidance regarding pricing, we have made some small reductions to prices on all Steam Bundles (including Lifetime Premium purchased through Steam) in the following currencies:

Indonesian Rupah (IDR)
Malaysian Ringit (MYR)
Philippine PESO (PHP)
Singapore Dollar (SGD)
Thai Baht (THB)
Korean Won (KRW)
Indian Rupee (INR)
Chilean Peso (CLP)
Peruvian Peso (PEN)
Colombian Peso (COP)
South African Rand (ZAR)
Hong Kong Dollar (HKD)
Taiwanese Dollar (TWD)
Saudi-Arabian Riyal(SAR)
Emirati Dirham (AED)
Commenwealth of Independent States (CIS- USD)
Please note that these prices are now live. To view the current pricing, please check the Robocraft Steam page in your country.
BALANCE CHANGES:
All Electroplates and Struts have had their health increased by 12.5%
All Electroplates have had their mass reduced by 50%
All Hovers have had their "pure" carrying capacity increased by 25% ("pure" means "excluding the carrying capacity meant to lift their own mass")
Thruster Force has been increased by 10%
Thruster health has been increased by 20%
Both Chain weapons have had their spin-up time reduced from 3 to 2 seconds
BUG FIXES:
Fixed a bug which caused Insect legs and Mech Legs not to animate when viewed from a fair distance
Removed the white box from all weapon rotational degree yellow lines
Updated icons for Spike Pin, Spike Claw and Spike Dagger cosmetics
Fixed a bug which caused the HUD to vanish in battle when pressing = in chat
Fixed case sensitivity with the /partyinvite command
Fixed a bug which caused some robots with hovers on multiple vertical layers to get stuck to the ground
Fixed a bug which caused some sound effects to play when logging in or entering/returning from game modes even if you mute all audio channels
Fixed a focus bug with the Xsolla payment screen when using the Robocraft Client
Corrected the colour of the 'fluid' in each Nano canister to green when in test mode
Corrected the colour of invite pop-up in Custom Game invitations
Fixed a bug which caused an "unable to load bot" error when dismantling a Robot that you have copied