While we should begin by stating that everything we're gonna put on display today is subject to change at a moment's notice, our online team is totally ready and willing to give you a look at the work they've been doing in anticip
So, what can players expect to find when they visit Bungie.net on May 3rd?
Tom Gioconda In the past, Beta time on Bungie.net meant players simply had access to game history, but for Reach we've gone significantly further than that. Not only will you find game history, but your Service Record, aggregate career stats, Commendations, File Share, file tagging, file rating, file searching, file comments, and even Reach Film Render to Video for Bungie Pro subscribers. Most of these features are extremely well polished, and not at all what you would expect a Beta to support.
Chris GossettService Record


Game History List


Post Game Carnage Reports
Career Stats


Stats by Game Type


Stats by Map


Commendations
File Share


Screenshots


Films


Rendered Videos
Global Stuff


Some Global Stats


Playlist


Unified File Searching (tag searches on bungie.net work in-game and vice-versa)


File Download/Upload to Xbox


File Rating and Tagging (connected to in game ratings and tags).


Rendering of Reach Films (with Bungie Pro and Render Minutes)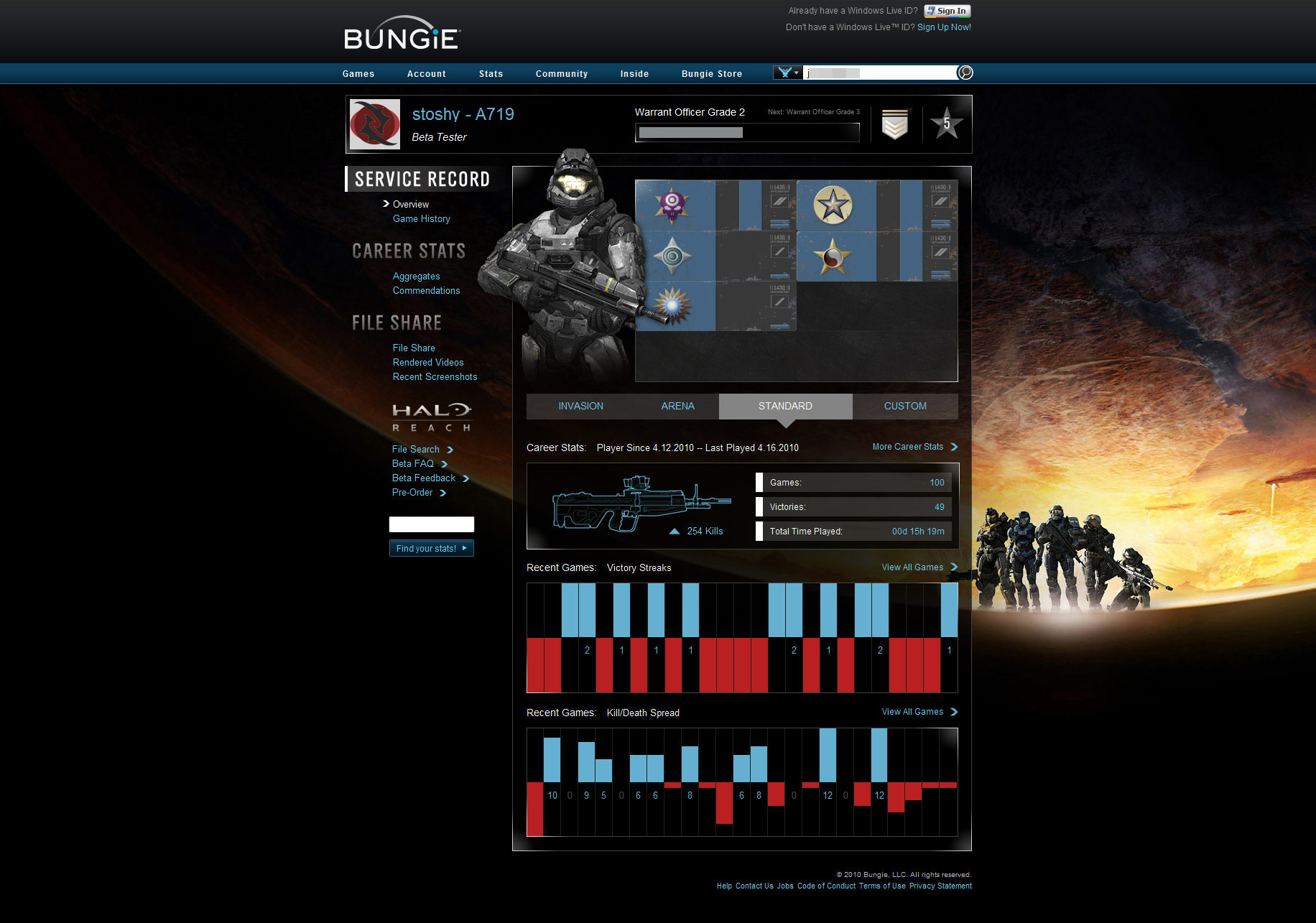 Awesome! Are all of these features free and fully functional? Can we expect improvements and enhancements from Beta until ship, or are these final offerings?
Tom GiocondaEverything is free, except for video rendering. As before, you must have an active Bungie Pro subscription to use video rendering, and Reach video rendering draws from the same pool of minutes as Halo 3 and ODST. However, everyone will be able to watch the videos that others render, and everyone can see your stats, just as before. And while we have the quality of a final product for what we will have during the Beta, expect changes and refinement between the Beta and release. Some of that refinement will affect things we're already planning post beta, others will be based on your feedback during the Beta.
Chris GossettWhile we hope nobody runs into bugs, these features are offered as beta and are about 75% functional from what you'll see on launch day. We will be using feedback obtained from the beta to improve and enhance everything. There are also a few other surprises that we have planned for ship.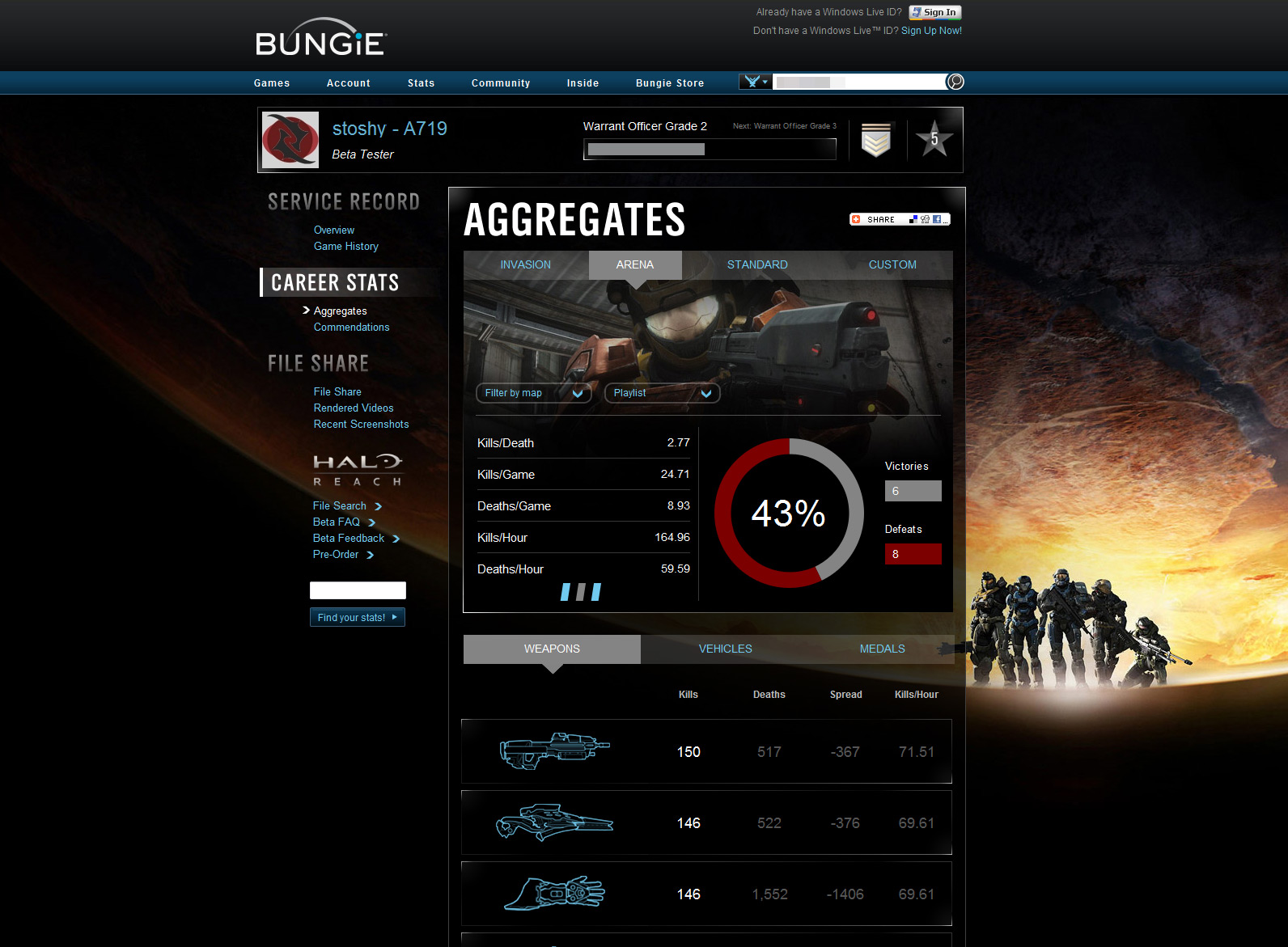 Why do you feel it's important to give players access to such a robust wealth of supplementary stats and features, even for the Beta? What's the goal here?
Chris GossettWe feel Bungie.net is an integral part of the overall online experience. Ultimately, we want to understand how people can and do play our game, including Bungie.net. The Beta allows us the unique opportunity to stress test our backend systems, tweak the Bungie.net design, discover important stats to emphasize and a great way for Beta testers to discuss and report glitches.
Tom GiocondaYup, the goal is to provide players the full experience of Halo: Reach. Bungie.net is a core part of that experience, and in the past, we've not had it available in a very complete form for the Beta. This limited the amount of useful feedback we can get from the game's Beta. By having such a robust feature set from day one, we can see how players use the entire feature set both in game and on Bungie.net.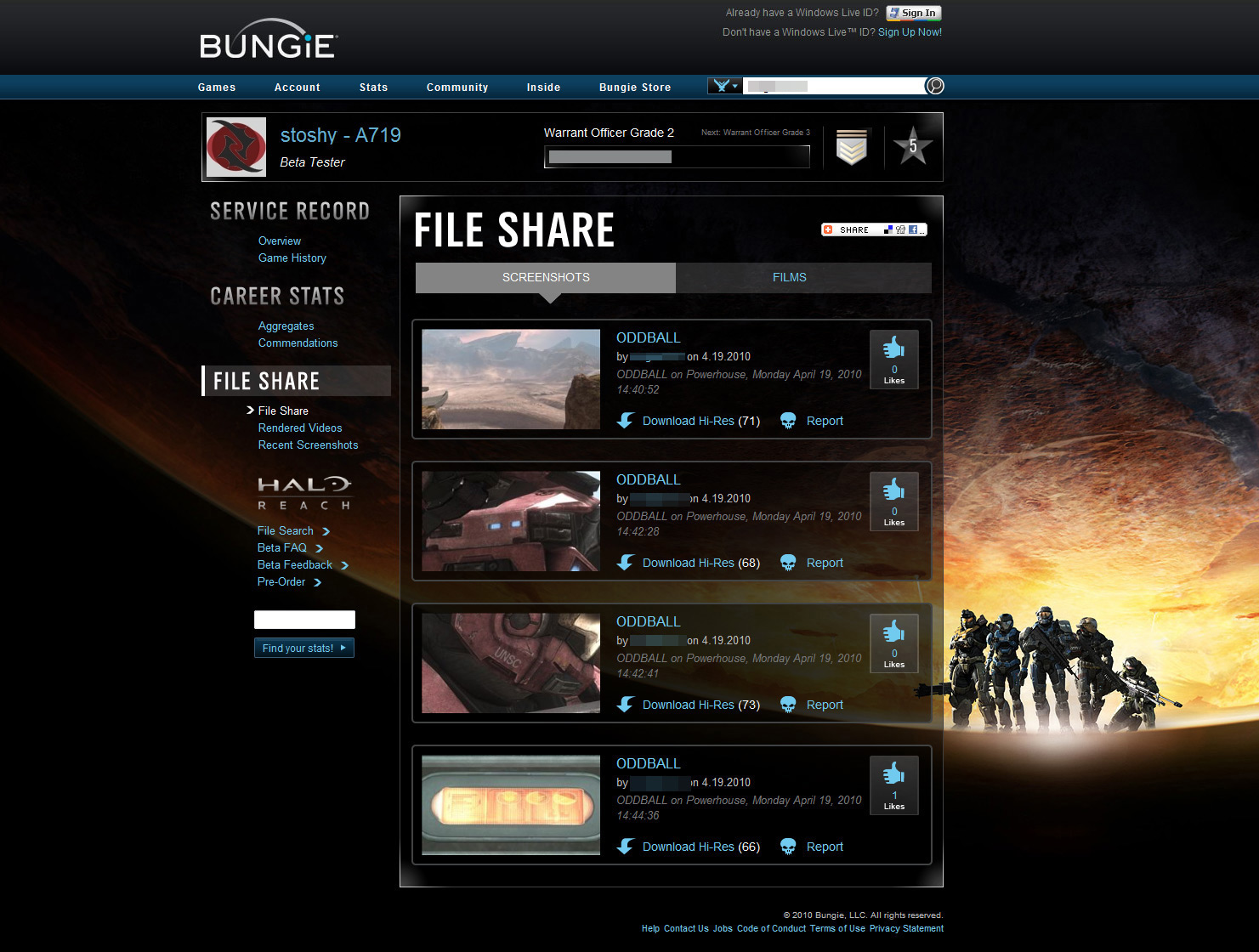 Which feature do you think players are going to get the most use out of?
Chris GossettFile Searching, Screenshots and Films, even though this is functionality that's already available to Halo 3. The robust file features like tagging, searching, rendering and rating didn't come to Bungie.net until about a year after Halo 3 launch. If you played Halo 3 in Sept. of 2007 and reluctantly stopped playing before Sept. 2008 you likely missed some serious upgrades. Returning players will notice some huge improvements to the file creation and sharing features available on Bungie.net.
Editor's Note: Hey! Do you know about Bungie Pro Video? Not only will it expand your File Share from 6 to 24 slots, so you can share way more Screenshots, Film Clips, and Map and Game Variants, but it also gives you access to our video rendering service. Want to share your best Halo 3, ODST, and soon, Reach moments with the world? Render 'em all in High Definition!
For more information, check out our official Bungie Pro project page. - Shill
Tom GiocondaWe have a bunch of nifty new stats that are interesting – average kill distance and average death distance are early favorites. Many players who aren't familiar with Bungie.net may not realize we added file tagging and searching to Halo 3 a while ago, it will be cool to see them get used by the full population. And, of course, video rendering was added really late to Halo 3, and we have it for the Beta for Reach.
But really, the most awesome thing is really the scope and polish of Bungie.net at this early time, not any one feature. Bungie.net has been setting the bar for game community and stats sites for years now. We have more stats and community features on our Beta than most games do when they launch. And we're not done yet.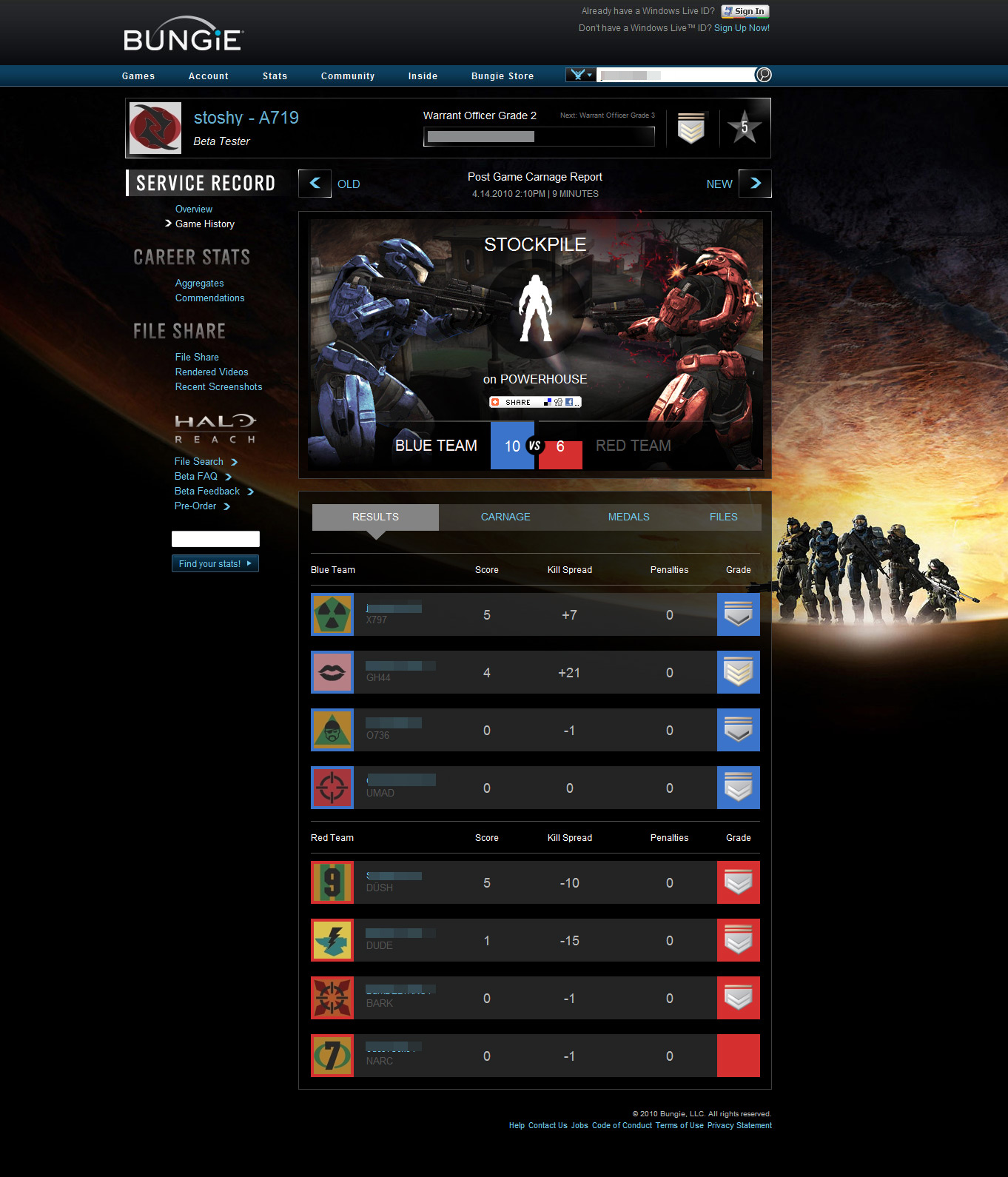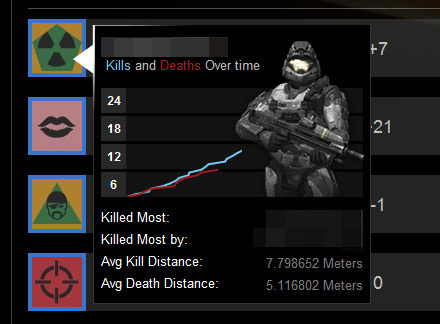 UrkBrian wants me to make sure the implications of in game file tagging and searching hit home. Without ever leaving the game's menus, you'll be able to not only tag and upload your own content to your File Share, but you'll have full access to the entirety of content stored on Bungie.net. Search for content using pre-baked queries, or use tag searching to find exactly what you're looking for, all live and on the fly. Rate a screenshot and you can check in over at Bungie.net and see the results almost instantly.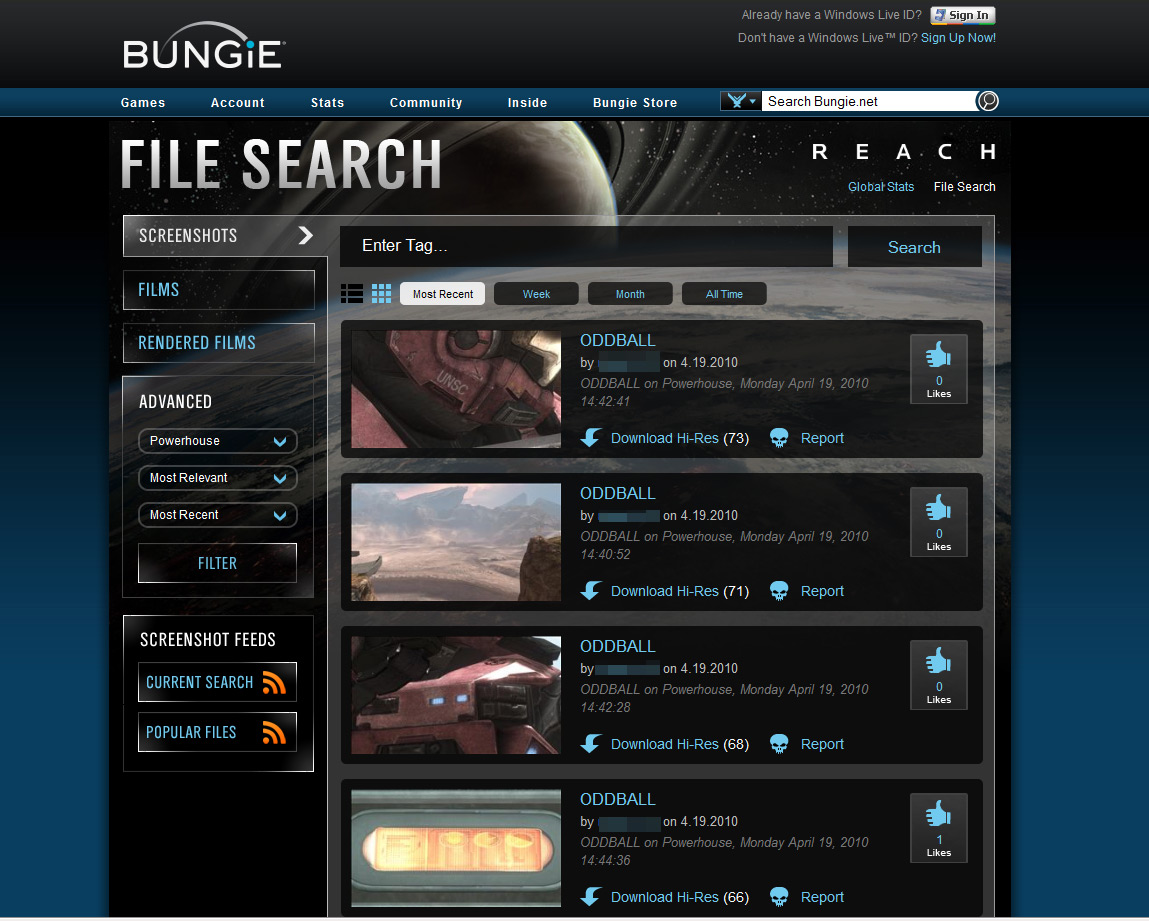 Brian's right, it's pretty incredible. You'll potentially have access to millions of pieces of content, right from the in game menus.
StoshRender Video wtf omg!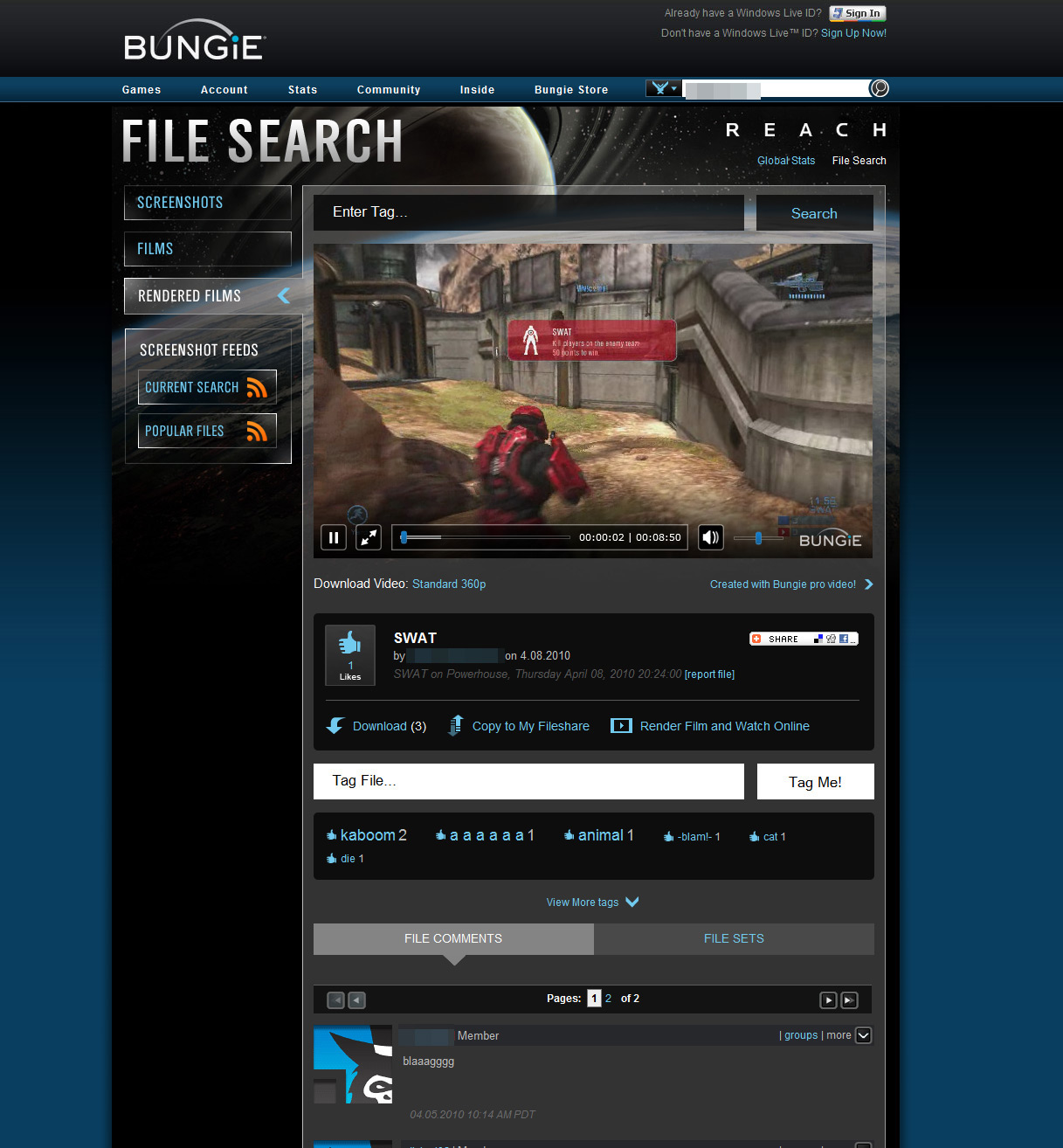 Couldn't have said it better myself.