Blue Portals is a Portal modification that expands on how you think and react in a Portal situation. However, Blue Portals is not as new as you might think. The Blue Portals project started way back in the summer of 2008 when I got a good enough computer to run Portal. This article takes you through almost two years of hard work and development to get to where we are today! This post contains screen shots from 2008 version of Blue Portals and the map pack version.
In 2008, I had been playing a ton of Portal and Portal community maps which inspired me to make my own series of maps. Back then, I was fresh with ideas and littered with free time and before the end of August, six chambers had been completed. The original idea was to be a Portal remake and have nineteen test chambers. Behind the scenes areas and all; expanding and not knowing my limits as any new mapper would. But I kept my mouth shut about this project in case I was unable to fulfill this goal. So I started working one June afternoon.
The Box Catcher was designed around the idea of having buttons on walls and ceilings. The player would place the said cube into the Catcher which would activate a door or do some other action. It had a junk filter in a case you put something besides a cube into the catcher. Such as a living turret. If you popped the turret into the Catcher, it would be destroyed.
After that came the second chamber. This was perhaps one of my most favorite puzzles in the old Blue Portals build (and this puzzle made it to the current build). The player would use Portals and gravity to launch a box into The Box Catcher, if it missed, the box would be destroyed and the player would get a new one. After many maps, I volunteered to work on Portal: Project Beta and development on Blue Portals stopped.
In Spring 2009, the lack of professional and fun maps for Portal made me want to create a map pack that I would work on dutin my free time. I wanted to create something new; a map that put the logic and thinking back into Portal; a map where dying wouldn't be an issue. The new look started soon after. Tan walls, light floors, and white ceiling tiles with fog and color correction. It looked nice. But what about the light sources?
I went through from having observation rooms to light the chamber. It didn't look that great, but it gave me a stable idea on how each map was going to be made. To fix this lighting problem, I went back to an old map file. Chamber 02.
I replaced the textures and the color of the lights and added the fog, and voila! A map that not only had good gameplay, but a map that looked as good as the gameplay! But then another issue. Toxic water didn't look so good with the new environment. I filled it with water, but that didn't explain the destruction of the cube. This was when the first special cube was made; The Fire Cube!
Like most all other cubes that were made, this cube was made to cover a design flaw (shocking, right?). All of them were made to avoid a flaw, one way or another. Having the skin made by Kayaia made the logic behind the cube fizzling in water.
After the completion of that map with also editing the devices to work more properly (i.e Box Catcher now looks better and shoots out junk instead of fizzling it, magnets are faster pulling and pushing, etc) the maps were uploaded to ThinkingWithPortals.com and it was well recieved. Although short, many enjoyed the new atmosphere, logic, and the fact that they didn't have to worry about dying for once! A few months later, two more chambers were made to recycle the old ideas of the 2008 build. They were uploaded to myApertureLabs.com and were well liked. But chamber 04 fell flat. To revive this, I've made the longest and hardest Blue Portals map to date chamber 05.
People really liked this chamber on myApertureLabs.com. Only little glitches were found and could be fixed. After that release, I decided to take and fix what I have so far and keep adding and expanding on Blue Portals. Having more and more textures keep piling up was a Hazzel to install, and as said in MattieTKs review on The Cake is A Pie.
Mattie wrote: By featuring new environments and gameplay aspects everyone will find something they love in this series, although it is imperative the whole series is played; the shallow but progressive difficulty curve will otherwise become a wall.
Having that said, making a Map pack series into a full mod was a good idea as it allowed me to expand on ideas that might overwrite the users Portal files. So, are the maps still up? Well, of course! I was gonna take them down but I figured that anyone found issues that can be fix would be good for
the mod. Keep in mind, the map packs have different texture locations, performance and may contain bugs and other gameplay issues that are been corrected or fixed in the mod version. Think of the map packs as a demo.
The maps that are left up there for beta testing are the Chambers 00-05 and The Time Trial map. We would love to hear feedback on any bugs, comments or gameplay discussions! Before we go, I would like to share what Colossal has been messing around in Garrysmod.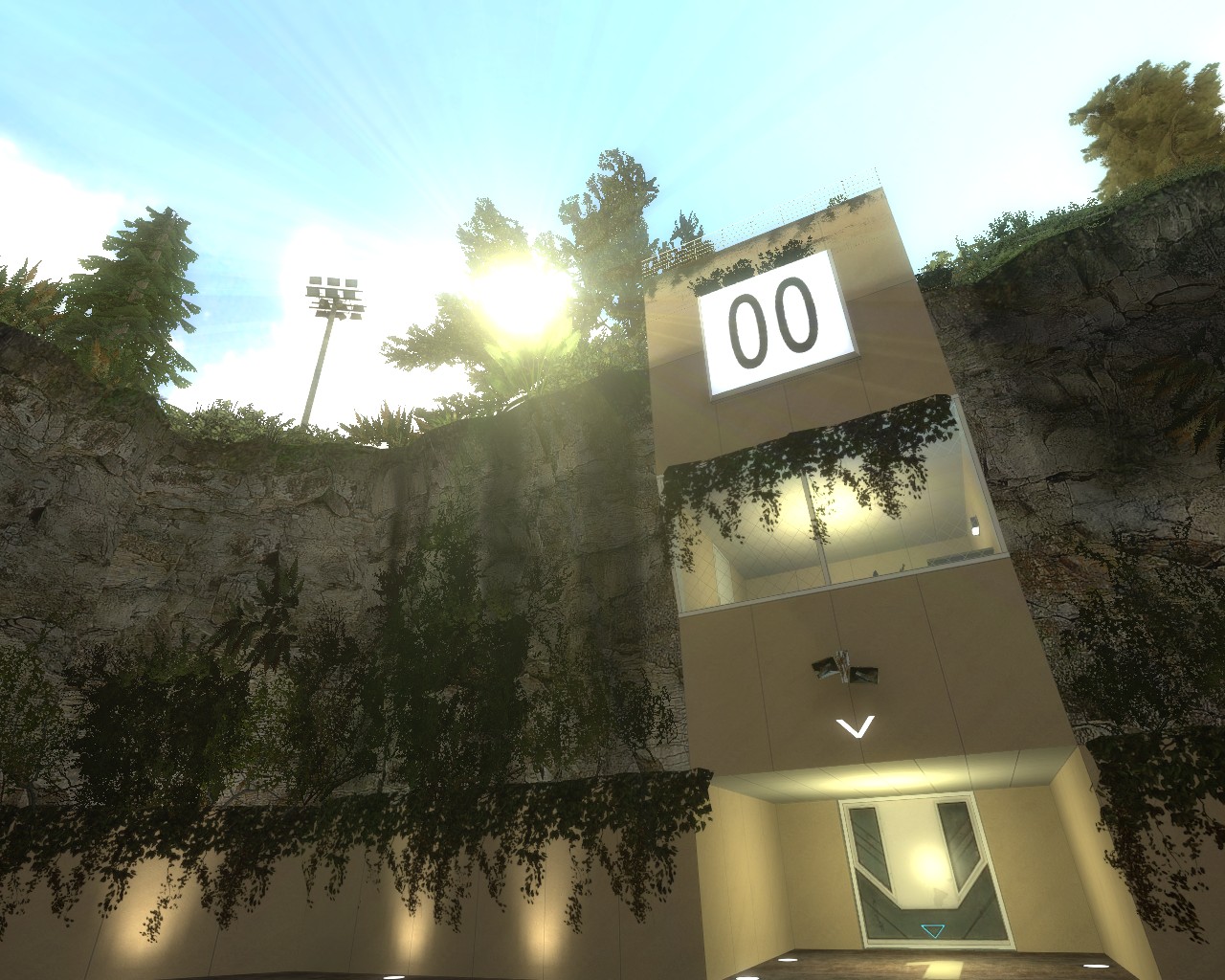 Colossal is big in Garry's Mod, so he took the plants from Left 4 Dead, Left 4 Dead 2 and Half-Life 2: Episode 2 and put them in the Beta Time Trial map. We are looking into doing this without dealing with any copyright issues.

Link to Beta maps The Cake is A Pie Review on Blue Portals 00 - 05 (Most of the recommendations have been met in the mod version.)
That is it for this week! For any bug reporting, please PM me or the team in general and I'll see if the bug or issue has not been fix already.