Hey Portal fans! Colossal here with Blue Portals' fourth weekly news article. Today I'll be answering some questions in detail and show some of the new screenshots.

Question 1: In some of the images it looks like Portal 2. Why are you guys copying Valve's new theme?
Answer: We like to think of it as Valve taking Blue Portals' look. We had all the "Portal 2-looking" textures made before Valve officially announced Portal 2 and before any Portal 2 images were revealed.

Question 2: From what I saw in the images, this looks nothing like Aperture. Is it a new area of Aperture or something?
Answer: We've stated this before a few times; Blue Portals doesn't take place in Aperture. It takes place in "Blue Portals Research Center" which... "Borrowed" some of Aperture's technology. Such as the Portal Gun and computerated test observation unit.

Question 3: Why is Chell black in this mod?
Answer: I'll go ahead and answer this question with a question; Why does it matter? I was just tired of seeing the same character in every Portal mod. Blonde hair and white. And I'm sure I saw some blue eyes in one Portal mod. If you're racist (not calling names) and you have a problem with the new character, you can always replace Victoria (that's what we call our character) with another Chell skin..

Question 4: Why don't you add a/an (idea here)?
Answer: We're currently only using ideas created by Reepblue, as he is the primary developer. I'm not saying every single idea is bad, but we just don't want community ideas at the moment. Especially cube ideas. I've gotten at least twenty private messages about making more cube versions (which I just skin them, I don't actually code them and everything like that), and I read absolutely none of them.

Question 5: How exactly do you code for Portal?
Answer: Actually, most of the codes for Blue Portal are map-related codes. Such as the melting ice cube. It was really made by making triggers around the ice cube that make it fizzle- or melt- when hit by fire cubes.

Question 6: What do the different cubes do?
Answer: The cubes, as mentioned, have their own special talents. The no fizzle cube (blue) is a normal cube, but cannot be destroyed when passed through an emancipation grill. The activator cube (orange-yellow) is a normal cube, but is used to activate certain test aspects by being thrown into an "activation magnet." The Blue Portals cube (gray) is just the normal cube. Nothing special. Put it on your buttons. The flame cube (pinkish red) is a cube that acts like a ball of fire (except that it's not a ball). When it touches water, it dissipates. It's also used to fizzle ice cubes. The ice cube (white) is a cube that acts like ice. It can be thrown into electrified water and come out perfectly fine. But, if will melt if it bumps into a fire cube.

Question 7: Can I beta test?
Answer: We currently have all the beta testers we need.

Question 8: Why did you choose to make it a warm environment? Why not stick with Aperture?
Answer: When playing through Portal, the feelings you recieve in the test chambers is cold, sterile, and somewhat uninviting. We wanted to reverse that feeling. Now the environments are warm, vibrant, somewhat organic, and inviting. Portal sometimes gave me the feeling to stop playing because the environments were so cold and old and harsh looking. When playing Blue Portals, it's like something is pulling me forwards to the end.

Question 9: How many chambers are there and is there a boss?
Answer: There are going to be ten chambers in this Portal 1 release. When we make the Portal 2 version of this mod, we might add more chambers due to all the new gameplay mechanics in Portal 2. Also, there are no plans to add a boss. This is because Reepblue is trying to create a boss for the Project Beta mod, and he has to map for both of the mods, and there's just no time to create a boss.

Question 10: Please give explanations of the two new gamemodes?
Answer: Time Trials is a game mode similar to Portal's timed challenges. But instead of counting UP the time, it counts down. You have sixty seconds to complete each time trial map. But, if you think that's a short amount of time, take this into consideration: You can restart the timer by pressing blue-lit buttons. Turret Challenges is where you start a map with time counting up and you have to find and kill as many turrets as you possibly can. But, there's some bad news about this game mode. It's been canceled for the Portal 1 version of Blue Portals. This is because most of the environments we had planned for the turret challenge maps are incredibly hard- if not impossible- to create in Portal 1 maps because displacements cause walking errors and sometimes crash the game. We plan on adding the game mode back into the Portal 2 version as co-op maps to make it more fun.
Question 11: A lot of in-progress Portal mods at the moment are going to wait for Portal 2 and switch to that for release. Will you be doing this?
Answer: We will release the Portal (1) version as soon as we finish. We plan on creating a, "Blue Portals 2," as soon as the SDK for Portal 2 is released. It will be a remake and we could possibly make it even longer due to the new gameplay mechanics. But we're still undecided on this topic.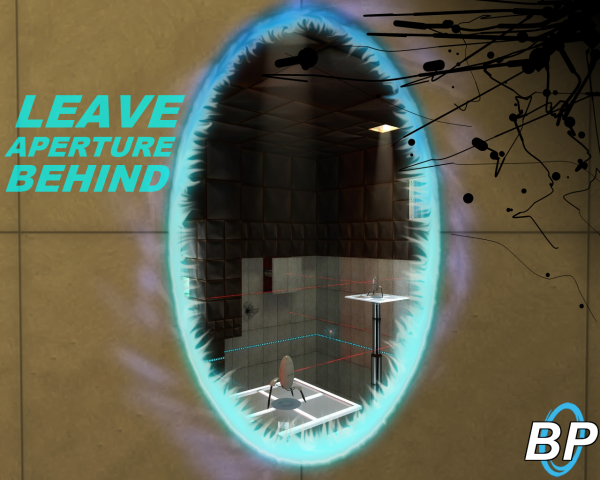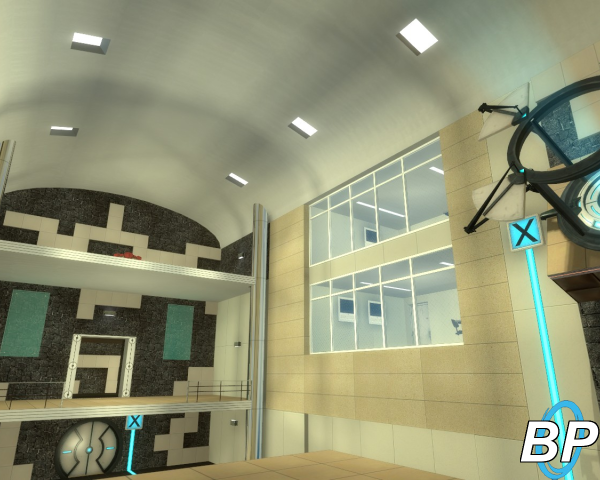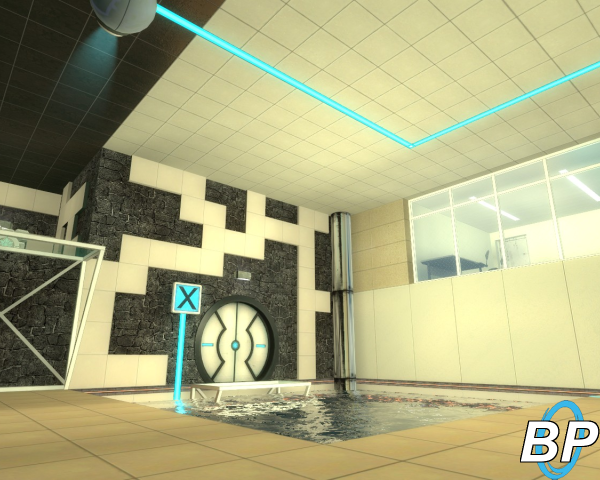 And that concludes this news update.
-Blue Portals Development Crew