It was quite a long time since the last release. This patch was meant to be released much earlier. Unfortunately we were really busy recently ( mainly due to studies, exams etc.) so we couldn't spent so much time improving the mod. However, here it is! It includes some completely new fixes & changes (sprinting), but also features that were almost done for the last version(hit effects, BMR-Stranded), but didn't manage to get in.
Starting with the wave editor, we fixed the bugs causing the game crashes. Now it's fully functionable. We also decide to increase the maximum amount of monsters to 96 (of course the number grows bigger automatically with every new player joining the team). The next thing we have fixed were the head shots issues ( head shots resulting in two head stumps etc.).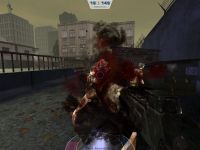 I decided that head shot wouldn't always kill a zombie. It was so eery to see them walking around without a huge part of their brains, that I just couldn't resist... Speaking about blood, we added a handful of screen effects appearing when the player takes damage. So there is the stun effect along with a hit-blur, the blood splats and 'spore effects' appearing when player is surrounded by a spore cloud.
Many players complained about the sprinting system in Blue Moon Rising. We decided to change it. Right now the auto-sprint mode can be turned on and off (default key - 'alt') and there is a new sprint key for instant sprint ( default key - 'shift'). We have also taken a closer look at our weaponry. They do more damage in this version and their reloading times are significantly shorter. What's more, we have finally fixed the bug resulting in a reset of the ammo amount, each time the weapon was switched.
As for the enemies, they got overhauled too. Especially, the 'bruiser' and the 'infested'. With patch 2.1 they're more balanced and they both received their own distinctive sounds. What's more the spore clouds produced by the infested cause constant damage to anyone who gets close enough to this enemy.
We spent some time on the game visuals as well. The most importanly we have improved the flashlight visuals and fixed the 'no light' bug. We know that Blue Moon Rising suffers from the little amount of maps. To compensate that I've created another map. It is a remake of 'BMRTrapped' which you may know from the alpha release.
Apart from all of that there were many minor changes and fixes in the gameplay such as the addition bindable text commands (like "I need ammo!", no voices for now - sorry!) to enhance the communication between the players. Generally the mod is quite easier. However don't expect it to be a piece of cake. I really hope you will like it and I'm waiting for your feedback!