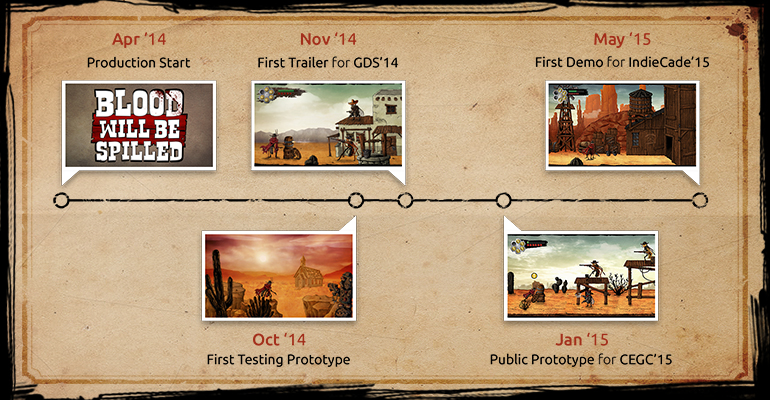 It's been a little more than a year since we started working on our first game - Blood will be Spilled. If you haven't heard about it yet (which is actually highly probable), it's a spaghetti western themed 2D action platformer set in a world inhabited by insects, with completely hand drawn visuals. I thought that it could be nice to take a look back at how the project changed during the course of the first year of development and what we've actually achieved.
The beginning
Our journey began somewhere in April 2014, when we finally decided to get some office space after long beer talks about how cool it would be to make our own video game. Before that we only had a couple of sketches and illustrations of the characters (done by our art director Martin), some enthusiasm and little to no experience with making computer games. The basic idea was to create a rather simple platformer with comic book visuals, inspired by movies and games that we like. As for the tools we chose to use, we went with Unity as our main engine and Spine for animations. Both seemed like a good choice for beginners.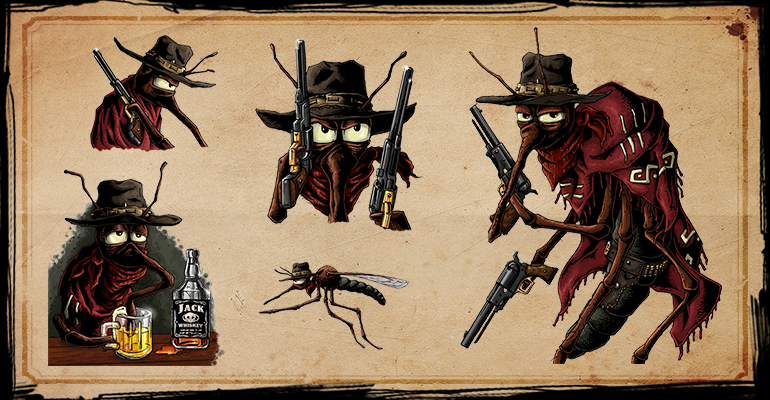 The main premise of combining the spaghetti western theme with insects came from the fact that environments and settings in westerns are mostly dirty and dusty which goes very well together with creatures that live in dirt basically all their lives. It also widens the pool of creative options, as we can choose what we like from either of the worlds, combine it somehow and ignore all the rest.
Testing prototype
By October 2014, after our two programmers learned how to do a thing or two in Unity, we managed to put together our first testing prototype. We also managed to outline most of the basic features and even write them down in around 30-pages long game design document.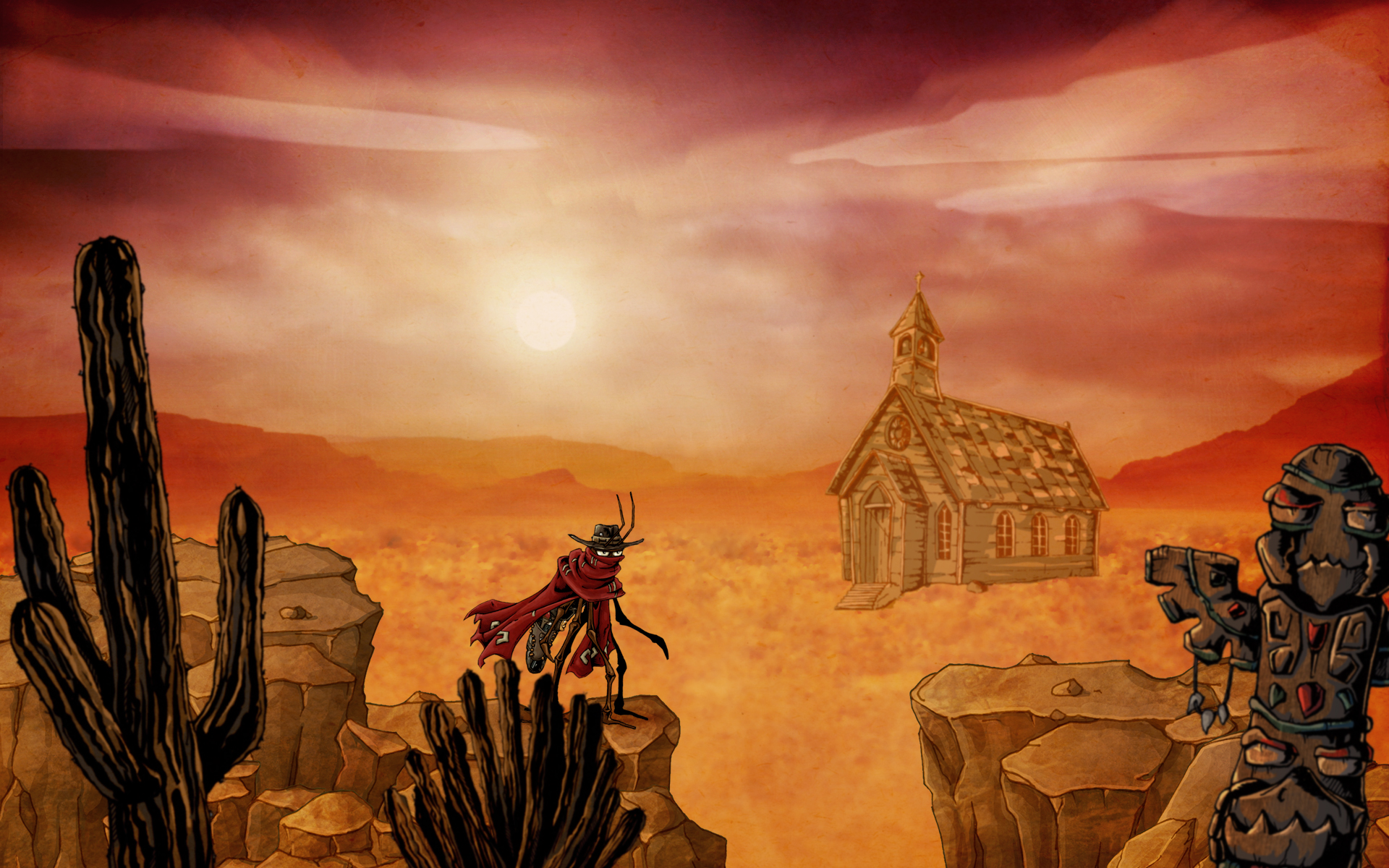 We learned from the prototype that we need to fundamentally change the way we draw platforms, as they were quite complicated and it wasn't always clear, where the player could go. They also weren't very modular, as they were custom hand-drawn, which would make level design quite rigid and difficult. Other (mostly visual) issues became clear, for example not exactly nice animations, not enough contrast between game elements and also the need to make a slight redesign of the main character.
However, we managed to materialise our vision enough to put together our first reveal trailer that we also showcased on GDS2014 in Prague. It also served for us as some kind of a target visual material and we used it as our first marketing tool.
First public playable prototype
We managed to have the first publicly playable version of our game ready in January 2015 for CEGC2015 in Vienna. This time, we started to use a plugin for Unity called Ferr2D to create platforms, which seemed to work much better for us. It was much more versatile solution, which makes designing levels easier, though some sacrifices had to be made, especially aesthetically. We also introduced actual enemies for the first time, even though that they were rather stupid and could only shoot straight. The demo had around 7 minutes of gameplay and even one little minigame, a dynamite and a gatling gun (here's a video).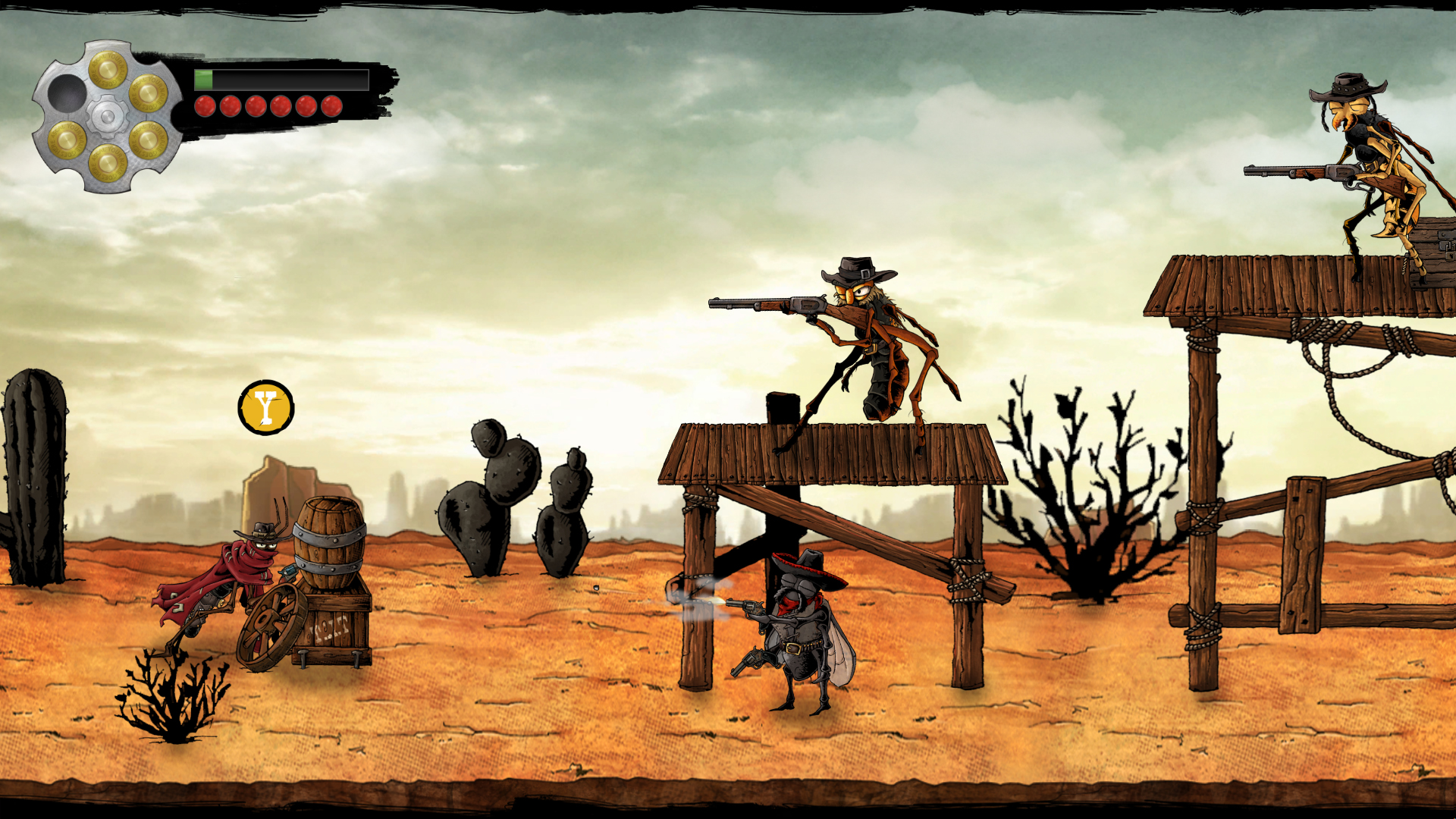 Despite most of the features being in prototype state, we still received quite positive feedback from people who tried the game out. It was also nice to hear that they liked the overall idea and the atmosphere and no one actually questioned why there are insects and how can they even shoot guns. We also had the ability to meet other indie developers from the central European region for the first time, which was nice too.
First version of the demo
After CEGC presentation we had a great amount of feedback and new ideas that we needed to implement into the game. We still wanted to keep it rather lean, with making just one level (that we labeled a 'demo' this time) that we would later use as a proof of concept. In the meantime, we were also working on other things, such as overall game design or the creation of the whole story.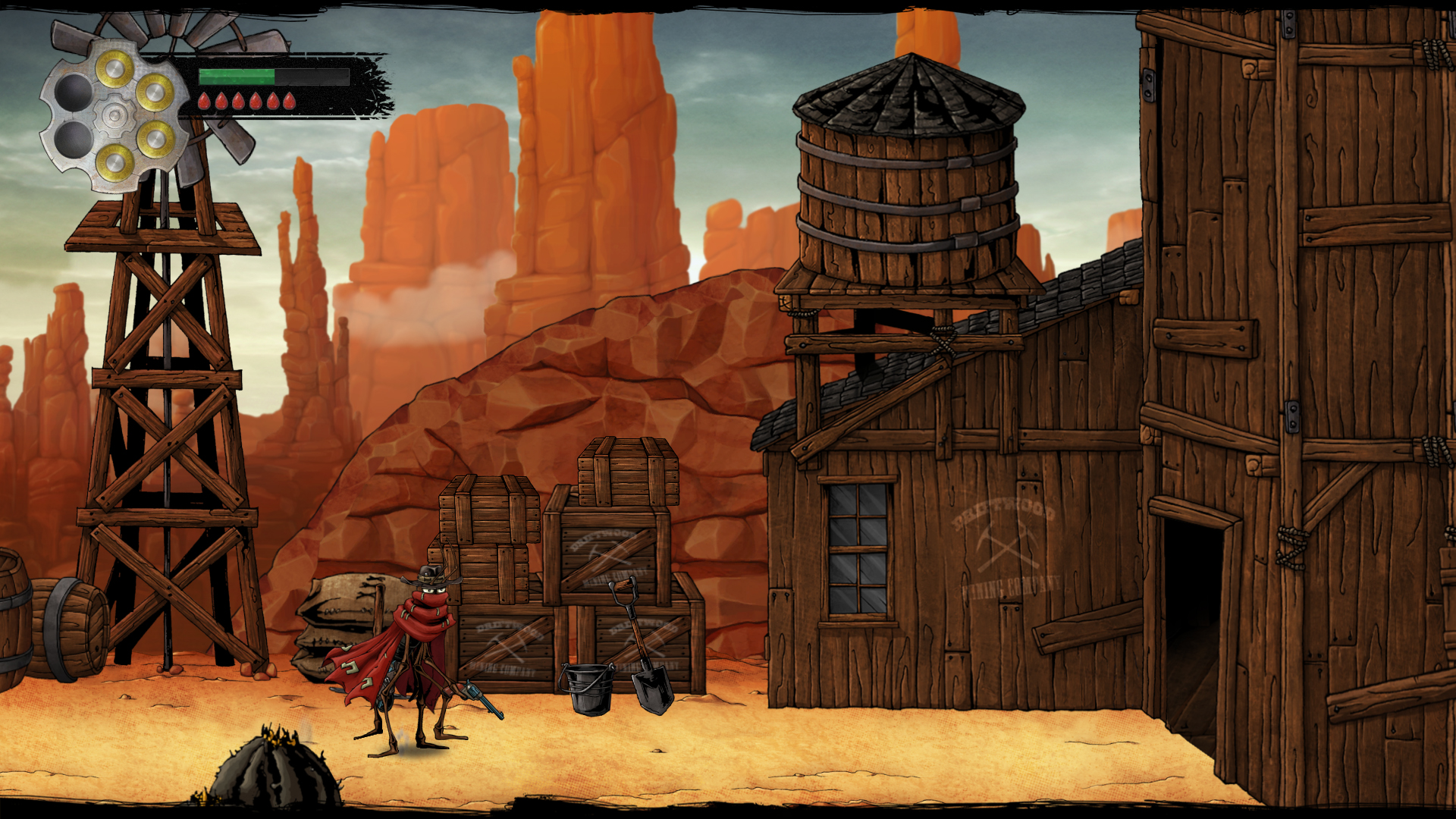 In May 2015, we put together the first version of the demo. Pretty much every aspect of the game has been redone, including all the animations, visual assets and most of the mechanics. Our enemies were a little smarter this time, as they were also able to shoot diagonally. Shooting, taking cover and platforming mechanics were also a bit more fun and the level offered around 15 minutes of gameplay. We also introduced another new minigame to spice things up a little (here's a short video).A brand new motion comics video was created, to shed some light on Jack's backstory - we made a little teaser trailer out of it, later.
Once the first version of the demo was complete, we sent it to the IndieCade 2015 and also let people try it out at Radius Festival 2015 in Vienna. We received another batch of new feedback and came home with even more new ideas of our own.
And now what?
Nowadays, we are working on (hopefully) the final version of our first demo, which would be the best representation of the vision we have that we can put together in a reasonable timeframe. It may seem that it takes (us) quite some time to put together a good demo and maybe it actually does, but keep in mind that this is a first time we're doing something like this. Therefore we still need to figure out whether the things that look good on paper work as well in reality.
But we'll certainly keep you posted on that. Be sure to check our facebook and twitter from time to time for the latest info.