In light of it being nearly the Thanksgiving Holiday, we will post a short something now, and then another one in possibly two weeks to account for the team being on break. Stay tuned!
Mauler has been really busy lately, but CireX has an update for ya'll.

CireX's minute
I will use this week to pay some attention to my responsibility within this project. Making the launcher.
We had a new launcher in TCW 1.52. Which was a big improvement in our opinion. However the graphical improvement and the new style did also cause some errors and setbacks.(Defective buttons, problems with the version-check and problems with the server list. )
This was for me, a signal that we had to change the launcher once again. This time we are testing every functionality again and again, and we are using different operation systems (Windows XP+) to make sure it would run as smooth as possible.
Some new options that will appear in upgraded launcher:
- ADDED loading news from our forum. The latest news will directly appear in the launcher, without the need of posting it somewhere else.
On this way we can communicate faster and more correctly to our community.
- ADDED There will appear a loading screen when you open the launcher, so the data can be loaded on the background. This will help to improve the speed of the launcher.
- ADDED A new code that prevents you from using 'Mynickname' as a online nick. (Mynickname CANNOT be used anymore).
- CHANGED The whole theme is redesigned.
- REMOVED The "multiplayerforums.com" intro and the sound.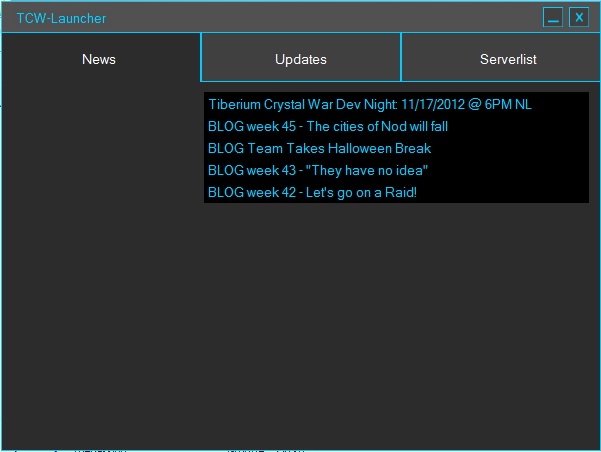 Note: Most of the images are not added in the launcher in this stage of development.
Most of the images (as well button-images) in the launcher do still require some additional work.
We discovered that most of our new community members did not understand that they had to change their nickname. Our servers are kicking the name 'Mynickname', but this does also mean that we did lose a lot of new players. Just because they did not understand it. The new system creates a random nickname if you still are using 'Mynickname'. The random nickname will be: COMPUTERNAME + RANDOM NUMBER. (<<<< SMART)
Fighters ARM UP!
We need testers! Talk to a dev about joining as a tester, and you could receive access to a private testing section of our forums! You'll also get to test our latest updates to TCW 2.0 which is still in closed development. Lots of fun stuff there.

Also, consider joining our team as a developer! We need coders, modelers, voice actors, and even written content writers, as well as 3D artists, 2D artists, and much more. This team needs YOU! See mauler for more details.
Tech Corner
We will stay with .NET for the launcher. We received a few complaints about the .NET but there is a reason we use it. The older and outdated machines (Windows XP mainly) have trouble using the launcher but why should we as development team, support an operation system of 12 years or even older?


We can't make stuff awesome enough if we stick to the 90's (Even though they were good times).
Another reason to choose for .NET is because it has easy solutions for all the options we want to offer in our launcher.
There are always a few that have problems with applications on a modern computer. We will make some help-documents and other smart solutions to help you with joining a server. However not using the launcher will force you to use less simple solutions. (This is all CireX's wordage, and I have an XP. So phooey.

)
NOOB Tip of the week
Mammoths, Flame tanks and Predators are easily killed at long range with rocket launchers. Get to a nice vantage point, and let em have it! ~Submitted by SS67~
Happy Thanksgiving!
On a side note, I have given the team my official six months notice that I'll become inactive this following summer. I'm looking for a suitable replacement to take over writing the weekly blog and taking over my voice acting gig. PM me if you are interested in either, and I'll refer you on to the team leaders.
We just had a Dev night, and I hope you guys made it! Make sure to watch out for our next one, and help us get those servers populated.

Play hard, play nice, and God bless you all!
Greetz, The Tiberium Crystal War Development team.