Rush to Adventure is finally up on Steam Greenlight! Please click the image below and vote 'Yes' to help me get the game out on Steam. And also, if you want, please favorite and follow the game and leave a comment. If you know someone who might be interested in the game, please let them know about it.
I am getting closer and closer to release, there really isn't much left to do now. The big thing is getting through Steam Greenlight so I can sell the game. I know it is taking for ever. April marked 5 years in development. Since this is not my day job, whenever anything comes up this gets pushed back. Project fatigue is another problem but I can work through it. I will be doing a lot of work on social media and marketing in order to push through Greenlight. I know that the game is good because people enjoy playing it. It's all about finding the right people.
Last week I was attending Nordsken, a convention in Skellefteå (north of Sweden). The convention is growing every year, hitting 11'000 visitors this time. The best way to keep up with news is through my Facebook page where I have posted pictures from the event. Here is another one: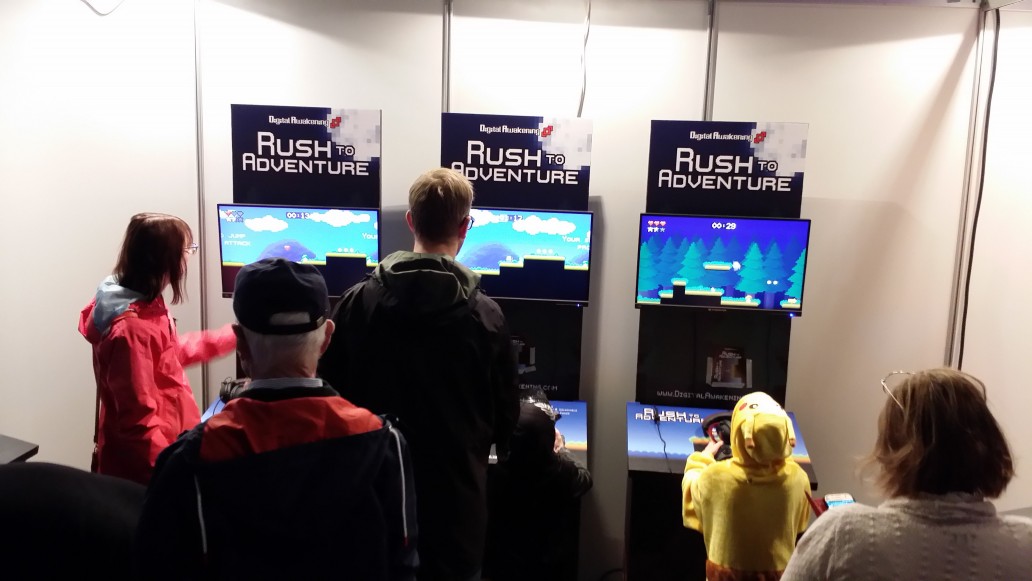 People of all ages were enjoying the game. Some played through the entire demo, taking 30-60 minutes. One boy played it 5 times over two days until he finally beat the last boss on Normal difficulty. And a handful even managed to beat it on Insane. It is always fun to see people returning, wanting to talk about the game or just enjoying the game.
One thing I really did learn is how to make a build for an exhibition like this. I made a new build after day 1 were I removed the continue button and had the game exit to the title screen (instead of opening the main menu). I had problems with people loading a saved game and having the title screen showing was perfect to attract new players. Resetting the demo got a lot easier after that.
There was still a problem with a lot of players not understanding how to start the first level of how to move from screen to screen on the map. This meant I had to keep an eye out on new players, and be ready to help them. I have a lot of ideas on how to improve the starting areas of the map to alleviate this problem and streamlining the process.
Shout out to my booth buddies Time Stop Interactive and Grand Pike who helped me out before and during the convention! And to Arctic Game Lab who provided the space and equipment!