dtrngd has been working on the Guardin GI's IFV turret. When you purchase a Guardian GI and use him with an IFV, it makes for a powerful anti-tank and anti-air weapon. Adjustments will be made to the turret to allow the barrels to pivot up and down for good anti-air capabilities.
We had a meeting 10 days ago to discuss what everyone was doing. We've had these conferences before, but these are now taking a more structured form. We sorted some key issues out regarding what you can find below.
Take it away dt!
<!--QuoteBegin-dtrngd+-->
dtrngd wrote:

Date/Time: 6th March, 9pm UTC/GMT

Output:

Soviet Service Depot model finishing by rm5248 was moved over to April.
Eggman is fixing the thumb on the fps hands. From there OWA will create the sleeveless and gloves variants, so proper rigging can begin!
Weapon rigging plans will be modified at the next meeting, as ChAoS does not have that much experience yet. Someone please join him to form the weapon rigging squad.
The Soviet Walls will be done soon and rigged for next version, according to Occult13.
Please upload the Rocketeer with its current jetpack and guns for Poggel. Poggel will use the concept art reference to correct/remodel the guns. In TPS: weapon doesnt appear, it's part of the character model.
OWA will finish the character base mesh soon, using that all infantry can be modelled nicely. A guideline will be needed for it! Also someone must team up with OWA for character modeling, he won't be able to do them all alone in time.
Guywithawrench's next texture assignment will be the Tokarev TT-33, as seen in the March projects!
GI MP5K is still at Chevy (unwrapping process) but if someone has more time, take it from him ASAP and texture it! (Chevy has very little time to work, that's why)
Rocketeer MUST be kicked from vehicles upon entering them! With a Host Message you can't drive vehicles while being a Rocketeer or something. (script). He also needs a cooldown timer for turning the jetpack on/off, so he can't abuse the fall-down speed to then turn it back on before hitting the ground and not die from the falling.
War Miner In-Gaming and Working
dtrngd has gotten the Soviet War Miner ingame now. This vehicle is the soviet's harvesting unit. Before we had it ingame as a prop to test the textures, but now it is rigged and drivable! The finished version will even have animations for mining ore and dumping it off at the refinery. This is a pretty big unit, so it has been scaled up to be bigger than the Rhino Tank. dtrngd is now working on getting the Chrono Miner ready for unwrapping.
Take a look at the screenie below for a peek at what will be ingame.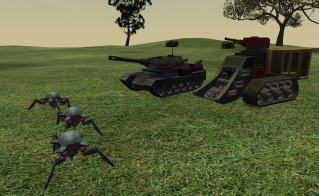 The texture will probably change a bit before release.
We are looking for extra staff members to join our ranks! What we are looking for in a 2d artist, is someone who:
is enthusiastic about working with the BHP Apocalypse Rising Team.
has spare time.
will be active in the foreseeable future (a.k.a we don't want you running off).
is competent at creating their own 2d textures.
is over the age of 16 (we overlook this if you are what we assess to be a mature individual. This rule is known as the TruYuri rule).
PM One_Winged_Angel with your application stating why you would like to join the team along with any past experience. Please provide example textures, if you have any.
For the full version of this blog click here, for the main forums and much more, click here.