Tesla Coil & Prism Tower: Ingame and Untextured
dtrngd has been playing around in level edit and has setup some pretty cool stuff ahead of time.
Very recently he got the Tesla Coil and Prism Tower's new models ingame and setup to destroy some opposing bots. There's not much else to say, so check out the screenshots.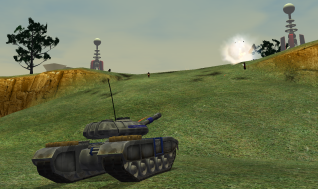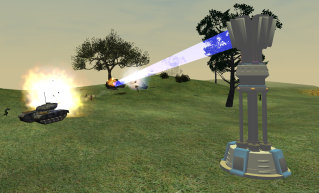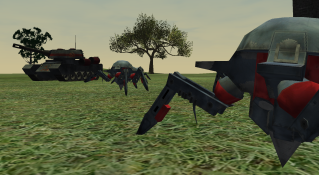 Poggel has arranged the sandbags that will be used for the GI ingame. We have been thinking about how they will function properly ingame; as opposed to the abominations we have currently.
This sounds funny, but we are probably going to end up rigging the sandbags as vehicles. This is so we can take advantage of the w3d vehicle physics in order to make the sandbags conform to slopes. We'll have a screenshot of it soon enough.
But for now, here are some sandbags.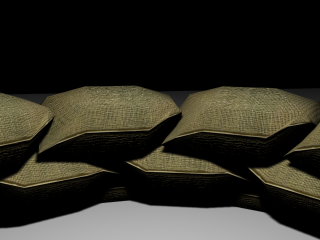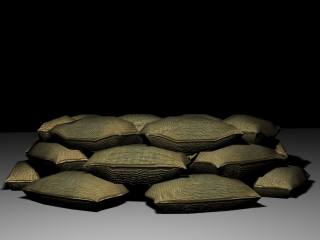 AR Interview at CnCFPS.com
Last week, cfehunter, dtrngd and I were interviewed over at www.cncfps.com by Genesis2001 and Lone0001. We were asked many questions about the mod's development and overall, I think is was a great success.
Click the image below to read the interview!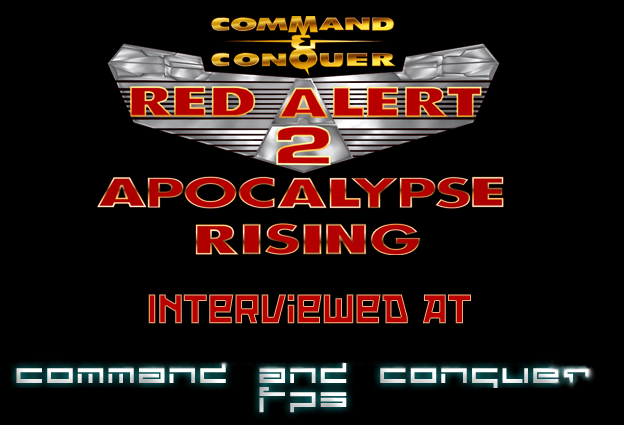 Soon, the CnCFPS team will be conducting an interview with Chronojam and a few members of the A Path Beyond team at BHP. Questions can be submitted at suggestions@cncfps.com!
Just a quick note to say thanks to everyone who has voted for us. Voting ends today and hopefully we've reeled in an award this year!
We are looking for extra staff members to join our ranks! What we are looking for in a 2d artist, is someone who:
is enthusiastic about working with the BHP Apocalypse Rising Team.
has spare time.
will be active in the foreseeable future (a.k.a we don't want you running off).
is competent at creating their own 2d textures.
is over the age of 16 (we overlook this if you are what we assess to be a mature individual. This rule is known as the TruYuri rule).
PM One_Winged_Angel with your application stating why you would like to join the team along with any past experience. Please provide example textures, if you have any.
For the full blog, click here.