War Factory Lift
"dtrngd has been working on getting the Soviet War Factory modeled out
so he can move on to another structure. The massive cargo lift that
brings soviet weaponry up from deep within the bowels of the war
factory is animated as a demonstration of what will happen ingame.
I
heard that it currently takes 10-12 seconds to build a tank. This
waiting time will hopefully encourage people to use infantry more, as
they are quicker to field than vehicles.
Here is a video demonstrating this lift in action (with an added WIP Kirov)."
Revolver Unwrapping
"Chevy787 has currently got Crazy Ivan's revolver to unwrap. Since this
weapon is going to have some pretty awesome animations it has been
split up into parts. Just to give you a little idea of how it will
animate, Chevy has colour coded the model. Every differant colour means
a differant piece.
Take a look below!"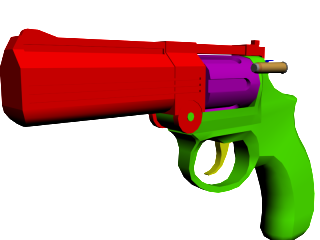 For the full blog click here