Soviet War Factory Weak Point: Fuel Tanks
dtrngd has been adding detail to what will be the major weakpoint for the Soviet War Factory.
These
are only some of the massive fuel tanks, housed in the War Factory,
used to keep the Red Army's war machine running. Thick tubes pump the
lifeblood of the diesel engines below to where newly contructed
vehicles are fuelled up ready for combat. The fuel for these tanks
comes from many other tanks housed in the war factory. However due to
the sheer volume of fuel stored at the war factory, this stockpile is
off limits to meager conscripts. Only the engineers, technicians and
scientists that work within the Soviet War Factory can access them.
Anyway, here is a peek at what Allies should be looking to target if they want to shut down Soviet Vehicle operations.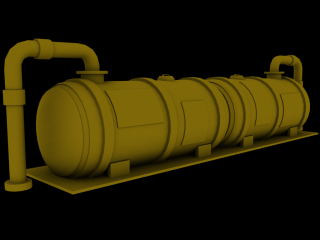 Rig Man
At the weekend, One_Winged_Angel sent his base infantry model to
TruYuri to see if it would rig up correctly ingame. Compared to the rig
time of some of the older infantry for APB, it knocked spots off it.
Within a few minutes it was rigged and ready for game. There are a few
mesh errors that need correcting but otherwise he can start modelling up
some more characters. We are hopefully going to coax Eggman into
porting the infantry rig into 3dsmax for ultimate control over the
rigging process (and decent meshes!).
Anyway, here is rig man. His head took less than two minutes to model.