Hey there and welcome to this Battle for Dune: War of Assassins blog. We're sorry for our recent silent, but silent normally means progress behind closed doors, so let's see what we've been up to!
---
Atreides Mongoose
Venom775 has been seriously hard at work like always, this time he's been working on the Atreides Mongoose. For awhile we've been needing a redesign for this unit due to how boxy it is in Emperor: Battle for Dune. Venom has managed to give it a great new look and texture job!
The Mongoose is the main armored battle unit for House Atreides, being effective against ground units and air units due to it's tracking missiles.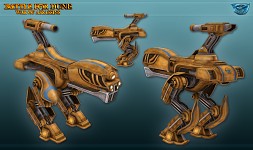 ---
Atreides Minotaurus
Long with the Mongoose, the Atreides Minotaurus has had a redesign! We have gone for a more Hawk look with the Minotaurus to fit the theme of House Atreides.
The Minotaurus is The Atreides' Artillery unit, a slow moving mech which is heavily armored. The perfect unit for long ranged attacks!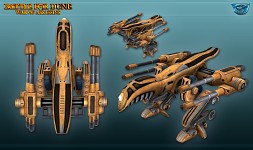 ---
Atreides Repair Vehicle
The Atreides Repair vehicle is something we were always unsure about design wise, because it was just pretty much a big box with arms. With a complete redesign and amazing texture job, Venom has done a fantastic job with it!
The Repair Vehicle is a key support vehicle on the Battlefield. This is the only unit in the game that is able to repair vehicles, it can also deal damage to enemy units.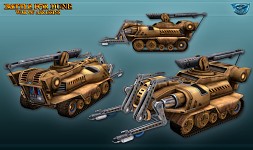 ---
Ordos Shield Fence
Venom has modeled the Ordos Shield Fence for building interiors, to make sure infantry don't fall down slopes and off edges! These cool little building props are styled in an Ordos fashion and are used for slopes, room separating along with semi protecting Cloning Vats and Main Frames.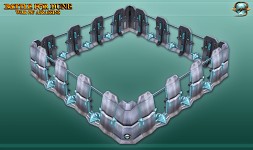 ---
Atreides Sniper Rifle
The Sniper Rifle is the special weapon of the Atreides. It is a high powered, large caliber bullet firing, long ranged weapon. With a 1 bullet chamber, this weapon has a very slow reload time but can take down an infantry in one headshot!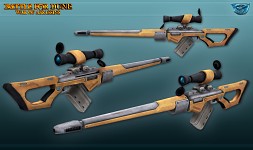 ---
Atreides Engineer Repair Case
The Atreides Engineer Case is a limited piece of equipment due to the strictures on technology by the Great Convention. This case will be used to repair buildings and capture Sub Faction buildings to gain new units. The model and texture are by Venom775.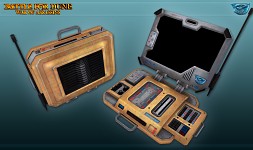 ---
5 Year in the Making!
Battle for Dune: War of Assassins is officially 5 years old today and still going strong! To mark this occasion we will be getting onto Emperor: Battle for Dune whenever possible. We'll try and post up some times at some point but be sure to keep a lookout for us for those guys who still play it!
We will also be releasing a video and some ingame shots of our latest internal build that has just been released to the testers!
---
Side Note & Recruitment
I recently saw that our Twitter page had been spammed by bots advising online fake jobs. We apologize for this and have corrected the issue.
We are currently recruiting new staff members and testers!
Staff we're looking for are:
-3D Modelers
-2D Texture Artists
-Animators
If you are interesting in apply please apply in our Recruitment section, PM me on our site or here.
---
The Ultimate Kwisatz Haderach
That's it for this update, thanks for following us and be sure to keep following us here, our site, Facebook and Twitter!