Hey and welcome to blog 109, sorry it's a few days late.. But it's here now and with lots of cool stuff!

---
Atreides Repair Tool
For awhile now we have been talking about how Engineers would work, in terms of repairing, capturing and other things. Well we knew we'd use his case for one of these things and with some brainstorming with Eeevil we've come up with something we are all happy with.
The Atreides case concept art.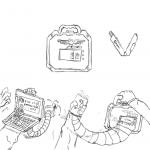 Eeevil wrote: You pull the plug-thingy out of the briefcase, stick it into the building, open the briefcase and start manually repairing it.<!--QuoteEnd-->
And here are a few WIP renders of it!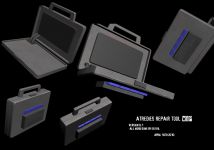 Now while you are hooked upto the building repairing it you won't be able to move or your movement will be very limiting (undecided) otherwise the connection will be lost and you will stop repairing the structure.

---
Harkonnen Light Infantry
Now we showed off the Harkonnen Light Infantry ingame in the last blog but he was untextured. Thanks to Kiory who modelled him in the first place, he's gone back over the model, cleaned up the mesh and textured this badass! So here is the Harkonnen Light Infantry and I think that Kiory has done an amazing job as always on his guy!
A picture speaks a thousand words, so what does a video do?
---
Normal Maps
Now LR01 has prepared something for this blog about normal map textures, so here he is!
LR01: At some point, we already used normal mapping but we focused more on other stuff so left it out, now we took a look at them and decided to use it. With the "newest updates" on the engine it is possible to use it, of course it just a option.
Now, how does this look then?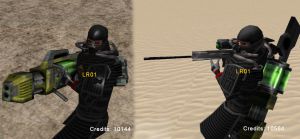 On the left the normal map is applied. Besides normal mapping we also going to use some other effects, like bloom. Just a bit of it though: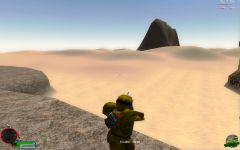 Of course, we are working on this so don't worry if it doesn't looks good.

---
Recruitment
Battle for Dune is looking for Texture Artists, Infantry Modellers and Unwrappers! So if you like what you see and want to help out, then please pm me here on Moddb or come to our forums at www.battlefordune.eu , register and show us some of your resent work, or PM me here.

---
For the full version of this blog, click
here
. For the forums along with SCUD Storm and Tiberium Redux, click
here
!