Hey guys sorry about the delay of this blog, the team have all been real busy with their personal lives but we still manage to get some work done, so here it is!
---
Atreides Windtrap
LR01 has been busy working on the Atreides Windtrap interiors, we're trying something new with the Windtraps due to how each House turns the wind/air into energy their own way.
Here are a few WIP shots of the basement.
Jackhammer
Fz007 has been really busy with RL stuff but has managed to get some work done on the Jackhammer. He has designed a flip out grip for reloading!
Wallpaper
Fz007 has also been making some wallpapers, here is one of the Minotaraus.
Here it is!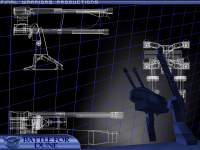 ---
Recruitment
Battle for Dune is looking for Texture Artists, Infantry Modellers and Unwrappers! So if you like what you see and want to help out, then please pm me here on Moddb or come to our forums at www.battlefordune.eu , register and show us some of your resent work, or PM me here.

---
For the full version of this log click
here
, for the main forums and SCUD Storm click
here
.