Hey and welcome to blog 105, let's see what the team has been up to!

---
JackHammer
I'd like to welcome a new modeller onto the team, Fz007. He will be helping us out by modelling our weapons, here is his first model for us!
This 3rd person version of the Jackhammer will be used for our Harkonnen Engineer, but more on that another time!
As you can see it is a edited version, something more fitting with the Harkonnen!
---
Atreides War Factory
LR01 has been hard at work still on the Atreides War Factory basement, here is a small video showing off a WIP of the construction that will play whenever you buy an Atreides vehicle (the vehicle being constructed will change depending on what you buy).
And here is a WIP shot of the 1st floor, nothing much but a taster of what's to come.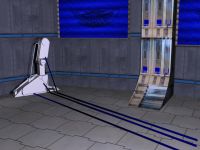 ---
Aprit Chard
I have been working on natural boarder designs and finally happy with what I have so far, I have started to map them out, here are two WIP shots.
Sorry for not texturing the mesh, should have some better renders next blog.

---
Recruitment
Battle for Dune is looking for Texture Artists, Infantry Modellers and Unwrappers! So if you like what you see and want to help out, then please pm me here on Moddb or come to our forums at www.battlefordune.eu , register and show us some of your resent work, or PM me here.

---
For the forum version of this blog click
here
. For the main forums and Scud Storm, click
here
.