If you missed the last two segments regarding blocks, be sure to check them out here and here!
The Characters
The game was conceived to have a bit of a retro N64 look while making use of HD textures and Deferred Lighting. To see how this would look, we went ahead and took a screenshot of BR and injected some N64 characters with Photoshop back in March!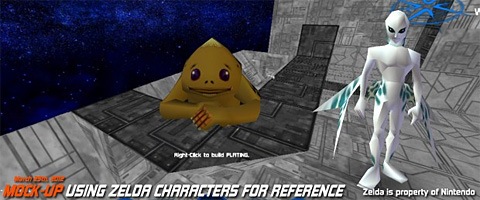 While we were definitely in favor of the N64 style, we also knew we could pull off higher poly and more realistic models, and so we went down that route for quite some time. Micah would do test models and we'd feel them out inside the game.
With the increased push towards blocks and more sharper angles, we've concluded that the higher poly count for character models (1000+ triangles) just doesn't fly as well. So once again we're experimenting more with the N64 influenced designs to get something that matches the environment.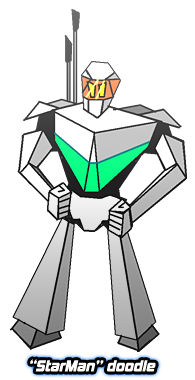 The "Starman"
I'd drawn up a doodle the other day that had a sufficient N64 look that is feasible with a low poly environment, so we'll be doing some experiments in-game and see how it feels during gameplay.
The concept we're going for with the humanoid character is on the "man with no name" vein, purposefully keeping him (/her) in their armor and always weaing a helmet-ala Halo's Master Chief so as not to reveal who exactly the person is.
When we considered the amazing feats your character will be accomplishing in record time (starts on a nameless asteroid; begins an empire), we wanted to make sure the humanoid was a character who'd stand out compared to the peons you'd find in the galaxy trading you their wares.
The Space Captain
We would of course like for you to play as a traditional squishy-wishy human (see FTL), starting as a space captain and making your way through the future of tomorrow by transporting cargo, managing space colonies, stopping at stations, acquiring alien crews -- all that jazz!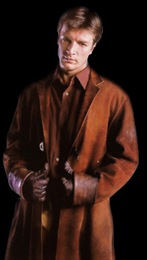 The trouble with is that our first steps for development's sake will be to start with your character alone in an asteroid field and work your way out, maintaining persistence (everything matters, no quick menus) throughout. This way when things like stations and NPC's are added, there won't be any invisible barriers telling you "no", or empty hallways of nothingness.
It's a better idea in our minds to save the ordinary human space captain character for a later date when it becomes more practical, instead of just cramming in sci-fi explanations as for why you're out there without any space stations, contacts, etc. We've got a lot of ideas for the human and the way you'd play the game as the character, it'll just be a long while until we get there.
---
Iterative Development
This is what we love about iterative development; design can be molded as needed to benefit the game, and not vise versa!
This is the stage where it's very important that you give us your input! Tell us what you think here on the blog, on Twitter, Facebook, in the IRC or on the forums!