Blasted Road Terror is real-time tactical looter in post apocalyptic setting. Command mighty warcrawler and manage squadron of vehicles in order to get unseen riches of the world and reach immortal glory. You will collect mighty arctifacts during your journey, enlarge your vehicle squadron so you can always pick right one for the job, rebuild your home base, make new friends and discover terrible enemies.
Gameplay
Game is mixture of looter, real time strategy and tactical rpg. Your goal is to rebuild your base, and find ideal combination of vehicles and equip them as good as your wallet can afford to get even more poweful equipment and perhaps, more and even rare vehicles.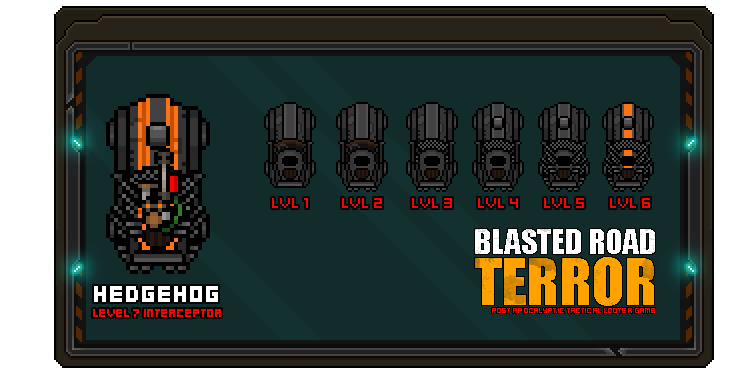 Every vehicle under your command gains experience and get even better over time, but dont get too attached to it as if you lose your vehicle during mission, its lost forever. Fortunately there are always fresh war wagons aviable at your home town (actualy its more like hole in the ground than town) and if you cant afford any of them? Dont worry there is a good chance there ll be more than enough drivers and their vehicles aviable at local saloon for hire and to be paid with loot share after the mission.
Vehicles are controlled by good old point and click mechanics known since Dune 2 and they autofire at nearest target. Your warcrawler(big main vehicle), is steered using your keyboard and its weapons, if there are any fire at nearest visible target as well. This autofire system is really simple so where is the challenge?
All vehicles belong to one of the classes and group composition and positions really matter. You want your interceptors(tank class) take most of incoming damage, while having your marauders(heavy damaging, not so durable and really slow) in position where they have clear line of sight on incoming bandits and be able to reposition quick in case enemies choose different approach direction. Then there are light attack vehicles which are really squishy, but can carry most devastating weapons of all.
There are 4 basic weapon types - kinetic/flame/explosive/piercing. Kinetic weapons are most versatile of all, with solid damage output you can never go wrong with them, unfortunately they ll never excel as their counterparts when deployed in right situation. Flame weapons ignores enemy armor, so they are great to take out heavy armored targets, unfortunately, flamers have short range. Explosive weapons ignore dodge of targets cought in explosions so they are best for taking out fast and small enemies like bandit bikers. And last of the weapon cathegories - Piercing weapons, are great for taking out targets with high fury ammount(serves as shield in this game) as they are piercing right through the shield, ignore its damage reduction.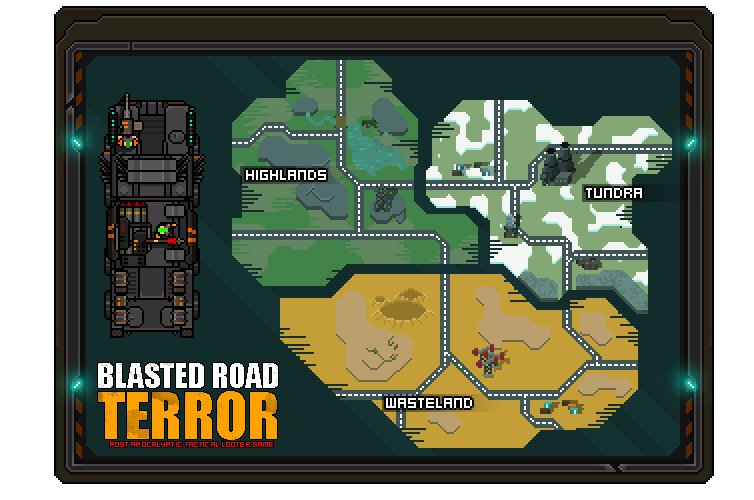 This combined with unique abilities of each vehicle create contless of tactical options allready, however there is one additional element which you have to take in to consideration before departing for mission.
Steam greenlight
It all came too fast and i am currently in not so comfortable position as my original intention was to reveal the project this spring and start building community as i did with my previous game, release playable public alpha and submit the game to greenlight during summer. However with greenlight service beign canceled early spring i had to move this step forward. It will be hard to succeed without any dedicated fans, but i hope it ll be manageable and will be able to pass in time. If you like the game, and looks like something you would like to play consider casting your YES vote over here:
Thats it! Thanks for your attention and possible yes votes. Since now i ll try to post dev. updates regulary like in case of previous projects, so if you are interested in how will this project evolve, some personal toughts during developement and technical details, then you are more than welocme to subscribe here on indieDB!
Thanks for your support!
Tryzna