Leading up to the Jam
Leading up to the 2015 Global Game Jam we knew we wanted to do something that was really fun, but also extremely original. We also knew that making something fun and truly original is an extremely difficult task as a game developer, especially if you actually want anyone to play your game. We brainstormed and brainstormed for several weeks until we got the "perfect" idea. But the thing about ideas, especially in game development, is that it's really hard to tell if something is "fun" or "not fun" until you've played it. Sure, you can dissect all of the games elements and follow strict guidelines to reproduce something that has already been done before, but we wanted to do something truly original to the genre.

At the Jam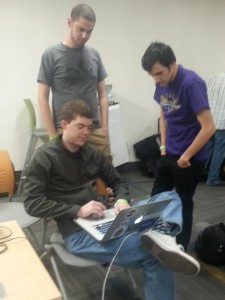 At the Jam itself, we we're all nervous leading up to it. I found myself asking questions like, "Was our idea even going to come close to the theme? Is it even going to be any fun? Will the idea REALLY separate itself from other well-known top down shooters?" But for every doubtful question I asked myself, I had at least two positive responses to give myself; so in this I was confident.It wasn't long into development before I started noticing something really unusual. Other people at the event had started to crowd around us watching us work away. Artists, programmers, sound designers, and even some of the people running the event we're watching us! They started asking us questions about our game, really digging into the details. Some of them even wanted to join our team!

We hit the Jackpot
And then soon… the pieces started to really come together. It wasn't long before I realized... "Okay we might have something here; this is surprisingly a lot of fun and people seem to really like it!" I remember one specific occurrence when another jammer was watching me code away and then test the changes I made. In this occurrence the boss camera peeled back to display what we had been working on for a while and, I kid you not, the other game jammer's eyes shot wide open in excitement! It was the kind of eye opening you would expect to see from a little kid playing peek-a –boo for the first time. It was sort of like the adult version of a peek-a-boo surprise and it honestly made me feel really damn good. "That's the kind of emotional response we're looking for," I thought.
What's next?
We did it; we all knew we did it. The presentation went really well, everyone really liked the game, we made a bunch of new friends and contacts, and we had a truly original idea that was fun! But now what do we do? Well for starters, as an indie developer, you know that your chances are slim in the games industry, even if you have a great idea and a solid team. We believe we have both. You have to market your game, build a following, and acquire just enough funding so you can eat, sleep, and continue working on the game without any serious issues. So with all this in mind we know we have some hard work cut out for us. We've basically spent the last couple of weeks really expanding on our initial idea. We keep asking ourselves the important questions like "Is this idea fun?" and "how much will this idea REALLY add to the game?" We've found that in order to most accurately represent our initial vision, we must focus on two key components. Number one, eliciting that sort of peek-a-boo styled emotional response we saw from that jammer at the game jam. And number two, making sure that when we break our game down to its core elements the game is extremely fun and replay-able. Anyways if you made it this far I thank you for checking out our first blog post and I encourage you to stay tuned for lots more updates soon to come.
Our Website.
Our Facebook.
Our Twitter.