Hello everyone,
I hope you guys are staying healthy as a new version of the Redux mod is nearing its public release. Most probably this version is content-wise the biggest so far. The AI got some neat changes preparing it for a future patch, how the game represents good and evil was improved, the influence system received a major overhaul and the most outstanding part the remastered music.
As you might've guessed I couldn't do so much work alone in this short period of time, so I want to point out many, many thanks to Vociferous who did all the music and textures and we are really excited to hear your thoughts about the new update. Also make sure to check out Vociferous' youtube channel which you can find right here: TFS | Vociferous
Version 1.7 has been released! Find the download links below:
English Version

German Version

Spanish Version

Music
First of all the music. Vociferous did an awesome job remastering many of the Black & White 2 soundtracks. Currently finished themes are:
All 4 epic themes including siren, hurricane, earthquake, volcano
New ultimate good and ultimate evil alignment music for the greeks, carrying over the flair from Black & White 1
A new credits song
Various new quest themes
New ambient themes like the evil creche music
In addition to the music listed, it is planned and already partially done to recreate the Black & White 2 combat music. However it doesn't made it into the current patch as it isn't fully finished yet.
If you want to have a taste of the new music you can listen to the hurricane, earthquake and volcano themes on newgrounds: Apocalyptic themes
Textures and Ambience
Next up the textures and the with them connected ambience. We thought that good and evil wasn't represented at its full potential so far, so we decided to give the textures a bit more personality, as the good textures are generally a bit brighter now whileas other good alignment textures were changed in color drastically. Also the evil textures generally received a darker look to them.
Besides you might know the system in Black & White 1 where sky colors and lightning were altered when you moved inside the influence ring of another god. This is now also integrated into the Redux mod. To conclude the textures and ambience you can see two screenshots below which show the gods playground with the new changes:
---

---
---

---
---
Influence System
As already mentioned the new patch will also feature a completely changed influence system, shifting the focus of placing the buildings nearby the influence ring to maintaining a large population which in the end will extend the influence for the most part.
Most significantly buildings don't have an own influence ring anymore as the town centre is now the only base of the influence ring which gets stronger the more villagers and the more buildings you have.
Below you can see a town equipped with the new influence system with around 275 villagers:
---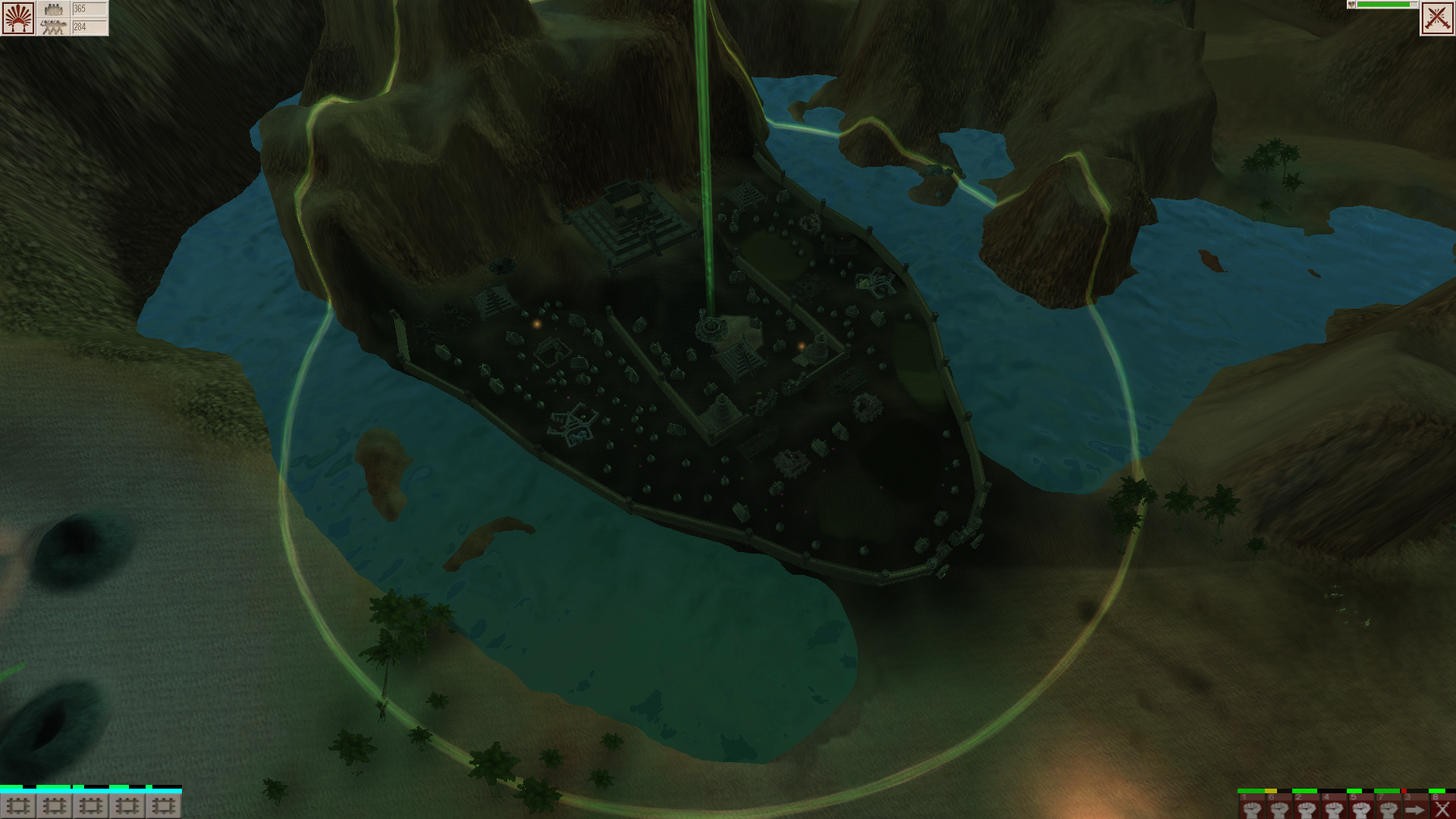 ---
In the end here is the full change log for the next patch. You can also find the changelog in the forum:
Additions
Added new music
Added new textures
Added alignment based skies and light effects
Added a new influence system similar to the one from Black & White 1. The influence ring is now fully based on the town centre
Added cheats which are unlocked on a second playthrough
Readded last land soldiers and catapult
AI
Improved how creatures decide to use aggressive miracles (Depends on creature soldier level)
The AI will now try to keep troops outside of enemy influence if they have nothing to do
Rebalanced how many troops the AI will recruit in late game on easier difficulties
Improved static platoons AI
Increased AI platoons chase distance
The AI will now properly retreat its troops before a scripted event happens on hard difficulty in the 3rd japanese land
Changed how the enemy god will throw aggressive miracles in the 5th aztec land
AIs won't fire epics nearby own troops now
Balance
Lowered productivity bonus fields give other fields
Changed some trigger times in campaign
Slightly changed the firerain spell
Fixes
Fixed a bug where platoons would show incorrect health values for undead platoons
Fixed a bug where advisors would comment the aztec prison incorrectly in the 4th aztec land
Fixed an issue where the enemy creature wouldn't despawn after win in campaign
Fixed an issue where the enemy creature would spawn nearby the player town
Fixed combat music playing even though nothing happened
Fixed a bug where objectives sometimes didn't count in the last land
Fixed many speeches which interrupted themselve
Fixed an issue with too many attacks at once in the last japanese land
Improved performance in land 7, 8 and 9
Fixed a bug in the lost sheeps quest where the farmer wouldn't appear if a specific house was deleted before
Fixed missing texture files which leaded to the game crashing in loading screen when loading 'minspec' texture files
Fixed skirmish AI not building specific attacks on special towns as intended
Fixed enemy gods not throwing miracles at catapults
Fixed enemy gods not firefighting
Minor AI platoon fixes carrying the wrong flag
Changed how the enemy creature is spawned in the 4th aztec land to maybe prevent some issues
Fixed a number of other minor issues
Maps
Changed gods playground to represent alignment much better
Updated landscape of the first japanese land and fourth aztec land
Reworked weather system to rely more on alignment
Changed day and night cycle duration to what it was in vanilla
Changed trees amount on skirmish maps
Music
Added new music to all epics
Added new ultimate good and ultimate evil alignment music
Added new evil creche music
Added a new greek worshipperchant
Changed the credits song
Changed music in the quest 'Skeleton Bashing'
Difficulty now also influences global combat music
Music is no longer stopped at the end of a volcano spell
Other
Added the piper tune to the kidnapper in the first japanese land
Moved piper to the mine and removed his house
Improved again marauders quest in land 4
Campaign AI alignment is now set to a fixed value
Rebalanced many alignment values you gain
Changed position of the gods playground scroll on the 4th land
Relocated the aztec town centre in the 3rd aztec map
Textures
Changed textures of greek buildings to represent alignment much better
Changed evil ground texture to have a darker look
Changed god hand textures