* blows off the dust*. Is this thing still working? Ah, good to see some of you are still here! Welcome back!
On December 17th 2012 Black Mesa Uplink was released. At that point I had worked on it for 3 months straight just to get it done. Which I still consider really fast, seeing this was a one-man effort. My goal was to get the MOD out to the public so a remake of this 1999 demo was finally a reality. I didn't and couldn't go for the AAA+ quality you expect from commercial games. However, most reactions to the mod were pretty good so the quality problems never really bothered me. It saw loads of features and downloads on popular gaming websites.
Recently, the Crowbar Collective released an updated Steam version of Black Mesa, which sparked the public interest in Uplink again. People have asked me for updates, extensions and more in the past and I always felt that I had to get back on the project at some point. Now, 2,5 years later I'm going to just that.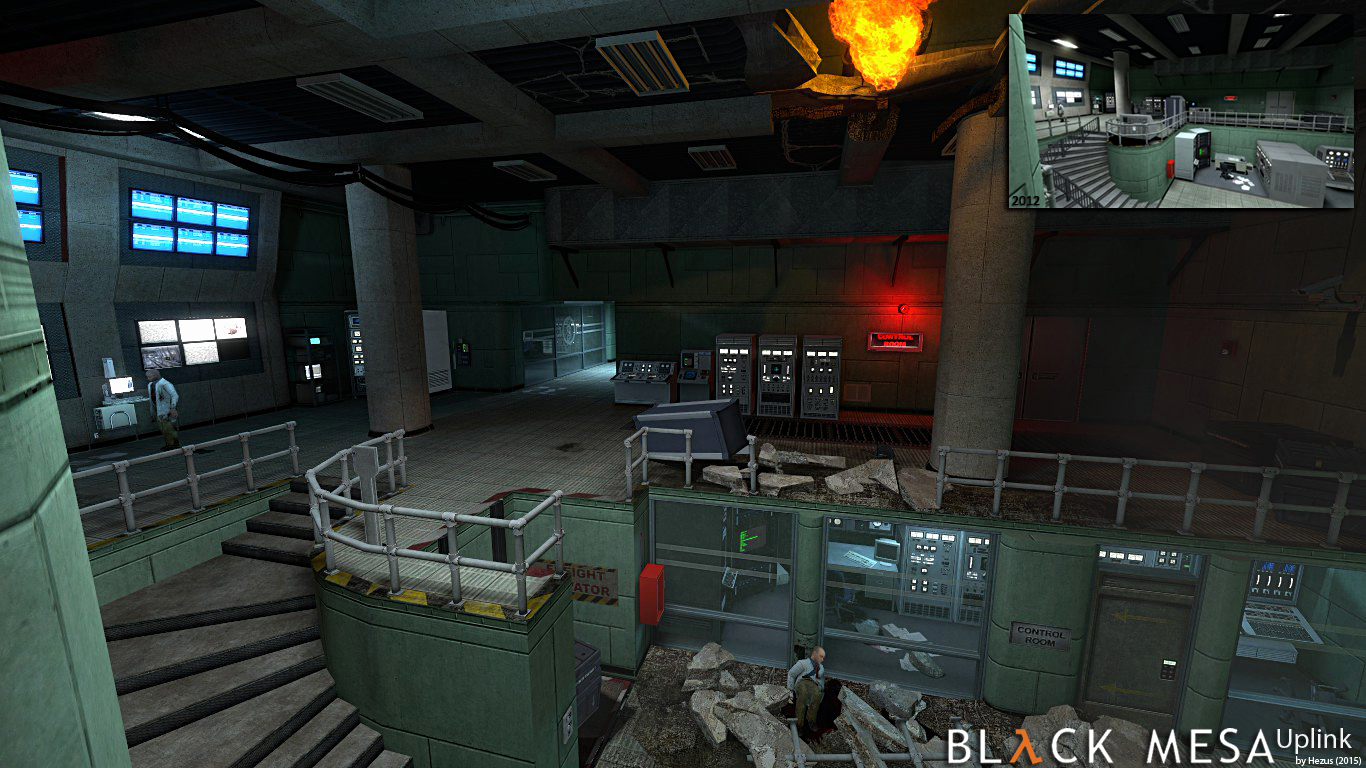 Let me talk you through what you see above. First off, I'm adding more detail to the scenery and extending rooms to make them seem like part of the whole complex. Also, the environments will be more dynamic (moving cargo lift, burning gas leak, rotating emergency light). Most important alteration is the lighting. Getting the lighting right in Source is a tricky job but I'm currently digging further into the specifics and hopefully that will pay off in the end.
What else?
Next to the visual updates and going to fix bugs and some areas will be completely redone. I'm also planning on extending the MOD with extra content.

A question I've received many times is about Steam Workshop. Currently, the Workshop only allows you to upload 100mb at once, which is not enough for BM:Uplink. Next to that, there are some technical difficulties which I still have to sort out. As it seems now, full mods won't be able to release on Workshop easily. If that is fixed later on, I'll surely upload it to the Workshop.
When will this be done?
That's a good question. Back in late 2012 I dedicated a whole lot of my free time to this project but I don't have that luxery anymore, so the development cycle will officially run on Valve Time.
Looking for help!
I'm also looking for other developers who would like to contribute to the project.
Voice artists
Modellers
Texture artist
Mappers
If you're interested, send me a private message!
Thanks for reading! If you have encountered bugs or have ideas for the update, make sure to leave them in the comments below!