Habitats
Habitats are divided into several levels called Environments. Each Environment (level) can support a different number of inhabitants (humans and their pets). The number of habitable units increasis with number of Environment (counting from top to bottom).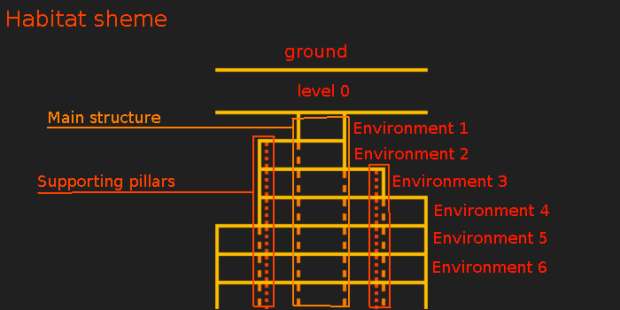 Environment / habitable units* / environment label
env1 / 5, 000 / A
env2 / 20, 000 / B
env3 / 50, 000 / C
env4 / 100, 000 / D
env5 / 150, 000 / E
env6 / 300, 000 / F
*1 habitable unit = 1 person
** env [number] - people commonly used abbreviation
Environment 1 is strictly only for Elite citizens the owners of White Drive. The White Drive ocurres in only 0.5% of population. On Environment 2 live the entire government and the richest inhabitants. The Environment 3 is reserved for the security forces of the Habitat and for the government offices. Environment 4 is also know as Environment of knowledge, because there are universities and research facilities. Large part of Environment 5 covers industrial area, the rest is for habitable units. And at last the Environment 6, this level is three quartes only habitable units the rest is for heavy industry.
You can now also like us on facebook Facebook.com or follow on twitter Twitter.com for more frequent updates.