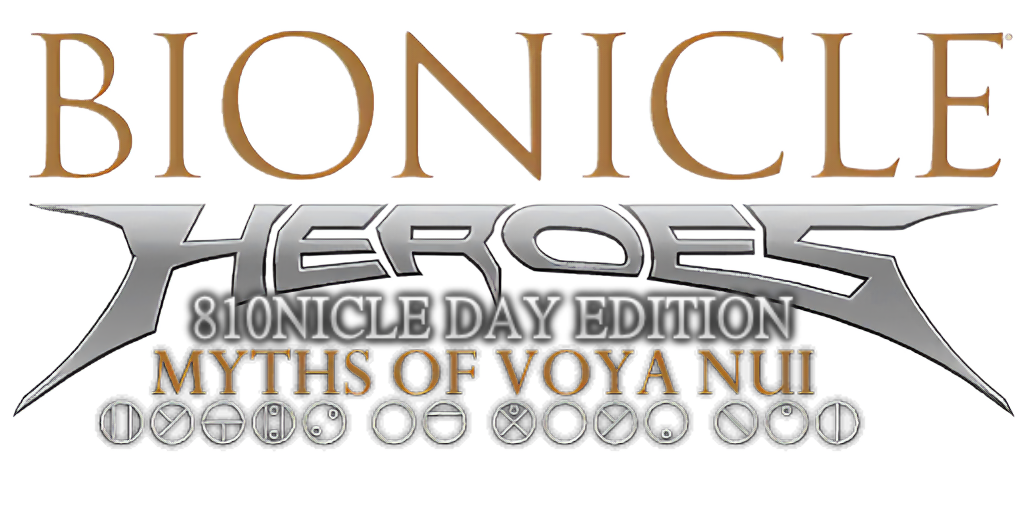 Hey all! My name is Kralich, and I'm the lead developer of Bionicle Heroes: Myths of Voya Nui. I'm honored to be taking part in 810NICLE Day alongside the other talented creators here and you'll also get to hear from some of the people that helped make Myths of Voya Nui possible. Check out the video below for some more visuals on this patch and the current state of the mod:
For a little bit of background – last year and early this year, I created the first released Bionicle: Heroes mod, alongside a few friends who also had a passion for Bionicle and wanted to see what could be done with this old game. Over the course of three releases, we overhauled the gameplay, revitalized a lot of visuals, and brought in extra details from the canon and quality of life changes that help make Bionicle Heroes a much more enjoyable experience.
For 810NICLE Day, we decided to create an exclusive "addon" for Myths of Voya Nui that restores a lot of cut graphical content and also some cut SFX. It's not a full-on release – and we'd recommend the 1.2 release for actual play – but if you want a little novelty experience to try out, this release might scratch that itch! Now – what did we change?
HUD Graphics
As you can see in these shots, many HUD graphics have been replaced – from the radar, to the technic piece bar, to the character selection graphics. Except for the Piraka, these are all adapted from cut content within the game's files. The Piraka logos were styled after the boxart to try and carry a similar motif to the new Toa icons. We recommend watching the video above for an audio change – we've changed the combat track in Vezok's Coastline to match the combat track from the PC demo.
Archive Changes
The Unlock Archives have also seen a few changes. The revised and much improved masks were created by Clatronix and feature as part of the latest Myths of Voya Nui update as well. Consistency as well as better accuracy to the set variants was taken into account when designing these. The Vahki also receive a retexture in Myths of Voya Nui to have their headpiece be the correct colour, and our unlock images reflect that. The small addition in the 810NICLE day patch is cut renders for Gahlok and Tahnok being implemented into the enemy archive section.
Matoro and Boss Bars
Within Thok's boss fight, we tweaked his attacks to be correct as the base game accidentally swaps his melee and bullet attack. We also revamped his playable form in Myths of Voya Nui's base versions, featuring a dual icicle beam attack instead of his relatively standard and boring beam attack. You can see in the image above how a lot of the cut graphics look when placed into a boss fight. Lastly, Matoro's sniper scope was also changed to match a cut graphic in the files, though this graphic was cleaned up too so that it would fit better.
Texture Changes - How Did They Happen?
As you take a look at the restoration of the Mask of Light graphic and some Level 1 Toa HUD graphics, here's some words from Iridium, who helped work out texture manipulation:
Iridium: Hey, I'm Iridium. Working on Myths of Voya Nui was pretty tough because of the amount of R&D required. Without any documentation, we had to work out a lot of stuff ourselves. Hexadecimal Mantis's scripts really helped us, though, when it came to modifying assets. I managed to get texture manipulation working with hex editing, and helped work out how some values in the level.cfg react when changed. I then helped setup documentation for the work we did so other people could create mods in the future!
Sound Engineering
Although not featured in the video, we also changed Kongu's firing sound to match that of the PC demo, including his level 2 and 3 variants that were not actually hearable in-game due to limitations on the demo version! Changing sounds is something Sloth, who was our sound engineer, worked out:
Sloth: Hi guys. I'm Sloth, and I'm a sound designer. I worked out how to convert to and from Heroes' sound format, as well as the very simple workflow to change music around. It was really important to us other people were able to also do what we did in their own mods, so I pioneered the documentation with descriptions of how to get custom sounds working. With all of the documentation we created, it's now possible for people to make their own mods the same scale as Myths of Voya Nui.
Closing
Thanks for reading guys! Myths of Voya Nui is complete with the 1.2 release, and this addon gives you a little bit extra novelty value to play around with. We hope you've enjoyed this little content dump and make sure to check out our ModDB page for more info and feature lists, as well as an article version of this video and the changelog within, including a few things we haven't mentioned here. Enjoy the rest of 810NICLE Day!