Bionicle Heroes: Myths of Voya Nui 2.0 Landmark Release!
Hey there folks! Today's an exciting day as MOVN ascends a version number with the landmark release of Myths of Voya Nui: 2.0! The reason for the version change is that MOVN now features vertex editing for the first time ever, as well as numerous other improvements made across the board and the embracing fully of the modding community that has emerged since the mod first launched several years ago. Compatibility patches, Vezon somewhat resembling more his set form, and revised Rahkshi are all highlights of this update. Let's get into it!
Visuals
Some major visual improvements have taken place, with Vezon in particular in the spotlight but Rahkshi also getting lots of love this update.
-Vezon player model is more set accurate - Vezon's enemy model is perfectly fine, but Vezon's player model, as a by product of the one-size-fits-all template body system, got the short end of the stick. In MOVN, this stick has been lengthened (somewhat) with vertex editing! Featuring retextured body parts too, Vezon now has his shoulder armour and a hacked-together cape made out of a heavily-modified Piraka spine. A little janky, it's better than his bare-back from the base game and a step further towards restoring his fearsome look!
-Vezon weapon model consistency - To go with Vezon's body changes, a slight colour change making the central "piece" of player-Vezon's spear has been made dark brown for consistency with the set spear
-More Level 3 Toa weapon consistency - More changes were made to level 3 Toa weapons to make them set-consistent. Jaller's central laser is now green, and Nuparu's silver accents have been made darker to match the set piece a bit better
-Piraka splash screens have been made consistent with revised worldmodels - A background change mostly, the Piraka worldmodels have been changed since Version 1.0 of MOVN, but the Piraka splash screens themselves did not reflect these changes. Just the weapons were rendered out again and photoshopped into the splash to patch this up
-Rahkshi colours made more set accurate - Rahkshi were, like the Vahki, host to a huge range of weird changes and additions that make them considerably different from their set counterparts. From colour consistency to piece colouration, many changes have been made to make the Rahkshi more correct than before
-Nidhiki's head model textures made consistent - Another small change for consistency's sake, Nidhiki's head was changed many updates ago to have the correct colours, but the actual head that drops when you kill Nidhiki did not receive this change. This is now fixed!
Examples: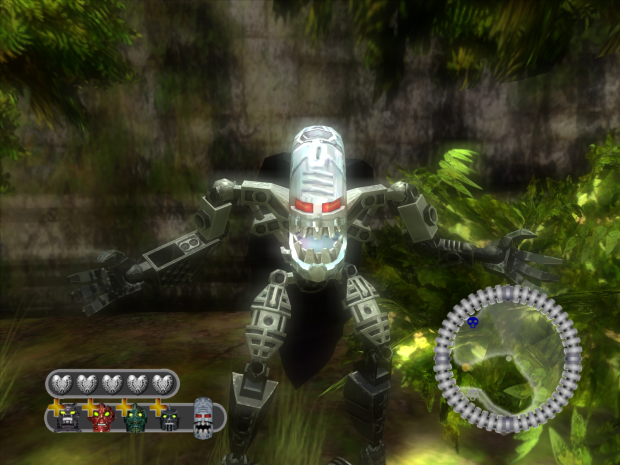 Vezon model with new shoulder pads and cape!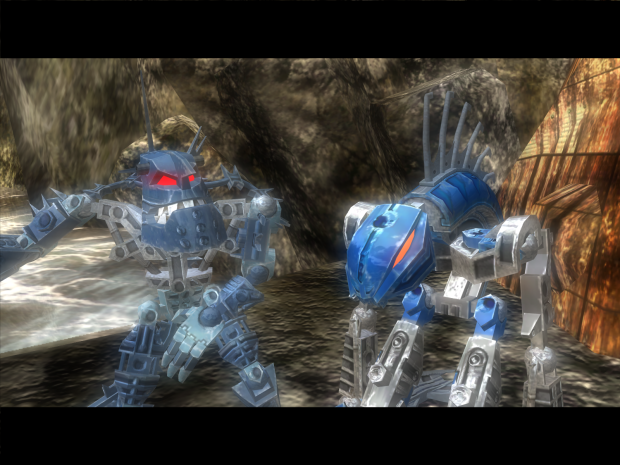 Guurahk - darker blue, and changes to arms, elbows, and knees, which all other Rahkshi copy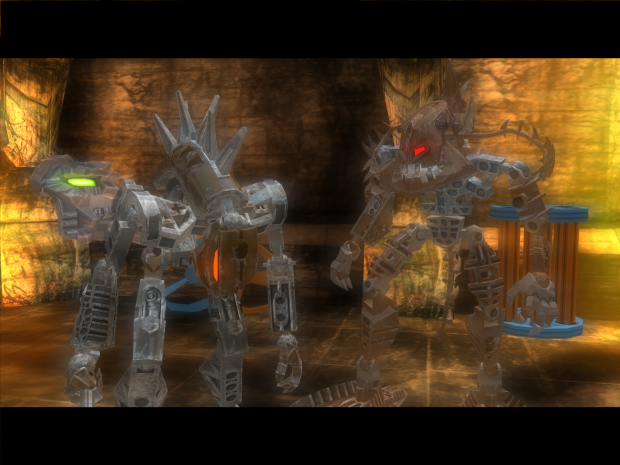 Panrahk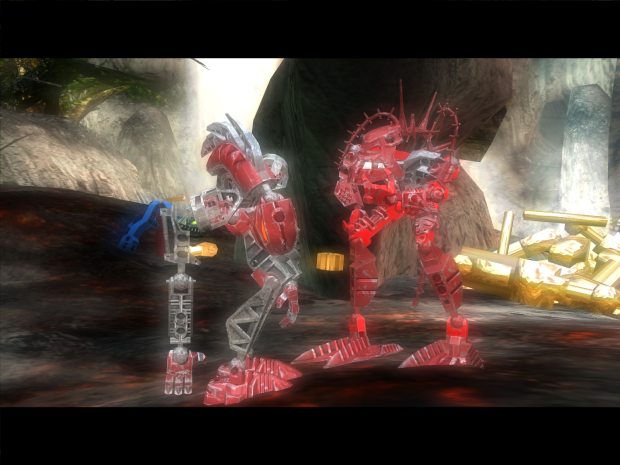 Turahk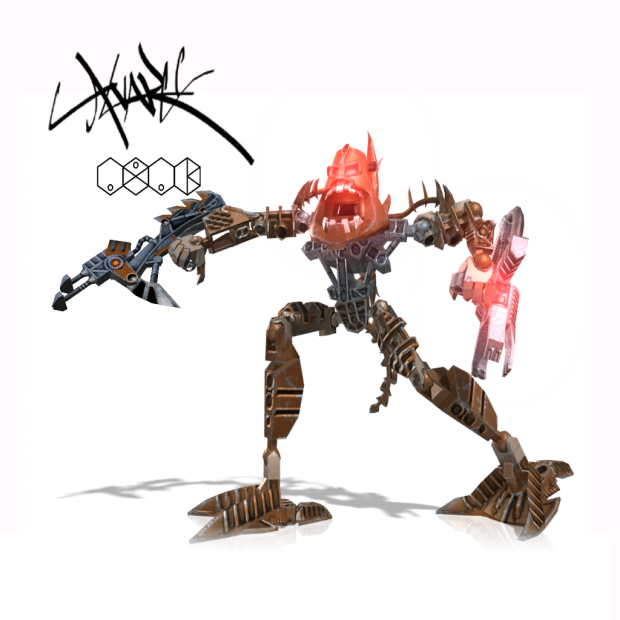 Avak splash screen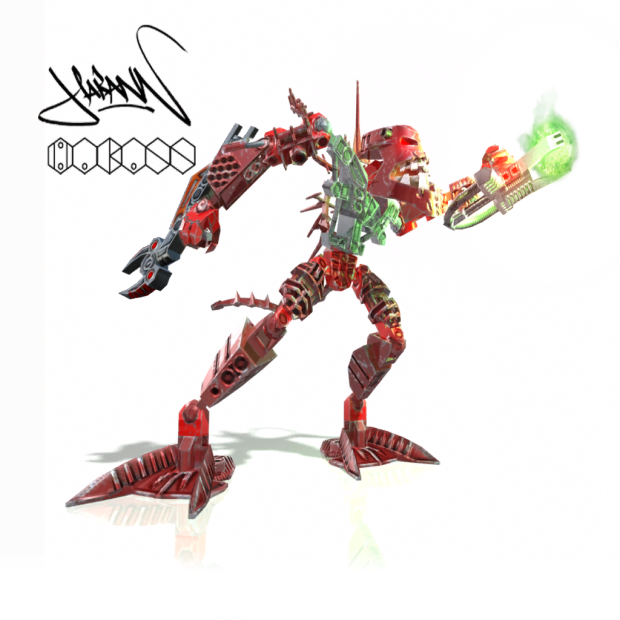 Hakann splash screen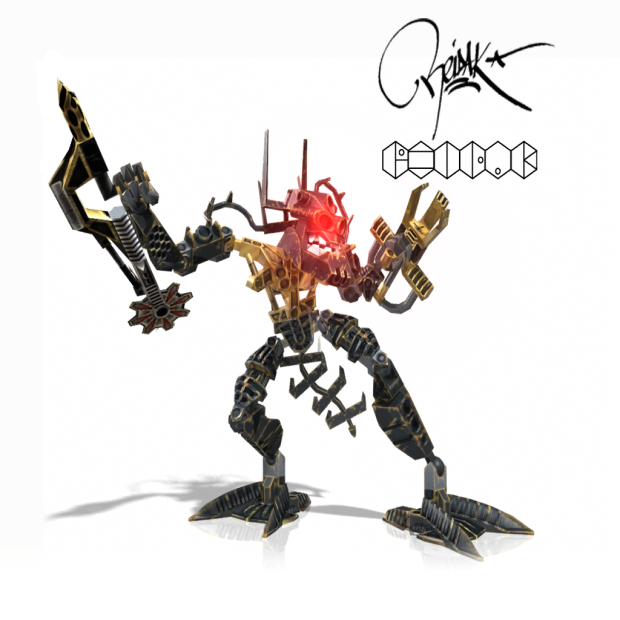 Reidak splash screen

Vezon player weapon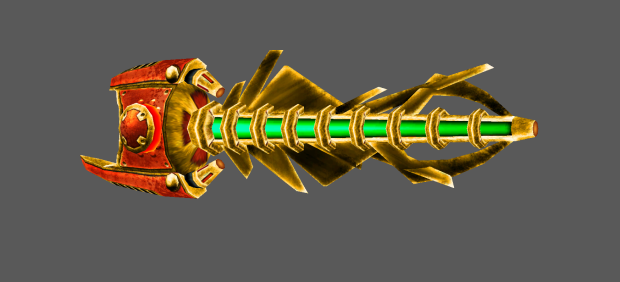 Jaller player weapon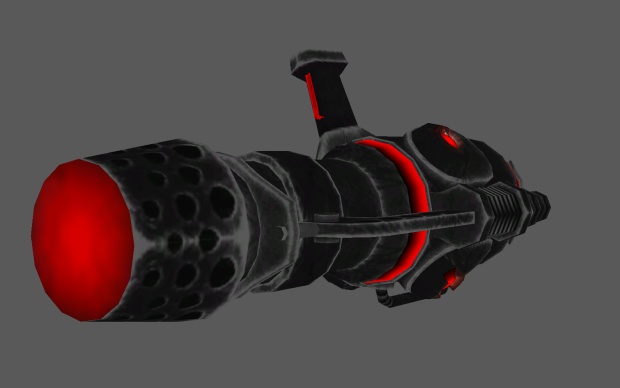 Nuparu player weapon
Gameplay
MOVN's gameplay has received many big and small tweaks, and only two changes have happened this time:
-Hewkii level 1, 2, and 3 recoil removed - Many expressed annoyance that Hewkii's recoil has been left untouched and I agreed that it was one of the few things negatively affecting Hewkii's versatility. Even after damage and projectile speed buffs, both Nuparu and Matoro routinely outpace Hewkii and so the removal of recoil, finally, seems to give him the boost to be used concurrently with other Toa
-Piraka turn speed made consistent with Toa - The Piraka turn speed was previously set to a lower value than the Toa (but only one or two of the Piraka, as the rest were correct). This is now fixed for parity
Sound
Not often does MOVN receive sound changes, but there's one really cool bug fix this time:
-Kongu Level 2 and 3 firing sounds fixed - I recently discovered a bug in the base game that meant the Level 1 and 2 Kongu weapons used the Level 1 SFX, and the Level 3 weapon used the Level 2 SFX, meaning the Level 3 SFX went unused. This has now been fixed so every level of Kongu's weapon has the correct sound effect
Misc
There's one small and one awesome misc change here:
-Unlockchars made consistent with levels - Previously, the Vahki, Bohrok, and Visorak silver canister unlocks were haphazardly attached to the levels. Now, enemy types are better aligned with their region - for example, the green Visorak, Vahki, and Bohrok are unlocked via the Jungle levels, the blue enemy types via the water levels, and etc.
-Compatibility patches for other character mods released - to recognise the modest but very alive Heroes modding community now surrounding the game and to provide an example for future patches, compatibility patches have been released for MOVN for the four currently available character replacement mods - Irnakk, Makuta, Silver Toa, and Voriki. More patches will be released in the future as more characters are released, independent of major MOVN updates - this is only the start! Please note these patches don't work with each other, just MOVN 2.0 itself.
Examples:
Closing
Thanks everyone for checking out this landmark update for MOVN! 2.0 marks an exciting new leap for the mod and whilst we've reached another somewhat impasse, there's other ideas worth pursuing for a future release once the possibilities stack up. Don't forget to check out the modding Discord here to stay up-to-date on the modding scene and all that entails!
Get in touch on Discord at Kralich/David#0901 if you'd like to learn more. In the mean time, remember - Unity, Duty, Destiny!