A new game mode for Christmas!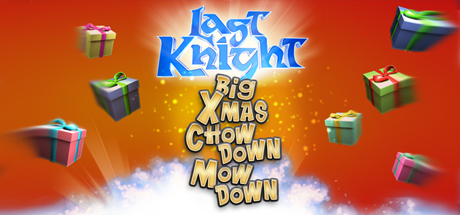 I could not resist making yet another mode for X-mas. I just took the original Big X-Mas Chow Down mode and replaced "Ch" of the Chow with a "M" as a result the Big X-Mas Mow Down mode was born.
Well, it wasn't quite that easy. That new mode doesn't feature any of the extreme turkey munching nor the candy canes crunching. Instead there are lots of other rider on the winter wonderland roads. They are trying to deliver presents all over the kingdom. But as you might guessed in this kingdom nothing really ever gets delivered for rather obvious reasons. So don't feel bad about ramming them and snatching their presents! Most include giant snowballs that you can then throw at the next rider. Why are there snowballs in the presents? Because some people must have realized that their presents won't get anywhere anyway so they filled them with cheap snow instead.
But you can also find power ups, hats and some magic mutation for yourself and horse in those presents. You also still have to mow down those randomly generated snowmen of course as well as the horned bucket heads but those giant snow balls make it all a good bit easier.
The demo is currently not available on Steam because for some reason it has to be reviewed and approved separately from the game. But it can be downloaded over here:
Indiedb.com
Tocogames.itch.io
It contains the X-mas Mow Down mode the X-mas Chow Down mode.
If you never played the Big X-mas Chow Down mode before you can check it out here:
Here is the change notes list:
notes wrote: - Added X-mas mow down mode
- Tweaked extra cameras
- Tweaked other rider
- Changed extra cameras switch to page up/page down +/- (numpad)
- Fixed a rare bug with other rider destroying collisions
- Fixed x-mas music lacking stingers
Merry X-mas,
David Hagemann
Toco Games
@TocoGamescom - Lastknightthegame.com